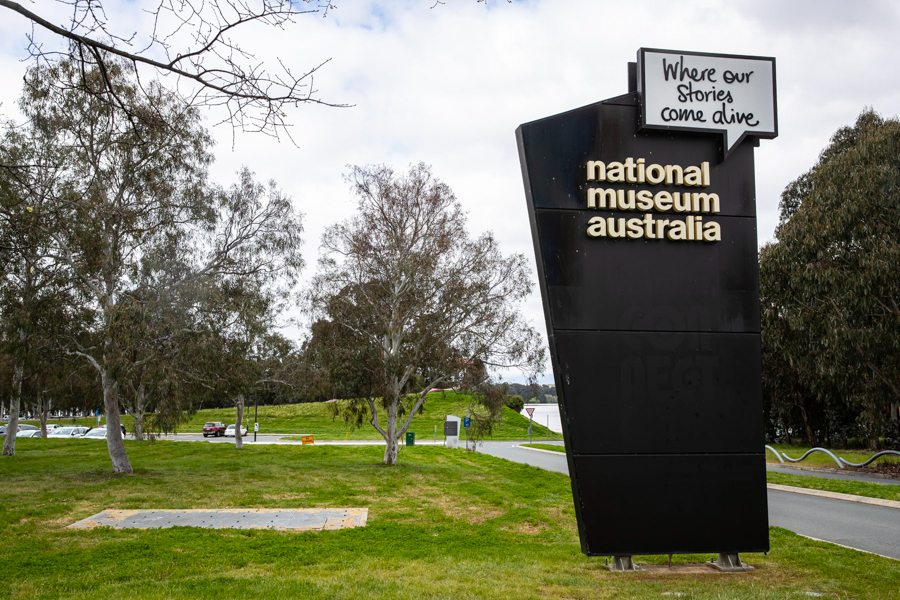 A stunning light art installation created by Ben Cisterne and comprising 450 Astera NYX Bulbs graces the ceiling of the newest "Great Southern Land" permanent gallery at the National Museum of Australia (NMA) in Canberra.
Designed as a digital 'murmuration', emulating the mind-boggling kinetic phenomenon made by hundreds of starlings flying in swooping and random but apparently intricately coordinated kaleidoscope patterns at speed through the sky, Ben, was commissioned to create this special work with the exhibition designer, Fernanda Reis of Local Projects based in New York.
---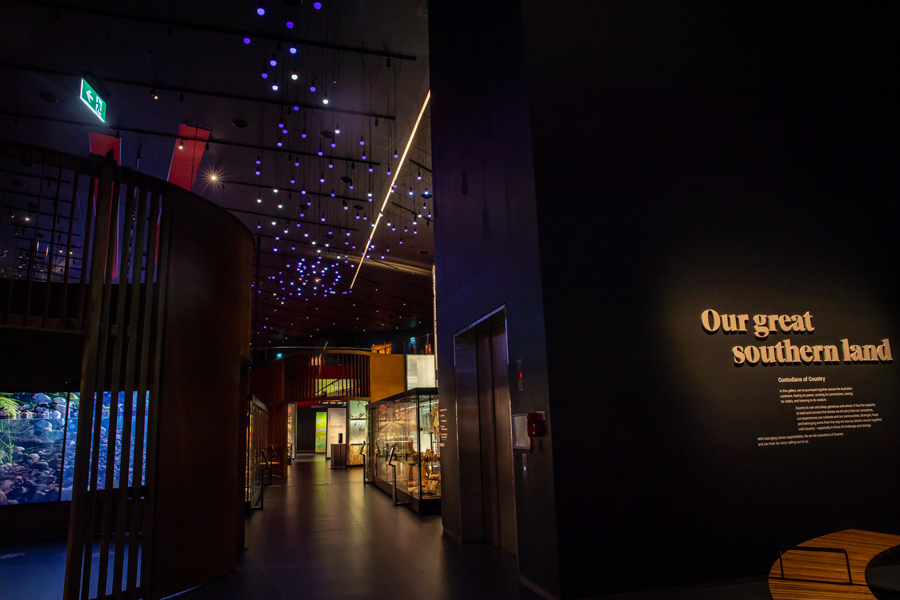 Ben, who also lit the other elements of the Great Southern Lands Gallery, has known and worked with the NMA Canberra team led by NMA assistant director for the discovery & collections division, Katherine McMahon, and Suzanne Myers responsible for management and development of the Museum's permanent galleries, for close to 20 years. This has been at the NMA and other cultural institutions.
His background in theatre lighting and narrative interpretation has been highly inspirational in creating this and other light art works. In this case, the NYX bulbs provide a living / breathing animated and illuminated trail for guests navigating the exhibition space that is a visual contrast to the intricate, practical but still dramatic lighting of the various exhibits around the rest of the vast gallery.
---
The idea of having a murmuration was always a conceptual part of the plan for the gallery space, however it went through several iterations before the design team comprised of NMA, Local Projects, and Ben hit on the idea of creating it with light, making a pathway to guide guests.
Once lighting was the chosen medium, Ben immediately knew he would require substantial quantities of individually controllable dots or pixels that were bright and ultimately controllable, so Astera's neat, handy and highly sustainable NYX Bulb came to mind, and he contacted Astera's Australian & New Zealand distributor ULA Group to arrange demo product.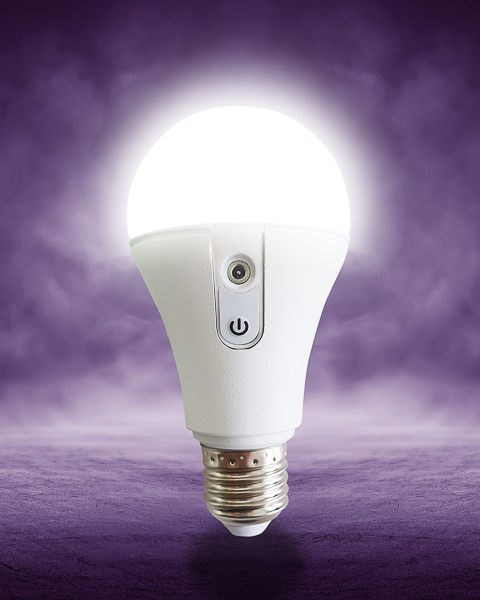 The NYX Bulb is the same size as a standard LED bulb and was ground-breaking as the first colour-tuneable LED bulb fixture for professional film, stage, and event productions. It has a CRMX receiver for wireless DMX, plus RF and Bluetooth modules for control via the Astera App on a smartphone or tablet.
Wireless DMX was vital as it was always intended to run specific video imagery through the installation as well as lighting sequences, and the controllability had to be super-accurate, so "Astera and wireless DMX was an obvious route," Ben explained. The lightsources also needed to be bright, be able to colour change with finesse, and emit a rich and sumptuous quality of light.
Ben was already familiar with Astera as a brand having used AX5 TriplePARs, Titan Tubes and other products previously. "The NYX Bulb was a perfect size and spec," he commented, "I knew as an Astera product that they would be well engineered and robust, and another consideration was being able to hang them individually and very neatly."
The murmuration features two essential gently asymmetric conjoined shapes. Fernanda developed the first one and Ben the second, which consume 300 and 150 NYX Bulbs respectively.
Fernanda also suggested some key co-ordinates and dimensions like the height of the installation and how far off the floor it should be, both to integrate with the overall gallery architecture and other exhibition elements, and for it to stand out as an artwork in its own right.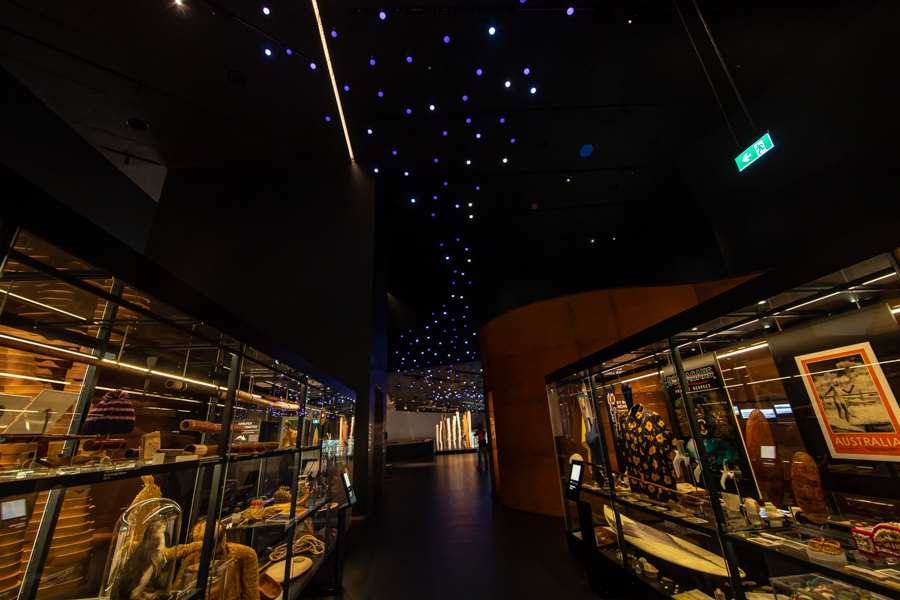 The NYX Bulbs are all hung on high quality cloth pendant light cables which look good and blend in almost to imperception, so the collection of beautifully twinkling and morphing pixels look like they are floating in the air! They are powered via the exhibition lighting tracks already put in place when the gallery was built, with data run over Art-Net via a Stardust CRMX controller to a Pharos touch panel interface.
In addition to the standard operating murmuration patterns running through the NYX Bulbs, some special sequences are pre-programmed for events and private functions.
The content for the murmuration effects was influenced by descriptions of night skies and water / river flows early in the process by gallery curator Martha Sear, and all related to the overall Great Southern Lands presentation.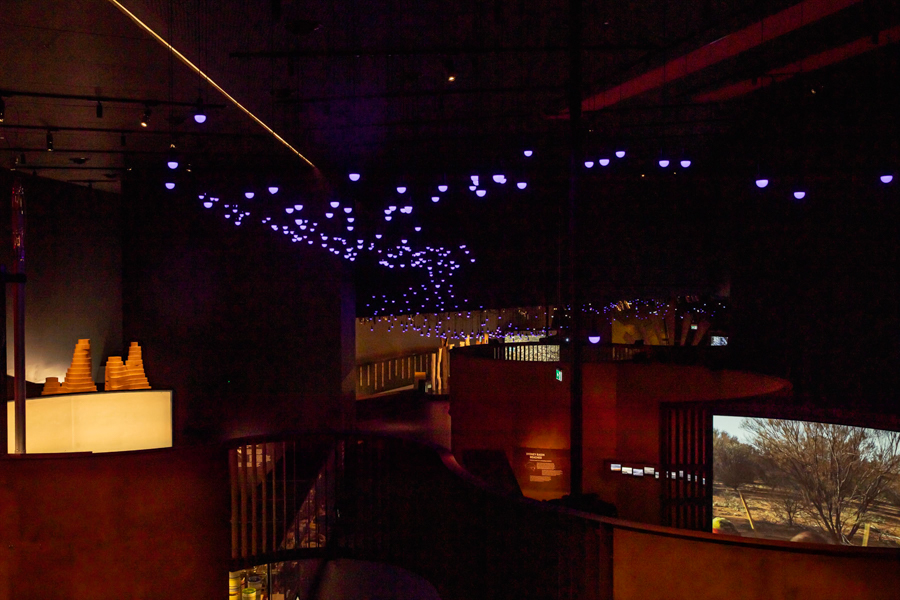 The video sources and lighting sequences were programmed via the Pharos FX engine, with a series of bold and complex moves that also have a simplicity to them. "It was a really fun project in which to be involved, the teamwork and collaboration was fantastic, and we are all happy with the end results," enthused Ben.
"The starry sky light treatment is a key element of the light murmuration that guides visitors through the Great Southern Land gallery," noted Suzanne. "The spectacle of coloured light bulbs transforms the ceiling into the night sky and carries visitors into the rest of the Museum with a sense of wonder, and we couldn't be happier with the final product and confident our visitors will enjoy the experience for many years to come."
For more press info on Astera LED, you can visit astera-led.com
Posted on 21 February 2023
Crédits -
Text by Astera – Photos by Louise Stickland