The organizers of the 21st edition of the annual MUTEK electronic music and arts festival in Montréal navigated a delicate pathway between virtual and live performances at the two venues hosting in-person/live-streamed performances: the Society for Arts and Technology (SAT) and Cinquième Salle at Place des Arts.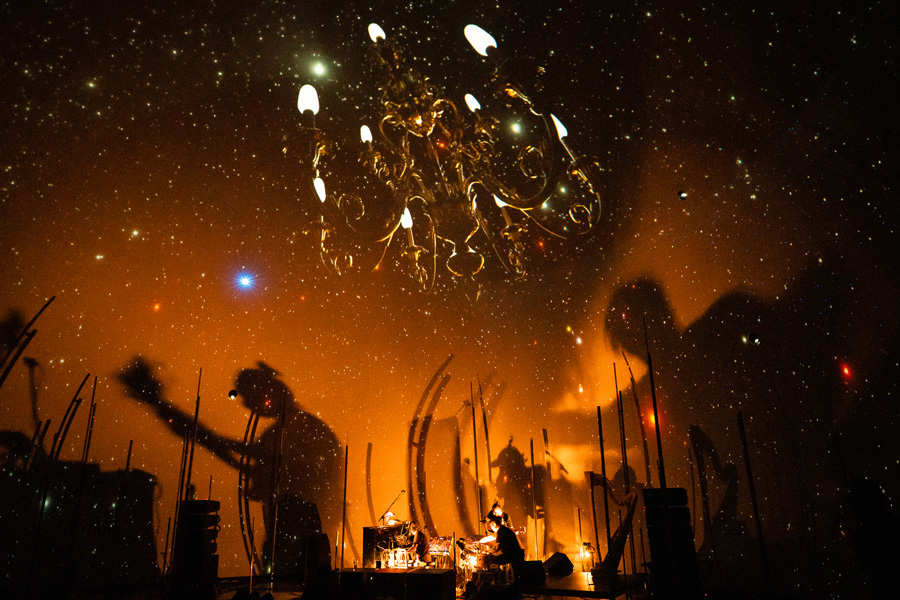 The event adapted to the times with a hybrid model that depended heavily on Meyer Sound products and highlighted the company's new spatial sound design and mixing tool, Spacemap® Go for iPad.
According to MUTEK sound designer Jonathan LaFontaine of One Wave, the festival's approach had to adapt to the evolving restrictions on live performances. Once the venues were confirmed, One Wave worked closely with GerrAudio Distribution and Meyer Sound to put together effective solutions.
At Place des Arts, the system consisted of eight Meyer Sound LINA® line array loudspeakers per side, two ULTRA-X40™ front fills and six 900-LFC™ low-frequency control elements flown in a straight line at roughly the same level as the LINA boxes. LINA, the smallest and lightest member of the LEO® Family, addressed specific challenges in Cinquième Salle, according to Gaetan Bouffard, the venue's head of audio.
"Normally we do theatre, dance and opera and we have a Meyer PA system we can adapt to fit those applications," he explains, "but for electronic music you have to have a system powerful enough to deliver more SPL. The LINA line array was the perfect fit. It's compact and light enough to hang without overloading the weight capacity of the hall, and the coverage is amazing."
The SAT venue also presented challenges. First of all, the 50-person audience was seated low to the ground in beanbag chairs. "We needed a system that had a lot of punch in the low end, but we didn't want to block the video on the 360-degree projection dome," says LaFontaine, "so we ground-stacked one 900-LFC sub with four LEOPARDs on top per side, plus three more 900-LFCs for additional low-end reinforcement. We also had eight ULTRA-X40 point source loudspeakers spread around the room for surrounds."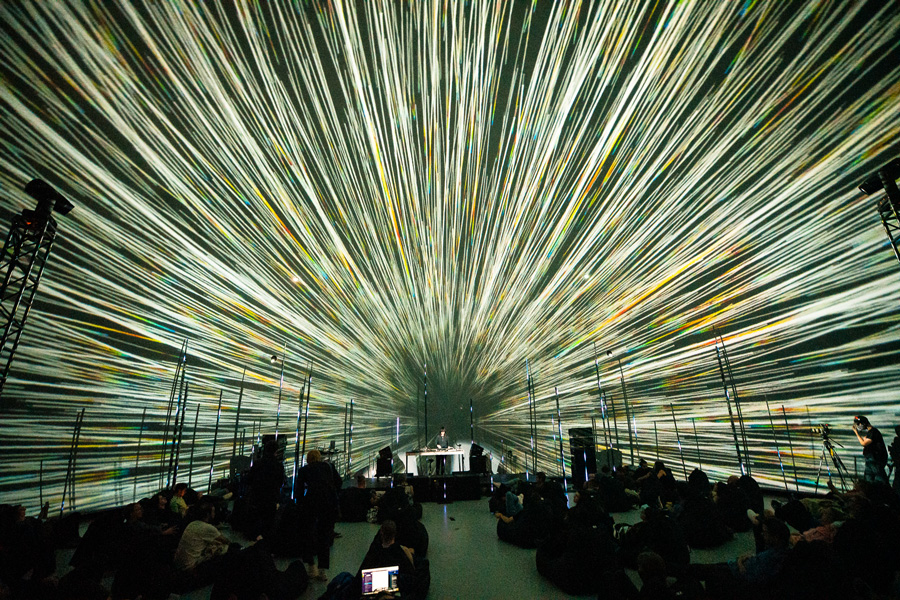 Meyer Sound's MAPP 3D™, the company's new prediction software, was used in both venues, which aided in delivering precise, high-resolution audio for these challenging applications.
But it was the deployment of Meyer Sound's new Spacemap Go, a spatial sound design and mixing tool that leverages the company's highly successful GALAXY™ Network Platform that took a starring role in SAT.
Spacemap Go provides smaller venues, normally mounting less sophisticated productions, with a highly adaptable tool to create a highly immersive experience at relatively low cost. MUTEK deployed a late pre-release version of Spacemap Go.
"The way the software works is you basically draw a map on an iPad, you can use the existing loudspeaker layout or not, to direct where and how you want the sound to move around. There's really no limit to what you can do," LaFontaine explains.
Given that none of the engineers would have experience with the tool, a few pre-programmed Spacemaps were provided, though users were encouraged to come up with their own. At first some were gun shy, but those who took the opportunity were suitably impressed.
As Mathieu Parisien, longtime FOH mixer for Patrick Watson, puts it: "We didn't have a lot of time to set up and I have to say I wasn't sure about it.
This was the first show we've done with new music that wasn't played in front of people before, but I was able to make Spacemap Go work pretty rapidly."
In addition to the pre-programmed patterns, Parisien also drew one of his own. "I was impressed and surprised with how easy it was," he says. "These kinds of things can sometimes sound gimmicky. It's like when you mix an album; if you process everything too much it doesn't feel right. But Spacemap Go did the opposite, actually, so I was amazed and really enjoyed using it."
---
Overall, the systems proved a perfect match for the unique demands of the festival, says LaFontaine. "Meyer Sound is a good fit for electronic music due to the linearity of the system, especially the subs," he notes. "People tend to forget that sub frequencies aren't only a frequency range, they're also musical notes.
Some products are what I call 'one-note' subs. They're efficient at reproducing the frequency at which they're ported, which means that that one note will come out louder. And that is anything but musical. Meyer Sound loudspeakers reproduce all notes evenly, without distortion, and can go very loud if you want them to."
D'autres informations sur le site Meyer Sound
Posted on 7 December 2020
Crédits -
Text: Meyer - Photos: Myriam Ménard & Bruno Destombes