Ayrton expands its Creative Solutions line of graphic beam projectors with the new MagicBlade™FX. This automated in-line luminaire is fitted with the distinctive squared output lenses found on MagicPanel™FX and shares the same quality of colour mixing and versatile effects: 3D volumetric projections, variation between the colour-rich luminescent face or separated points of light… with ultra-tight beam projection or wide angle wash from a unique zoom system with no visible moving parts. More magic from Ayrton!
MagicBlade™FX presents an elegant rotating baton of seven squared outputs placed shoulder to shoulder. Each emitter combines an ultra-powerful RGBW multichip LED source with a light pipe zoom system that homogenizes the colour mix and an aspherical transmitting lens, which is optimized to project a tight 3.6º beam.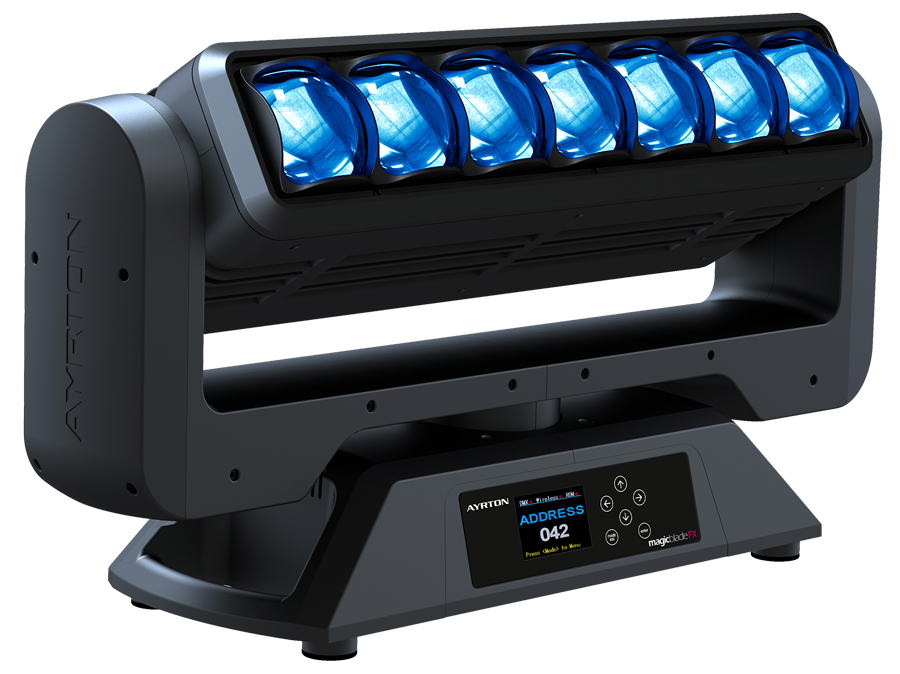 The quick, internal zoom system delivers a 15:1 zoom ratio, with a range of 3.6° to 53°.
This optical system allows designers to create an exceptional colour mix with visually sophisticated results through direct control of the RGBW chips of each emitter. Multiple colour effects can be achieved point by point.
Here is the demo video designed by Stéphane Migné and programmed by Arnaud Pierrel :
99 machines!

AYRTON – MagicBlade-FX – 99 Unit Demo from Ayrton on Vimeo.
The versatility of the MagicBlade™FX makes it an indispensable tool for any lighting designer. Used for back lighting, it can create a lens moiré effect. With its volumetric beams in unlimited continuous rotation on the pan/tilt axes, this luminaire helps highlight a performing artist from the side or front. MagicBlade™FX has the same form factor as its brother, the award-winning MagicBlade™R, and can be integrated into a rig just as easily.
MagicBlade™FX uses the identical control protocols as MagicBlade™R: DMX-512 w/RDM, ArtNet™ and wireless DMX via an on-board LumenRadio receiver with external antenna. Driven by three-phase hybrid stepper motors, it is a solid and reliable performer, capable of crisp positional movement and glorious sweeps in continuous rotation.
---
MagicBlade™FX is to be launched officially at Prolight+ Sound 2017 and will be available for immediate delivery. The stunning demonstration video for MagicBlade™FX was released in early March and the fixture is already a dazzling success – Ayrton has received hundreds of pre-show orders!
More informations on Ayrton Website