The range of affordable ColorSource projectors now includes the ColorSource Spot Junior. With its integrated optics, this profile spot weights only 5.5 kg, twice lighter than the standard ColorSource Spot. And it is twice cheaper as well.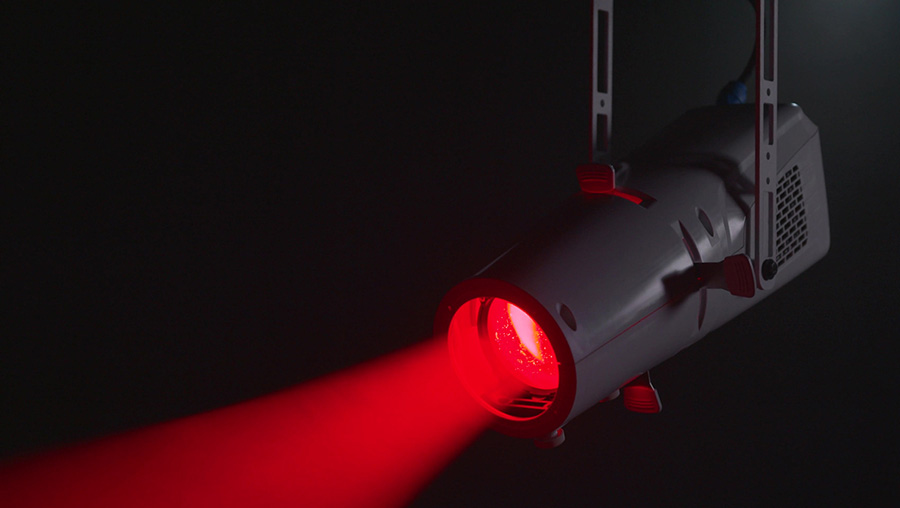 As with all ColorSource fixtures, Junior offers a wide range of colors and precise dimming. It comes in two versions: the Standard one comprising a LED RGB+Lime module generating subtle pastels, and a Deep Blue version incorporating indigo, red, green and lime LEDs for more saturated colors.
Junior comes with a complete factory calibration to guarantee the colorimetric persistence within a full rental or venue inventory. It also includes full thermal control of the LEDs, to compensate for the losses due to temperature rise, hence ensuring a perfect color match.
The luminous flux is not sacrified as well. With its 52 Luxeon C LEDs it reaches 5,700 lumens. Remember the ColorSource Spot Standard, equipped with 60 LEDs, generates 6,900 lm. On the other hand, the optics are not interchangeable, but the range of the 25 – 50° fixed integrated zoom reveals to be a perfect match for small stages, clubs, general use venues and shopping malls.
---
---
This ETC newbie comes with a 5-year warranty on the whole projector, and (even better) a 10-year warranty on the LED module.
All color and photometric data of the Spot Junior, and all ETC projectors are available on the "MyETC: Photometrics" app.
More info on the ETC Website
Posted on 29 June 2020
Crédits -
Texte : ETC/SLU