Wonderfruit is an annual arts and music festival. Two years of epic audio generates potential global rollout with L-Acoustics L-ISA Immersive Audio System in this wonderful place.
Two years ago, Hugo Heathcote, one of three directors of Polygon Live, and his Polygon co-visionaries Archie Keswick and Nico Elliot entered into discussions about a new immersive audio concept to be delivered for a festival environment.
Searching for the right technical partners to bring their 360° audio vision to fruition, the Polygon trio discovered that L-ISA had everything they required.
The destination for L-ISA was Wonderfruit, an annual arts and music festival that takes place at The Fields of Siam Country Club, near Pattaya in Thailand's Chonburi Province.
The team first delivered its vision, the Polygon Live stage, in December 2017, allowing festival-goers to experience a fully immersive event, bringing together futuristic sensory technology that synchronised touch, holographic visuals, light and spatialised sound in an all-encompassing festival environment.
Polygon deployed L-ISA technology for its interactive Polygon Live stage for very good reasons, as Heathcote explains: "Not only does L-Acoustics make the best loudspeakers, they're way ahead in the development of immersive audio technology.
With our incredibly talented team collaborating with the team at L-ISA, and working alongside festival Founder, Pete Phornprapha, we produced a programme, from inception to delivery, for a completely new and innovative stage at Wonderfruit."
Wonderfruit and bamboo structure
The success of the new concept meant that at its second outing, in December 2018, the team could build on the previous year's achievement.
This time, it moved on from just playback in the stage's 25m diameter bamboo structure, to live performances, allowing L-ISA technology to be utilised by some of the world's leading underground House and Techno DJs over a four-day period. "From an audio point of view, the goal was to give our DJs and producers the ability to spatialise their content when playing live," Heathcote explains.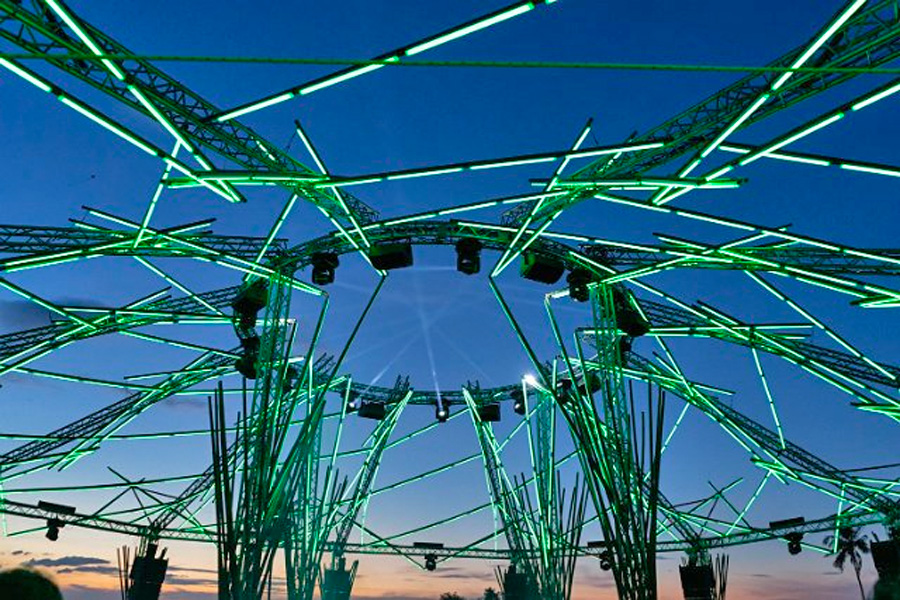 "The design was very much led by the desire to not only achieve the highest quality audio that would encompass everyone who visited our stage, but to maximise our ability to freely move audio within our custom speaker configuration.
So we went for a hemisphere of loudspeaker sources, encompassing the audience with surround and overhead layers."
The L-ISA system design was a collaboration between Polygon Live and Director of L-ISA Labs, Sherif el Barbari. L-Acoustics Application Engineer, Alvin Koh, also worked closely on the project alongside sound designer and immersive mixing specialist, Davey Williamson, who has been involved in complex L-ISA designs such as SPYSCAPE experiential museum in New York City.
"Davey's proven ability to execute both a technical and creative delivery on L-ISA projects was an invaluable asset to us," Heathcote says.
Dodecahedron configuration
The team deployed 12 hangs of three Kara with an SB18 atop each hang, all positioned in a dodecahedron configuration facing the centre of the structure, with a 115XT HiQ below each hang to allow for nearfield coverage.
The height elevation consisted of eight 115XT HiQ in a ring, all facing directly downwards.
Sub enhancement was delivered through 16 SB28 as a central configuration, comprising two rows of eight in horizontal orientation. System control was via a DiGiCo SD824 Core 2, which sent a MADI stream of 64 sources to the L-ISA Controller. System calibration was carried out by system engineer Matt Gush, with direction from Williamson.
"The results exceeded all expectations," Heathcote concludes. "The sound was the best we had ever heard – the system was a joy to work with and performed beautifully.
We're at the beginning of an exciting journey and so look forward to pushing the L-ISA technology as much as we can, with the goal of producing truly extraordinary experiences. Huge thanks to Christian Heil, Sherif El Barbari, and the entire L-ISA team for entrusting us with their flagship technology."
Having successfully deployed the system for a second time, Polygon Live is now looking to roll out the concept globally.
More information on L-Acoustics, and click here for our interview of creator Christian Heil.
Posted on 9 April 2019
Crédits -
Text & photos: L-Acoustics.