Launched by Luminex in the spring, LumiNode are Ethernet-DMX converters that can work with today's network protocols, while anticipating the next revolutions, in particular the changeover between the less and less common use of DMX in favor of network lighting controls.
To achieve this, the Belgian manufacturer has based its new nodes on processing blocks that are independent of the data signal. These processing engines make it virtually possible to ensure a number of complex operations, without having to go through the DMX ports, in order to increase the capacity of the network. LumiNode's intuitive Web interface, combined with LumiNet Monitor software and Araneo network management software, ensures unparalleled work and organizational comfort for secure network management.
The LumiNode range includes three main models and a lightweight interface for network technicians. Each of the LumiNode 12, LumiNode 4 and LumiNode 2 includes RDM compatible DMX ports with full optical and galvanic isolation, along with a RGB activity LED indicator. A 2-port EtherCon RJ45 switch is also included, along with link indication, activity and user mode indicators. Configurable from their Web management page, LumiNode integrates additional processing blocks to use simultaneously multiple conversion and transfer functions.
– The LumiNode 12 is the most complete in the range, offering in a rack-mountable 1U format 12 DMX / RDM ports, 16 processors and 2 Ethernet ports, with color display panel and configuration wheel.
– The LumiNode 4 is the most versatile in the range with 6 internal processors and 4 DMX / RDM ports, a 2-port EtherCon switch and an integrated menu. In a half-rack format, it perfectly complements the Gigacore 10 switches on tour, and can be powered by PowerCON or POE.
– The LumiNode 2 is a lightweight node, equipped with 2 EtherCon 1 Gb ports with integrated switch, 2 DMX / RDM outputs with RGB activity LED indicator and 4 internal processors. It does not have a power cable because it uses a PoE power supply, and can be fixed to a pole or wall-mounted thanks to its mounting bracket.
– The LumiNode 1 is a real Swiss Army digital knife. Sturdy construction, 1Gb EtherCon port, PoE power and pocket size allow technicians to use it as a next generation 5-in-1 device. All its possibilities are summarized below.
---
LumiNode 1
The LumiNode 1 comes in the shape of a small black metal case screenprinted in white, strong and dense. It is fitted on the back with a B-type USB port with a LED indicator that turning red once powered on. On the front plate, a Neutrik RJ45 connector alongside a 5-pin DMX female chassis plug, from Neutrik as well.
LED indicators provide information on the use of the ports: flashing cyan for active DMX, blue for DMX-RDM version; for the network, a light goes green or amber according to its speed (1 Gbit or 100 Mbit) and flashes in the presence of Ethernet traffic. A third indicator is available for future uses, probably following the colors of the Luminex VLAN groups.
On both sides steel stiffeners protect cables and connectors. A label positioned underneath lists the electrical data and the default IP addresses. The power supply of the box can be done via the USB cable, or by PoE through the Ethernet cable.
USB-Ethernet adapter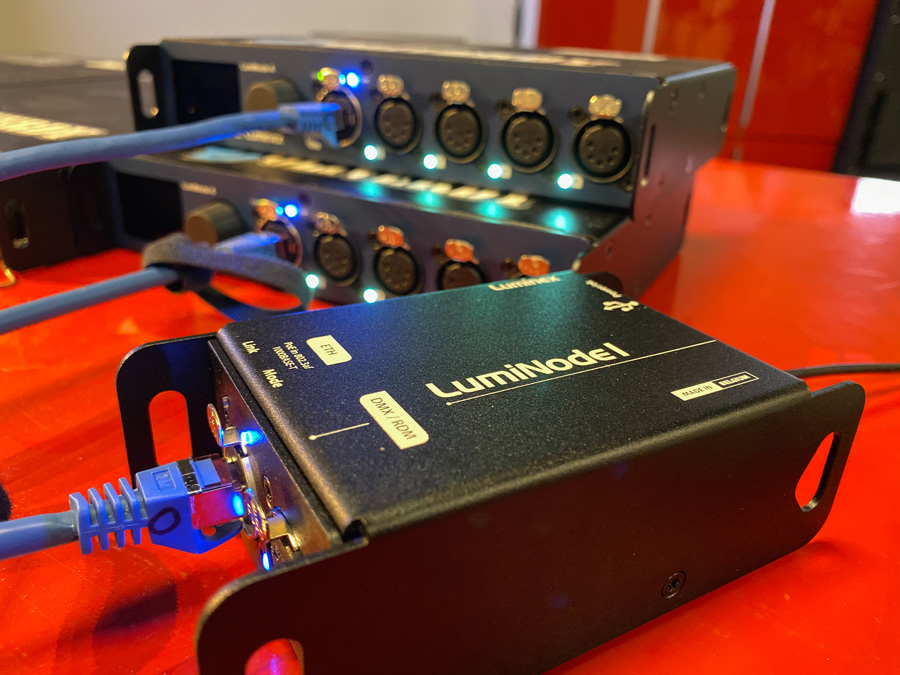 The LumiNode 1's USB port allows it to be used with a Mac or PC as an additional network card, with 1 Gb EtherCon output. This interface is recognized immediately and is configured in a few clicks.
The use of a class A address makes it possible to quickly use the LumiNet Monitor software, at least version 2.3.1, to interface with an ArtNet network. The LumiNode 1 also has its own IP address for its tester and DMX converter part.
Particularly sturdy, it easily takes the place of the small adapters available on the market, with true professional connectivity.
---
The LumiNode 1 allows the LumiNet Monitor to detect the different network nodes via its network card. The user can therefore monitor the ArtNet traffic live and validate the settings of the different on-line converters.
---
In combination with Araneo software and an IP administration address, usually in class C, LumiNode 1 offers a gateway to all Luminex network management. Dedicated to follow up and configure the entire Luminex network tree, the Araneo is probably the most advanced management software of the moment. Still in its infancy, this software is expected to evolve within the next two years by integrating all the features of the LumiNet Monitor and access to other devices on the market.
---
From this software, all the functions and options of Luminex switches are accessible, with detailed information on their operation, the characteristics of network ports, changes of groups on the fly or a remote reset.
DMX tester – RDM
With its DMX 5 output, the LumiNode 1 can be used as a projector tester in the absence of a console.
Able to convert an ArtNet or sACN universe into DMX, it can be used with dozens of lighting interfaces available on PC or Mac, freeware or commercial version, to check the working functions of a lighting kit, to perform servicing tests or to quickly encode some memories.
Just read its IP address on the back label or search through Araneo or LumiNet Monitor, to configure its virtual console.
RDM compatible, it knows how to take advantage of the LumiNet Monitor functions to track down the RDM projectors present on the network and configure them remotely, without having to access their menu. Particularly useful for troubleshooting and last minute changes, the many tools included in the software allow a complete analysis of the intelligent projectors and the setting of their mode, address and options.
Advanced DMX converter
As a Node, LumiNode 1 is able not only to convert one protocol to another, but also to perform specific signal data mixes.
All these functions are accessible without software, thanks to the integrated intuitive LumiNode web page.
The most used function is "Forward", the conversion or transfer from one protocol to another. Usually used to convert the ArtNet signal of a DMX light console, the LumiNode however goes much further.
It can thus receive a DMX stream from its XLR5 input; ArtNet, sACN or RTTrpl (Blacktrax) through the Ethernet connector; or from an internal processor, and convert it to DMX, ArtNet or sACN. By default, the Ethernet data signals are Broadcast for listening and receiving (IP: 2.0.0.0 and 2.255.255.255) but it is possible to specify the unicast mode at any time by specifying the IP address of the receiver or transmitter.
It is possible on LumiNode 2, 4 and 12 to copy these settings from one output to the other by simply dragging the copy mark with the mouse. The system will automatically increment the universe numbers one after the other. To quickly change universe, shortcuts +/- 1, +/- 4 and +/- 16 are permanently available at the top of the window.
More complex, the HTP and LTP merges can mix up to 4 different sources data, according to the priorities defined by the logics of HTP (Hightest Take Precedence) or LTP (Latest Takes Precedence). This feature is useful when multiple consoles need to control the same projectors, while on tour or on a theater stage with a master controller and consoles for focus.
The Crossfade and Switch functions allow the user to switch multiple sources to an output. Crossfade makes a smooth transition between two sources, always between the different protocols accepted by the LumiNode. This mix is managed by one of the 512 channels chosen by a third-party source, in ArtNet or sACN.
The Switch function allows to choose between 4 sources which send out, always using a dedicated "selection" DMX channel. An interesting solution for network administrators in a festival, to quickly switch consoles between shows.
Much more advanced procedures are allowed by using the Custom menu. The network administrator can decide, channel by channel, which control sources or priority levels are required.
This procedure is complex and long but it allows to use a light console for the movement of LED moving heads, and a Media Server to feed in parallel videos in these LEDs.
Backup solution
Backup procedures are also possible thanks to LumiNode. The Backup function allows you to define a main source and a backup source. When data is lost from the main source, a changeover will be made instantly to the backup source.
When restoring the primary connection, the operator will choose a time-out period, or a manual switching operation to make sure that the primary source is working properly.
It will also be possible, in a future update, to capture a data stream into the LumiNode and play it in case of a failure. This feature will also allow you to record one or more static light boards to test or reset a light system from scratch, or just send an ambient cue without any lighting console.
Independant treatment block
As network management demands increase, particularly on signal conversion and in-deep re-routing, DMX port requests no longer follow the typical facilities. Luminex has decided as well to add additional processing units to its nodes, called 'Processing Engines', to support pure Ethernet conversions, or to create new functions by mixing the seven available.
This way, a simple Node1 has a DMX output but two processing blocks. It can mix several protocols on one side, and backup solutions on the other, with a single DMX output.
The process blocks are also cascaded to increase the possibilities of HTP and LTP mixtures up to 7 sources, choosing an 'internal' source as an input or output signal.
The usual Luminex routines are also present, with specialized menus for limiting the output level per channel, managing typical profiles of use or remote resets. Network configuration, DMX protocol management or the choice of several firmware within a single LumiNode 1 also perfectly complements this real pocket toolbox for all in-field network administrators.
More information on the Sonoss website
DMX features
Supported protocols: DMX512 (1986 & 1990), DMX512-A, RDM ANSI E1.20
Isolation of DMX ports: Isolation optique et galvanique sur chaque port
DMX backup: Oui
Physical features
Height: 44 mm
Width: 131,5 mm
Depth: 73,3 mm
Weight: 0,42 kg
Body construction: Métal
Working temperature: 0 à +50 °C
Ports Caracteristics
Ports speed: 1 000 Mbps
Ports detection: Auto négociation (10BaseT, 100BaseTx, 1000BaseT) Full ou Half Duplex
DMX ports status display: 1
Connectors
Ethernet ports: 1
USB ports: 1 (dongle USB to Ethernet)
Connectors type: Neutrik 5-pin XLR
Electrical features
Consumption: Maximum 6 W
Power supply: Thru Ethernet (PoE 802.3af) and USB
Ethernet features
Supported protocols (Ethernet): Art-Net I, Art-Net II, Art-Net III, Art-Net IV, sACN (ANSI E1.31), RTTRpL (BlackTrax)
Environment
Humidity: 5-95 % hors condensation
Stocking temperature: -10 à +70 °C
Certifications
Eco certifications: RoHS, Reach
Certifications: electromagnetic: EN55032 class A, EN55035, EN61000-3-2, EN61000-3-3, EN61000-4-2, FCC
emissions and immunity: Part 15 CFR 47 class A
Certifications: safety: IEC 60950-1, EN 60950-1, UL 60950-1, CAN/CSA-C22.2 No. 60950-1, IEC 62368-1, EN 62368-1, UL 62368-1, CAN/CSA-C22.2 No. 62368-1, CE
Network features
Rerouting: Yes
Snapshot: Yes
Softpatch: Yes
HTP/LTP (merging function): Yes
System Trigger: Yes
DMX backup: Yes
Treatement units: 2
Master/Limit: Yes
Posted on 3 December 2019
Crédits -
Text and Photos Tristan Szylobryt