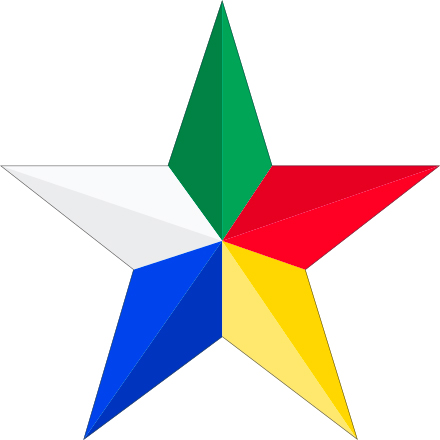 We met Vinnie in the aisles of an exhibition, on the Audio Concept's stand, the company representing Clair Bros in France. Having Vinnie on the stand inevitably attracts customers, delighted to exchange a few words in a perfect French, while Dominique Maurel relishes. True customer-oriented service, as we like.
We took advantage of a pause in the customer flow, to meet Vinnie separately, and to discover some of it facets.
SLU : You look like being at home here
Vinnie : I am. I quickly feel good everywhere. This might explain why I leave fast as well (smile)!
I don't have any ties.
SLU : Your French accent is built of a thousand nuances; I can't tell where you come from.
Vinnie : I'm Druze. I was born and raised in the mountains facing Beyrouth, Lebanon. I don't know my parents; I was adopted by a French family. I was at the Saint-Vincent de Paul sisters Christian's orphanage and my adoptive mother, who was a nurse at the Hôtel-Dieu hospital, knew one of the sisters. My name is Vincent Perreux but I could also be named Mohamed Dupont. I did my first trip when I was very young, and traveling has never been a handicap in my life.
SLU : How old are you?
Vinnie : I'm 53.
SLU : Were these so different roots a weight when you were a kid?
Vinnie : A bit. Kids go the hard way: "Why are you different? What does your daddy do? Where are you born….". When I answered I was Lebanese at the time when the French peacekeepers were being shot, I became a kind of pet peeve, somewhere responsible for this war.
Sound is music
SLU : How did you enter the audio world?
Vinnie : Music is the foundation. My dad wanted me to become a soldier. It didn't work, neither did a mechanic or a cook. I gave up with the last sector as I was too rebellious, and when I was yelled at, I answered. But still the passion for stove last. At the same time, I played in a band called the Rocking Kronenbourg, and as expected we went to play in the street of London.
SLU : Instrument?
Vinnie : Drums. Very bad. Training in Stray Cats style as it was very simple for me in terms of gear. Long story short, we kept the second part of our band's name, Kronenbourg, and we drank a lot of shots. Still, we managed to earn a bit of money and we hold out until that man popped up and said he will make you record a demo tape in a studio… Gloomy, but hey, a recording studio!
There we realized how bad and out of sync we were playing. I remember at one point getting up from my seat and going into the studio cabin. "What are you doing with your buttons?" I was fascinated. I came back to the other side of the window and told the musicians, "I'm about to stop playing guys, I want to do this. And this was the last day I play drums, a small step for me and a big step for music (laughs). This was back in 1985.
SLU : And after the click?
Vinnie : Vinnie: After the Kro period, I returned to France and since my parents lived in the center region, I followed a training in Bourges called, I believe, "Sound recording and stage technique. » We were interns at a venue called Germinal (memories here) and we became interns for the Printemps de Bourges festival as well! So I'm a little guy from Bourges who was loading out flight cases for the Régiscène company.
A little bit of Rock, but a lot of work
Vinnie : Still in Bourges, I then started as a sound manager at the Jacques Cœur theater, and I worked on jazz festivals, theatrical pieces, ballets and we were awarded several times. Artistically speaking, it was a very intense era, but despite all of this, it lacked rock'n'roll ! (laughs). No matter how often I parked my Harley in front of the theater, they played jazz most of the time!
SLU : Already owned a Harley?
Vinnie : No, you're right, it was a Norton Commando. At that time, I was driving English motorbikes. From the theater, I moved to Paris, like many other people and, I don't know why, I went to Italy for a dance festival in Forlì. I had acquired some skill in multichannel audio and that probably helped me. I also met my first Italian fiancée there and I settled in her country. Bye-bye Bourges.
I started working with some great recording studios like Maison Blanche in Modena (a very large part of the big Italian hits including dance music were recorded there, Ed.).
As these studios made live recordings as well, and from time to time sound reinforcement, I was offered to discover the busy Italian music market with people like Zucchero.
This is how I set off on Eros Ramazzotti's first world tour as a P.A management assistant. Eros wanted to continue collaborating with his studio engineer, and the latter offered me to follow him on this tour. To be honest with you, we both were not that skilled, but we learned. The Italian production company collaborated with Brit Row and we were using a Turbosound system.
SLU : Heavy stuff?
Vinnie : We toured more than a year, and the concerts in Italy can be very, very big (smiles). The tour goes on and I end up being the monitor guy. We're going to the USA and we're making a date at the Hilton Midtown's ballroom in New York. I am on stage left with the brand-new Heritage 3000 Midas has just sent us and on the front of house we have one XL4. The PA is based on Clair Brothers. It is the first time I see it and yet I say to myself: "I want to work with them …"
SLU : Why, did you know the company?
Vinnie : I knew the name obviously. All audio professionals know the Clair brand. At that time, Italy was historically turned towards the US and the example to follow was Clair Bros. Milano based production company Music Service had copies of S4 and used it for Vasco Rossi.
In Italy everyone made copies because Clair was THE brand. These copies were blue but did not sound exactly like the real ones (laughs).
SLU : What about the encounter?
Vinnie : It happened. And I told them how excited I was to join the company. Problem, I had met a freelance who probably saw with a bad eye that an Italian puts his foot in the company, so at the end he told me: "well, you just have to call them!"
SLU : People took you for an Italian?
Vinnie : Necessarily. I spoke Italian with Eros and my chameleon side has always worked in my favor. I adapt ! So, at the end of the tour I try to call the US twice, nothing… I was then told to contact Audio Rent, which had just gone under the Clear flag, with no further effect. Starts the tour of another big Italian artist, Renato Zero. We left with V-Dosc because Paul Bauman and I had trained the Agora's teams, the production company of this tour.
A phone call and everything is Clair!
SLU : So, you tour with Renato Zero…
Vinnie : And there, phone call. A Swiss number: "Hello Mr. Perreux, Audio Rent speaking. We got your contact through the US. We need someone to set up Carlos Santana's system …".
I take a deep breath (laughs) and I ask how long they need me:" Ahh it's a short one, 2 weeks maximum." Problem: I have a 4-month contract, and it looks like it will last with Agora. The classic dilemma.
"You are paid so much and given an hour to think. " The American way! Obviously, I said yes, I left everything and ended up… in southern Italy (laughs) where Santana played with Joe Satriani as the opening act.
SLU : For those who don't like guitars…
Vinnie : A nightmare! 5 hours non-stop with the sound check. But from there I went on 22 years of non-stop tours.
SLU : Without doing your classes?
Vinnie : Ahh, of course I did! When I got there, they said to me, "You forget everything you know. This is a camlock, and your job is to pull electrical cables, period!
I started like this. No wonder, since today Clair has a school that trains young people in a two years program. It became a university program in the USA. 30 years ago, they already had the same mindset.
SLU : But you had a break there?
Vinnie : Yes, when I stopped touring, I worked for Harman. I settled in Kuala Lumpur Malaysia and I became Mister JBL. Then I returned to Italy where I took care of the Outline brand for two years.
SLU : No comment?
Vinnie : On this last experience, no. When Clair knew that I had stopped with this Italian brand in 2019, they came back to me and offered me to collaborate with them again, but this time it was for the sales branch called Clair Bros and for Clair Global, the audio production company.
SLU : And you settled at home in Toscany?
Vinnie : I live, and I have my office there. That said, I radiate all over Europe or even beyond if necessary. A very flexible Europe which can go as far as Dubai or Orlando (laughs). I had already started a kind of retraining, as since in the middle of touring for Global, I was asked to open Clair Bros Indonesia by training the staff who are still in place today. I stayed there for more than 6 months.
SLU : Keeping your style?
Vinnie : Sure, tie and white shirt are not an option for me! I come from the touring world, where this is not common!
SLU : You stopped touring as an Audio Crew Chief, I can imagine it took some steps from cable man to audio manager?
Vinnie : Absolutely, like everyone! At the end at Clair, I was FOH and team manager, but mostly I took care of the mixers, and major audio engineers like Joe O'Herlihy, Jon Lemon or Pooch Van Druten. I took care of their FOH and I calibrated their system according to the needs of each.
Joe lets you do it and listens to the result, where Pooch works with you step by step. I loved the "Perfect, I want this every day" challenge, which is far from obvious. I think I left a good memory even if a lot of people will tell you I'm a doucheface….
SLU : Effectiveness first?
Vinnie : I had a job to do, and it was done no matter what. You must be the first to get up in the morning and the last to close the truck's doors. In any case, and view the size of certain tours, I'm thinking of U2 especially, there was no place for the slightest error.
There were so many of us, that we were several team leaders, each taking care of its own business. My job is to give you the turnkey Ferrari with a full tank and stay by your side if something goes wrong because I know the smallest details of the installation. I love it!
SLU : 53 years old. How do you see yourself continuing and evolving?
Vinnie : I perfectly see myself continuing as technical support and I think it would be interesting to have a Clair Bros structure, a kind of dry rental which would be working in partnership with all Clair Europe services. To be in the middle and to offer support, complete a tour kit where it is necessary.
SLU : But isn't it what AudioRent is meant for?
Vinnie : No, Audio Rent is Clair Global (ahh this segmentation… Ed.) but it is important that those who use Clair Bros systems have the same type of support as those who use the Clair Globals' services. For this reason, you need someone who comes from the Clair Global world who make sure that a Clair Bros tour is done the Clair Global's way.
As a matter of fact, Clair Global's teams are already backing up on Clair Bros' tours, this happens for instance with equipment purchased by some groups. As an example, the power of Clair is Josh Sadd's ability to design tailored speakers for tours but also for boats, churches or restaurants and make them invisible, but at the same time very good sounding.
SLU : When we listen to you, we think of Xavier Gendron and others who had this desire as well, let's even call this a passion for Clair. Where do you think it comes from?
Vinnie : I think the French market is not enough for them. Some French artists obviously make you travel but they are as rare as the number of dates abroad. It is not easy to always deal with the same thing every day and for that aspect, Clair is perfect.
Take Xav, I saw him as an assistant on big Clair's tours when he was a great sound engineer, but he understood that to reach some artist, you need to analyze how the Americans work and gain your place step by step. He got there and he fully deserves it.
SLU : Do you miss the Rock&Roll lifestyle?
Vinnie : Yes, but you need to know how to ease off. I found myself in Lagos managing audio with maybe 500,000 people, in the presence of the Prime Minister. We are professionals, but this kind of event stresses a little, still.
It's nice to leave Greenland to go to the Moon then have lunch in Tokyo and have an aperitif in Paris in the evening, but day after day, it's harder to recover even the jet lag. My body told me to stop in its own way and you must listen to it.
The memories jostle in my head, but the thrill and the mercenary side where nothing is impossible will always be there. I was interviewed one day and when I was asked what I'm missing, I replied: "I hope to live long enough to do the first Clair's concert on the moon!"
---
SLU : Let's leave the technique and by way of conclusion, a more personal question. Do you have children?
Vinnie : I have one, but to echo my story, I adopted him. I paid my due somehow. While I was living in Paris, I met a woman and she had a 4-and-a-half-year-old child. We lived together until he turned 18. I raised him up and he calls me dad.
I arrived in Paris a few days ago and the first person I wanted to see was him. He is 24 years old and works in insurance. He is adorable with a huge heart and he is a real Frenchman. He moans all the time against everyone (laughs)!
Posted on 14 April 2020
Crédits -
Text:Ludovic monchat - Traduction: Fabrice GOSNET - Photos: Vinnie et SLU