AO Drones, a provider of drone light shows, recently delivered an airborne show for a video campaign promoting Motorola's reimagination of its iconic Razr flip phone in Middle East, and more precisely in Dubai, and Africa. The resulting video quickly attracted over 200,000 views through Motorola's social media channels.
The teams from AO Drones and AO Creative, part of entertainment lighting visionary AO Technology, worked in collaboration with Motorola and netizency, the digital marketing agency, to design the visual content, including animated logos and brand names. AO Drones' design team even created an animation of the Razr flip phone opening, closing and rotating in the sky.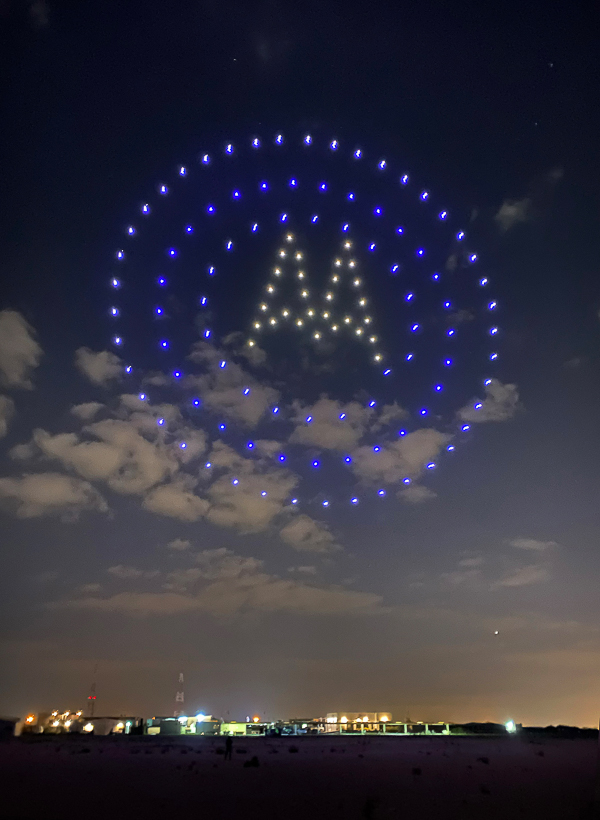 Vinayak Shenoy, Head of Marketing, Middle East and Africa for Motorola's parent company Lenovo, said of the Razr launch event, "We felt that this drone show symbolises what this product is all about – a great blend of technology and art . . . The beauty of 120 drones rising in the air all together, the whirring of the drones and the beautiful formations is something I'm going to remember for a very long time."
AO's founder and executive producer, Marco Niedermeier says: "From the beginning we asked, what was the intention? It was to create great content for social media and get maximum shares and engagement. So we looked after the whole production – the drone show, the film – but without an invited audience on-site."
Specially developed for entertainment productions, the AO Drones fleet uses an advanced control platform to deliver flexible, efficient and safe shows. What's more, the drones' speed – up to 10 metres per second – and accuracy mean that their 'visible' time in the air is optimised, making these shows a viable option for event productions everywhere.
Adding a further dimension to the video, camera drones provided striking 'fly-through' footage, taking the viewer up and into the drone formation, even passing directly through the Motorola logo. "It's not just filming a flat logo in the sky," says Niedermeier. "This really is three-dimensional, dynamic show content."
---
Motorola Razr Drone Launch in Dubai from GulfNewsTV on Vimeo.
He concludes, "We are very happy that Motorola chose to use a drone show for their product launch. Working with Motorola and netizency has been such a positive experience, and the result speaks for itself."
More info on AO Technology website
Posted on 20 March 2020
Crédits -
Text by AO Drones