Light artist Eloi Maduell from Playmodes Studio used 288 x Astera Titan Tubes to realise his spectacular immersive lighting installation BEYOND at the 2023 LUMA Projection Arts Festival staged in Binghamton, New York.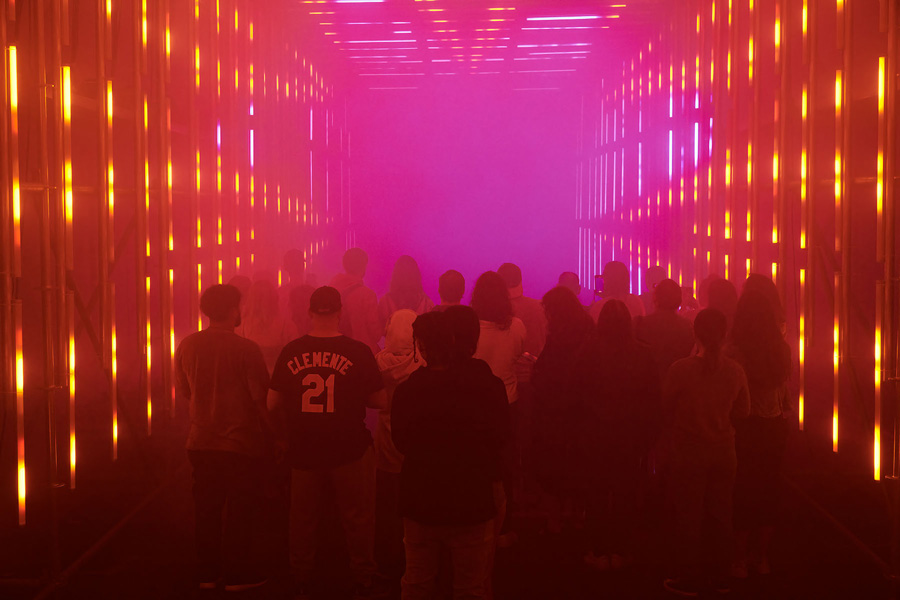 The lighting fixtures were supplied by Wireless Film Lights from Hannover, Massachusetts, a wireless lighting trailblazer and a sponsor of the 2023 LUMA event, which was curated and organised by co-founders, Joshua Bernard and Tice Lerner.
Since 2015, LUMA has been an intersection between art and technology, presenting inspiring, cutting-edge, and fun large-scale lighting and projection art in a pop-up urban environment for what has become a popular annual event in the town, attracting tens of thousands of visitors.
BEYOND was one of seven works presented this year. It was the only one that didn't involve a preexisting building and projection mapping, instead the "travel without moving" experience that juxtaposes light and dark was constructed from the ground up in its own purpose-built 111ft long, 14ft wide venue built from scaffolding and featuring 32 arches of light.
---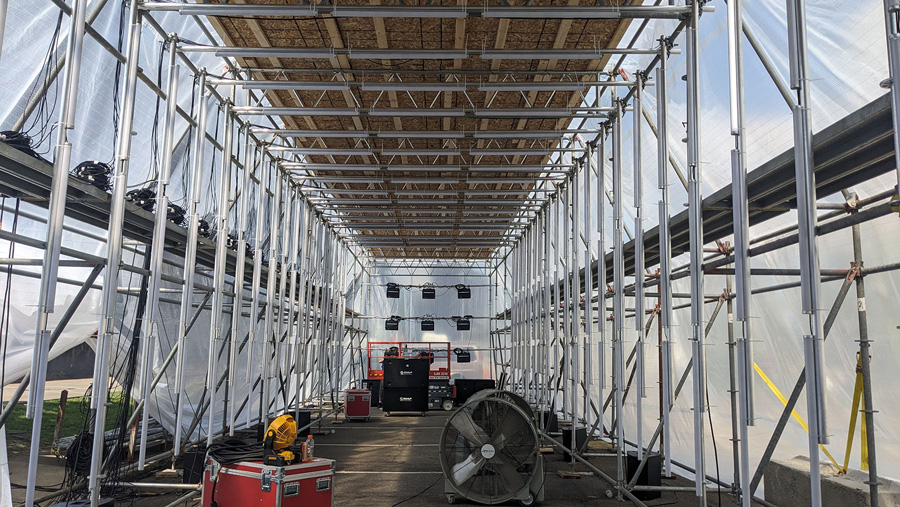 Each of these arches was rigged with 9 x Titan Tubes
Eloi and Playmodes were invited back to LUMA after the success of their "Horizon" work in 2022. BEYOND was first commissioned for the 2017 Signal Festival in Prague where it was located in the city's famous Old Town Hall Square, and it has been reproduced in several other countries since then.
BEYOND's geometrical architecture transforms the built space into a container for the abstract language of light and sound. The long tunnel construction makes the lighting vanishing points visible via the 32 arches, reinforcing depth effects and a prevention of scale mimicked by the soundscape which is heard through a cluster of speakers along the tunnel.
---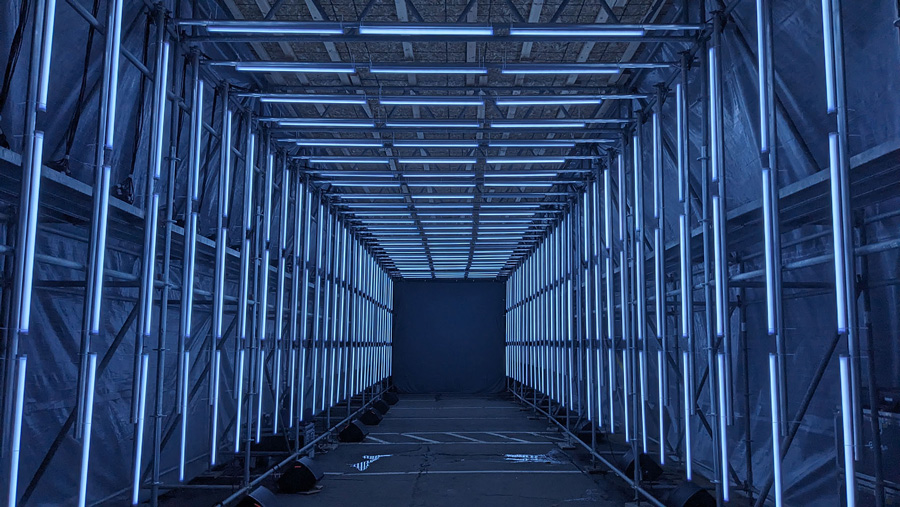 Three Titan Tubes were rigged to each side of the arch, with three on the top. In this case, they were run wired to ensure perfect synchronisation, and this adaptability of the fixtures was pivotal in achieving the desired creative impact.
One side of the tunnel was draped with BP (back projection) screen material diffusing PAR lights that were rigged behind the screen and programmed to pulse in unison with the Titan Tubes and the soundscape, also composed by Playmodes and integral to the piece, playing through 16 speakers and 4 subs, creating the waves of light and sound that transported people through their own spatial and metaphysical experience.
---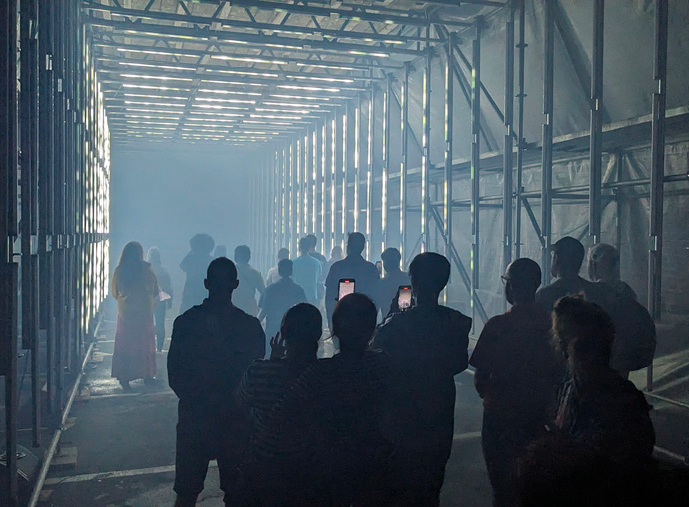 Previous iterations of BEYOND had utilised custom LED tubes which were designed and owned by Playmodes, but for various reasons, it wasn't possible to bring these to the US for this occasion, however, luckily, Wireless Film Lights was able to assist by providing the large quantities of fixtures needed.
It was the first time they had used Astera products, although they were aware of the brand. "The colour reproduction is amazing and the luminosity impressive," commented Eloi, clearly delighted with the results of using the Titan Tubes. He described them as "super lights" that were able to beautifully and elegantly reproduce the effects and drama needed to energise the artwork.
Wireless Film Lights' President Greg Hodges explained how they really appreciated the chance to contribute to this "fantastic artistic expression". Data from the Titan Tubes on each individual arch was fed into a power box connected by sACN and a network switch to Playmodes' own proprietary control software which interfaced with the audio track, with Dante running out to the speakers and subs along the tunnel.
While the work was created as an interior experience, it also looked pretty cool from outside, and Tice commented that it was a "hugely popular" attraction with the public at the 2023 event, and something that guests could enjoy in spite of the unseasonal rain on the first night. The installation was technically overseen on site for the LUMA Festival by Alan Wang.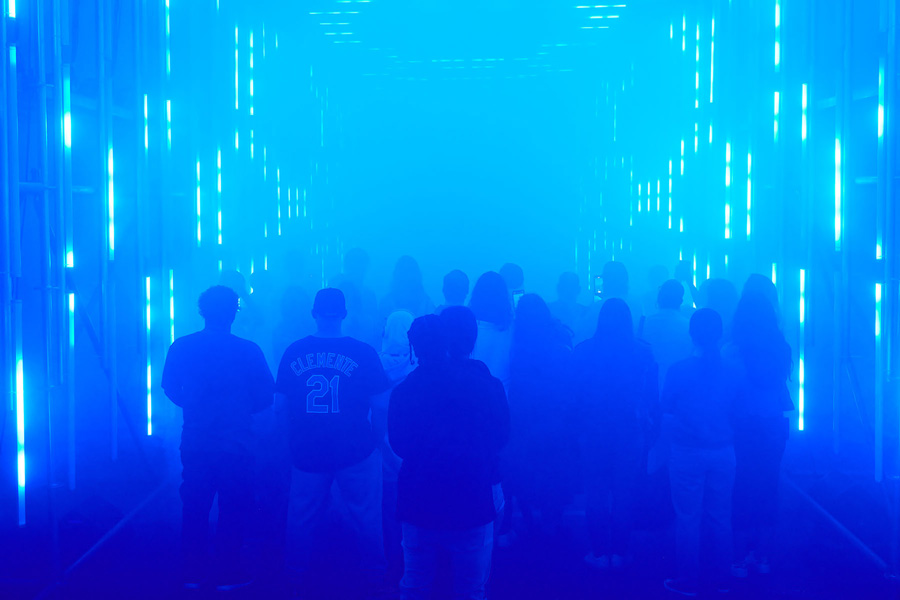 The LUMA festival has grown organically from a small experimental event to a well-respected light art phenomenon while staying true to its roots and the visions of the collective of passionate people who started it. Wireless Film Lights first became involved in 2019, when Tice had reached out to them to supply another Astera fixture, the AX1 tube, for a "captivating" ticketed event called Phasing Rain, a collaboration between projection mapping, VR, and audiovisual content specialist Onionlab and visual composer Xavi Bové, explained Greg Hodges.
Greg and his team love LUMA's mission to transform and revitalise existing spaces through art, with Phasing Rain a great example, taking a drab underground parking lot and transforming it into a vibrant immersive environment.
"Supporting arts initiatives like the LUMA Festival aligns perfectly with our core values of pushing the boundaries of what's possible in lighting and entertainment," noted Greg. "It allows us to contribute to the cultural enrichment of our community while also showcasing the incredible potential of Astera LED products in enhancing artistic expressions."
The company firmly believes that art has the power to inspire change and the potential to open new horizons for anyone.
---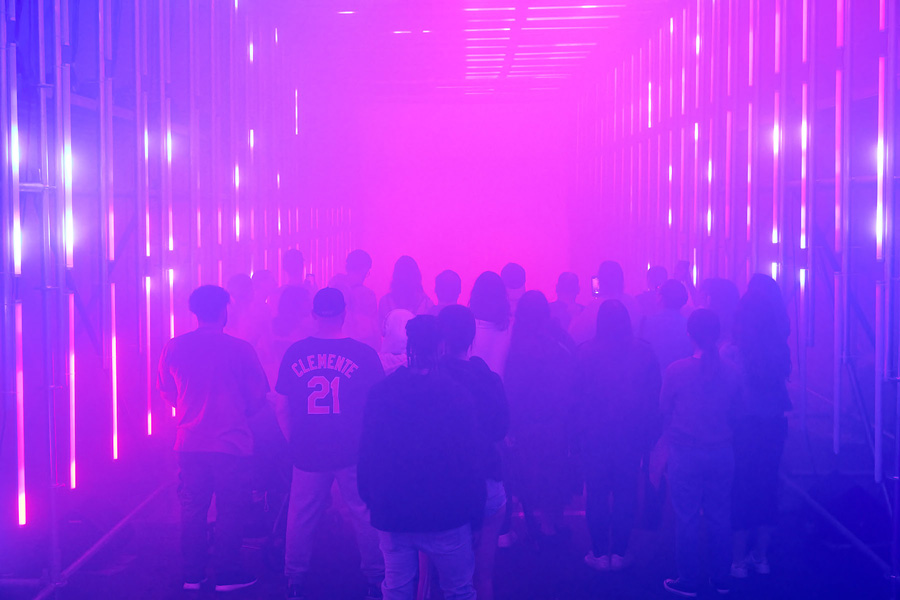 Wireless Film Lights has an extensive inventory of Astera lights amounting to several thousand fixtures and is one of the largest event and film production equipment suppliers for Astera in the US. Greg comments that Astera Titan Tubes are an industry benchmark product with "several key features making them an ideal choice for a diverse range of applications".
More information on:
– The Playmodes website
– IG: @playmodesstudio
– The Astera LED website
Posted on 27 October 2023
Crédits -
Text by Astera - Photos by Van Zandbergen Photography & courtesy Playmodes Studio