Ayrton presents Perseo Beam, an IP65-rated, beam moving-head fixture with an LED source. Its ultra-tight beam can be zoomed down to 2° and it boasts a 21:1 zoom ratio. It is featured here in a video made at Aquatique Show, a spectacular ballet of beams dancing in the rain.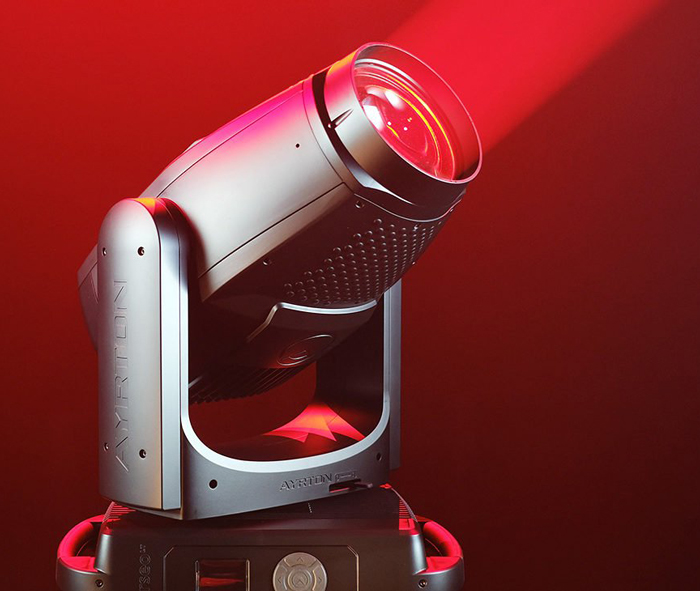 It offers a vast selection of gobos – totaling 48, between static and rotating gobos on two wheels – including 28 glass gobos for high-definition image projection and 20 metal gobos specially designed to sculpt aerial beams. These gobos can be multiplied using four rotating prisms, which can be combined to produce a multitude of volumetric mid-air effects. A multi-layer RGB/CMY gobo creates dynamic multi-color effects.
---
Ayrton – Perseo Beam – Presentation from Ayrton on Vimeo.
---
An animation wheel, with continuous rotation in either direction, and two frost filters round out the effects package of the fixture. Continuous rotation on the pan axis expands the possibilities for creating complex effects.
---
The color section of Perseo Beam includes a CMY color mixing system, a linear progressive CTO filter, and an instant-access, multi-position color wheel that includes four filters for color temperature correction, plus 13 supplementary color filters arranged in two concentric circles (patent pending).
Terminated by a 168 mm output lens, the optical system uses 13 lenses, providing a zoom range of 2° to 42°.
A brand new, ultra-compact 450 W, 6800 K white LED engine, specially developed for long-throw applications, delivers a luminous flux of 18,000 lumens.
We are starting to get a clearer understanding of the Ayrton product portfolio, which they are restructuring in order to limit the number of references. The stage lighting catalog is organized into four power categories:
– Category 3 : 200/300 W
– Category 5 : 400/500W
– Category 7 : 600/700 W
– Category 9 : 1000 W
Each category will use two names, one for classic fixtures, and another for waterproof fixtures. With the exception of the creative fixtures already established in the catalog, such as the MagicPanel, DreamPanel, MagicDot and NandoBeam multi-source washes, there will eventually be a maximum of eight product designations, each with a suffix indicating its type: Beam or LT, Profile and Wash.
– "Beam" for effect fixtures with an ultra-tight beam, down to 2°.
– "LT" for high-powered, long-throw stage lighting fixtures.
– "Profile" indicates models with a framing module.
– "Wash" indicates models with a Fresnel lens.
Perseo is the first product to adopt this approach. This IP65 category 5 fixture with a 450 W source is now available in Profile and Beam versions.
More information on the Ayrton website