First established in 1936 as Glad Tidings Church, Good News Church, located atop the hill at 75th and Hickory in Omaha, Nebraska, eventually chose to modernize its name to better reflect the language of current times.
Much more recently, that same impetus to remain fresh and relevant also prompted the church to modernize its sound system with the addition of a DiGiCo SD12 mixing console and KLANG:fabrik immersive IEM mixing solution, both supplied by the local office of Conference Technologies, Inc.
According to Good News Band Leader Aaron Ott, who has also served as the lead keyboard player there for the past 13 years, the church took on an extensive update of its audio facilities, upgrading everything except the loudspeaker system of its 750-seat auditorium, which was built in 1975 following the destruction of the previous worship space by one of the worst tornadoes in Omaha's recorded history.
"Our monitor world, in particular, was actually quite behind the times," he shares. "We've used in-ear monitors for a dozen years, but we were using mono mixes directly from our old mixing console.
We really needed additional monitor mixes for our team, and we knew we needed stereo, at least, but we had never been sold on other personal monitoring solutions due to their limited channel counts and extra clutter they brought to the stage."
Having read about KLANG:technologies online, Ott mentioned to Greg Peteler, the church's sound engineer, that he was interested in learning more, feeling that "it stood out as a truly unique and flexible system." Upon learning that Church of the Resurrection in Leawood, Kansas used a KLANG system, the two reached out to coordinate a visit during a weekend service to experience their system and see how they were using it.
Both Ott and Peteler were duly impressed and quickly contacted Ben Shipman at AVA Reps, who supplied Good News with a DiGiCo SD12 and KLANG:fabrik for a few days of testing, solidifying that this combination was the right solution for moving forward.
"We needed eight to ten discrete monitor mixes with 48 input channels," Peteler says. "Considering the DSP-to-channel count balance in the KLANG system, mixing 48 channels with surround processing allowed each fabrik to deliver four fully immersive monitor mixes, requiring three fabriks to meet our minimum with a few extra mixes."
Good News Church's new SD12 is paired with MADI and Dante audio networks, three KLANG:fabrik units for 12 immersive monitor mixes, and a Dante based multitrack recording system. Audio arrives at the SD12 via the MADI SD-Rack or via Dante. The console then pushes out 48 monitor channels via MADI to the daisy-chained KLANG:fabriks.
The church's own tech team pre-staged most of the new system in a second location to build the network, test the signal chain, and configure all the routings. "Lifting and shifting" into the auditorium was then seamlessly accomplished mid-week between services.
Like many of today's other churches, the Good News worship team performs a wide variety of musical styles, including modern pop-rock, contemporary Christian, gospel, electronic, acoustic, and jazz, and occasionally brings in additional instrumentalists, violin, cello, saxophone, and more for special events.
Prior to the pandemic, the church also regularly hosted a diverse 40-voice gospel choir that Ott describes as "a huge part of our culture," which has now been temporarily replaced with smaller vocal ensembles.
Each musician and vocalist has a dedicated iPad for managing their monitor mix during rehearsals as well as for displaying chord charts or lyrics during the services. Ott additionally has the KLANG:app running on his keys rig computer, while Peteler also has the same app on his computer at the front-of-house mix position if assistance is needed.
"Moving to the new setup, I figured it might take us a while to fine-tune everything, but the transition was quite fast and painless," the band leader notes. "Over the first few weeks as we rehearsed with it and adjusted to mixing in surround, trying different configurations, our confidence quickly grew.
The KLANG system is so good! Looking back, it was clearly the best decision we could have made, and the difference in quality and separation is astounding."
"Most of my sound design and keyboard work is prepared in my own studio," he continues. "I had built such a habit of eliminating most high frequencies and cutting certain mids in every sound I designed.
With the new DiGiCo/KLANG system, my sound design elements translate directly to the system as they should sound beautiful and enveloping. No more weird 'for the system' adjustments."
The rest of the worship team has wholeheartedly embraced the new setup as well. "KLANG has helped me to play inspired again," enthuses Eric Klebba, one of the electric guitarists.
"I've been able to find that motivation and excitement in playing live guitar that I hadn't realized how much had been missing. Now, I'm not only able to hone in on my own tone and technique more precisely, but also narrow in on the nuances of what all of my other fellow musicians are producing."
John Lawman, another electric guitarist, agrees: "Having the capability to place every instrument in the area I want, to give myself full surround sound, is extremely beneficial. I can much more easily distinguish every other musician and hear if I am playing overly similar or conflicting parts, which helps me know that I should play something different."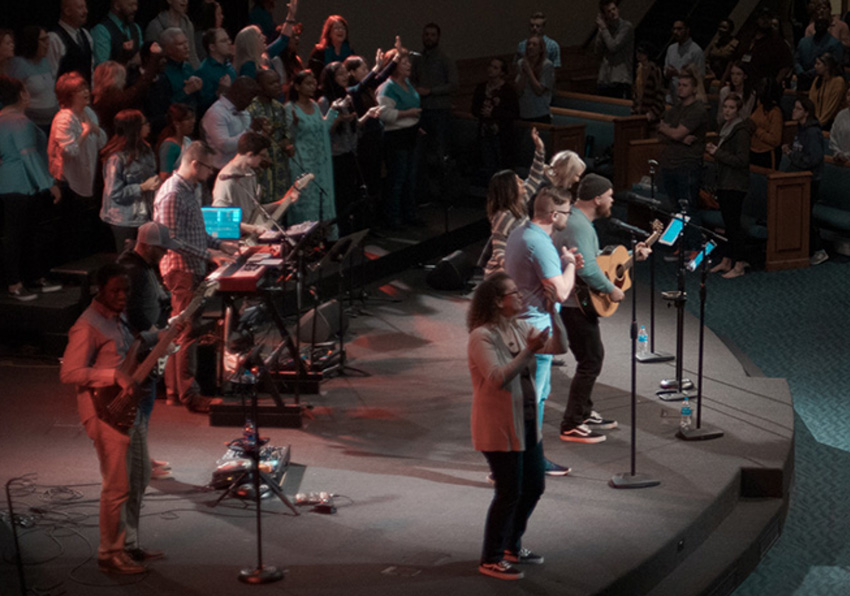 Good News Church doesn't have a separate monitor console, but, as Peteler points out, "With as easy as the KLANG system is, it's not a position we would consider necessary at this point. Even if we have new vocalists or entry-level musicians join the worship team that don't know how to dial in a good monitor mix, we find that recalling presets from the lead instrumentalists provides them with a great place to start. It's all very intuitive."
And, as Good News Church Worship Director Carissa Carter sums, "I absolutely love being able to feel the music every instrument and vocal all around me. It helps us each perform our very best and has been such a tremendous blessing for both the worship team and our congregation."
– For more information on Good News Church, visit the Good News Church
– Conference Technologies can similarly be found at conferencetech.com
– For more details on the manufacturer, visit the KLANG website
Posted on 28 October 2020
Crédits -
Text and Photos: Klang