Ayrton has continued to innovate during C-19, spending the hiatus in preparation for when we are all back to full strength. Now, with the first tentative signs of global recovery, Ayrton is happy to showcase Karif-LT, its ultra-compact 300W LED beam-spot, and the first in Ayrton's brand-new line of LT (Long Throw) products with long-range applications purpose.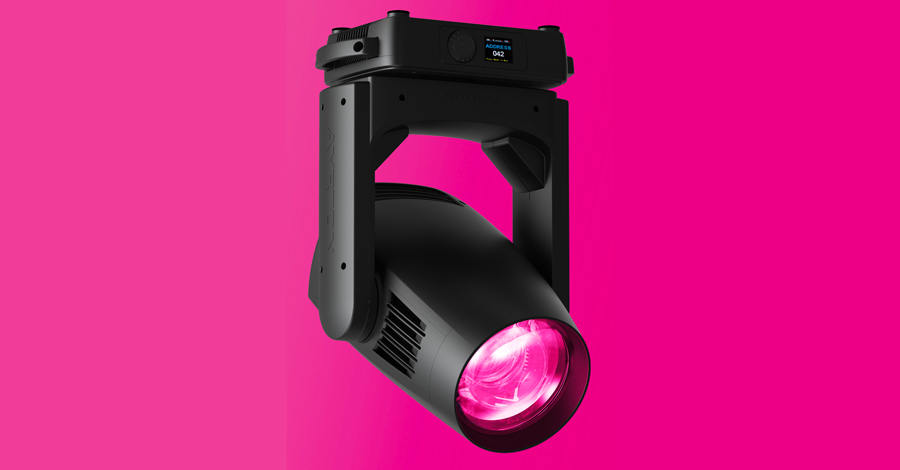 Karif-LT is equipped with a 168mm frontal lens with a zoom ratio of 17:1 and an incredible 2.8°- 47° zoom range, the narrowness of which is unprecedented and unmatched in an LED fixture. A new high-efficiency, low-etendue, compact LED module delivers an ultra-intense beam which, calibrated at 8500K, can generate powerful metallic white light and deep, vivid colours. Karif-LT has an overall output of 13,000 lumens at a colour temperature of 7500K, and a centre-beam luminous intensity of 3,500,000 candelas.
Karif-LT is a creative wizard: its rich feature set includes a CMY colour mixing system, a patent pending multi-position CTO wheel with 7 different colour correction filters, a wheel of 13 complementary colours for infinite pastel hues and saturated colours, 9 interchangeable rotating HD glass gobos and a new innovation in the form of a wheel with 39 fixed gobos (patent pending).
Karif-LT also has a glass monochrome multi-position, bi-directional effects wheel, and a prism effect system comprising 4 combinable rotating prisms which, coupled with an ultra-intense beam, can achieve amazingly complex effects. Standard features also include light and heavy frost filters, a dynamic animation effect with speed and fade adjustment and an electronic dimmer for perfect fades.
View the newly released Karif-LT presentation video:
Ayrton – Karif-LT – Presentation from Ayrton on Vimeo.
Karif-LT is shipping with immediate effect. Ayrton is proud to offer a broad LED fixture range on the market with luminaires that are the most advanced and optically efficient in the industry.
More information on the extensive portfolio of Ayrton LED fixtures can be found on the Ayrton website