Curl up nice an' easy in front of a computer screen to watch the virtual demo of the new Claypaky products. It's just like at Prolight + Sound, with presentation and demonstration by product families. And we scroll through, at our full discretion, videos and / or technical data sheets.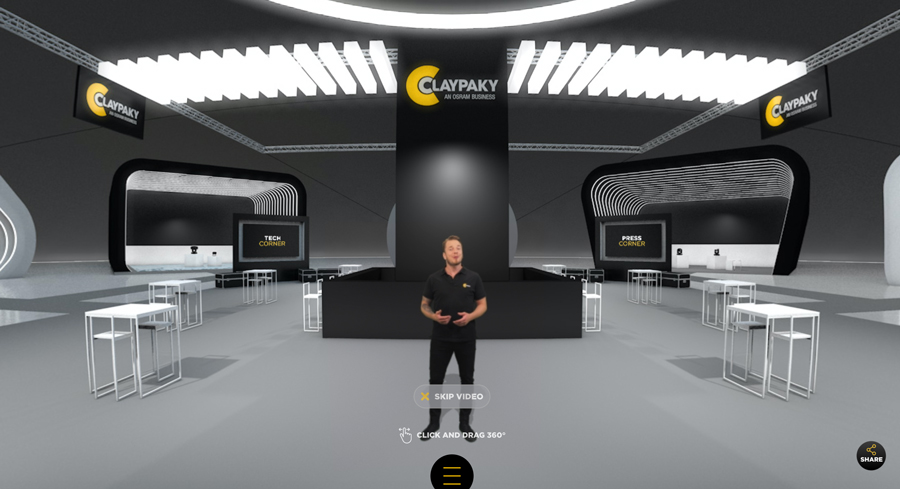 – Honor to the Arolla Profile HP, one of the most powerful white LED Spot / Profile on the market: 45,000 lumens for 1,200 W of LEDs.
– Claypaky is also launching the multisource Midi B WashBeam and the very pretty Tambora Batten motorized LED bar. They have in common the Osram 40 W RGBW LED sources of the HY B-EYE.
– Axcor Profile 600 and HY B-Eye K25 are released in Teatro version with mechanics and cooling system redesigned to reduce the noise level.
---
Arolla Profile HP
Mastering a 1,200 W LED source in an 80 cm high projector, without compromising on the variety of effects is a feat that few rare manufacturers are capable of today.
Claypaky steps up on the podium with the Arolla Profile HP, a Profile Spot with motorized blades announcing 45,000 lumens of luminous flux at the surprising list price of € 11,060: aren't we living in great times!
"HP" obliges, the Arolla Profile ensures a homogeneous beam with a flat profile whose angle varies from 5 ° to 50 ° thanks to its 10: 1 ratio zoom. It is colored by a CMY color-mixing system, a progressive CTO and a 6-color wheel. To bring this beam to life Arolla offers a full range of effects.
An animation wheel, two gobos wheels (6 rotating and 7 fixed) in high definition and interchangeable dichroic glass, a framing system with 4 motorized blades with total closing mechanism and dedicated macro channel, two Frost filters, x4 prism, iris with 16 blades. And as often nowadays, a filter is built into one of the color wheels to increase the machine's CRI.
---
---
Its optimized weight of 44 kg is rather classic for this level of equipment and power which requires top notch cooling. The Arolla has several ventilation modes that allow it to adapt to any type of use location. To reach this unbeatable price, this projector, developed in Italy, is assembled in China. Its availability is scheduled for September 2020
Tambora Batten
With a motorized tilt of 220° excursion, the one meter long Tambora Batten bar is fitted with 16 powerful 40W Osram Stage II RGBW sources, the same as that inside the HY B-Eye.
Each of them is individually controllable, an integrated switch allows you to link several Tambora in series, installed in a continuous line or in a matrix to ease the pixel mapping.
This bar offers a 4°-40° zoom which you can control the softening of the edge of the beams in Wash mode. A channel is dedicated to controlling the color temperature from 2,500K to 8,000K, and the emulation of different types of lamps.
Arolla Batten will be launched at a list price of € 3,850.
---
---
Midi-B
With one LED ring more than the Mini-B, the Midi-B has 19 Osram RGBW sources of 40 W and a flux which reaches 10,000 lumens at the output of this small 40 cm diameter moving head. In the Beam / Wash category, its 4°-50° zoom allows you to go from a clear and concentrated light beam for aerial effects to a diffused edge Wash.
Each of its three LED rings is individually controllable to generate animations that will provide great backlight effects in a small venue.
List price is € 4,350.
---
---
Mini-B PARled Aqua
IP65 rated products are fast rising today, as are installation products. After the SharpyPlus Aqua, it's the Mini-B in static version which offers a rain suit to its users.
Nothing else changes. We find the 7 Osram 40W RGBW sources, the 4-55° motorized zoom, the independent control of the central LED, the effect macros and the channel dedicated to the color temperature adjustment between 2,500K and 8,000K.
Its luminous flux reaches 3,000 lm.
Its list price is € 1,750.
---
---
More info on the Claypaky virtual booth
To visit it, you have to fill in an ID (it can be your e-mail address) and a password.