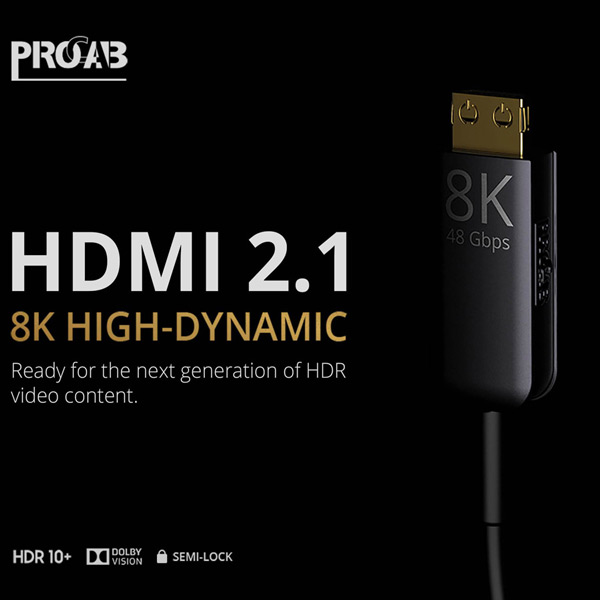 HDMI 2.0 cables are great for transferring large amounts of data, therefore they are used in 4K/85 @60Hz Ultra HD video applications like home cinema's, gaming, video conferences, and many more.
Traditional copper HDMI 2.0 cables do a good job at this, but their length is limited.
Procab™ therefore already introduced 4K fiber optic HDMI 2.0 cables for various applications with cable lengths ranging from 10 meter up to 100 meter. Now they are expanding this range with the CLV310A.
The new CLV310A is an active optical HDMI 2.1 cable, designed for transmission of the next generation of 8K video content.
It is able to transmit resolutions up to 8K (7680 x 4320p) 4:4:4 at 60 Hz with a bandwidth of 48 Gbps via OM3 optical fiber technology, eliminating the possibility of electronic interference. It is backward compatible with HDMI 2.0 and HDMI 1.4, guaranteeing an optimal and future proof solution for any kind of installation.
This brand new HDMI cable is equipped with a smart Semi-Lock™ feature.
This ups the withdrawal force for unplugging the connector, which means that the cable cannot become detached or loosened by accident, avoiding intermittence or signal loss.
For more information contact mkt@pvs.global.
And visit the ProCab website.
Posted on 17 November 2020
Crédits -
Text & photos from Procab