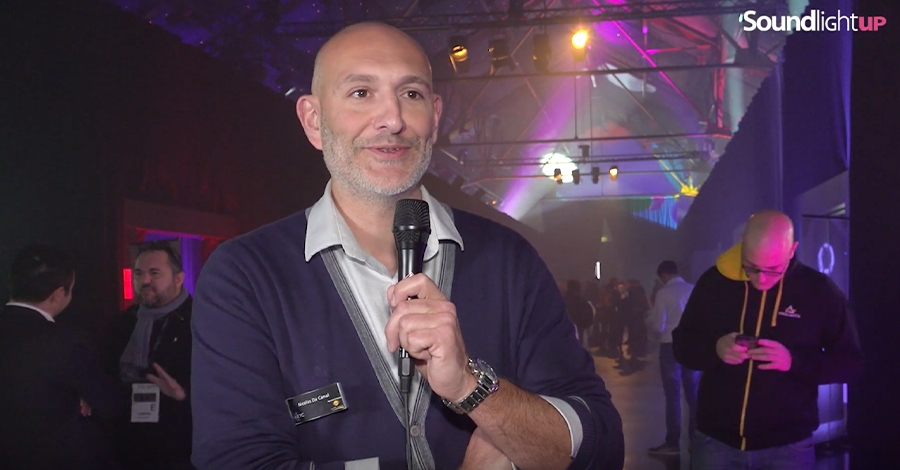 Launched just one year ago, the ETC France company distributes not only the ETC consoles and projectors, but also all the High End range.
It is with great pride that we welcome in our small improvised studio at the JTSE exhibition in Paris, Nicolas Da Canal, sales manager at ETC France, to ask him to tell us about several essential releases, the SolaPix range and mainly here the SolaHyBeam 3000.
High End SolaHyBeam 3000
As an European exclusive, High End unleashes some serious beast with the SolaHyBeam 3000, a long-range hybrid LED moving head. Exceptional projector by its size and its weight, the SolaHyBeam is equipped with an incredible 750 watt LED source, capable of emitting 37,000 lumens in constant flux through its huge 210 mm lens.
Particularly comfortable in arenas or on very large stages or sets, this projector combines a huge angle from 3° to 56° with a wide range of features.
In addition to the rich CMY color mixing system, with progressive CTO corrector and 5 saturated color filters plus a TM-30 filter, the SolaHyBeam 3000 has a wheel of 7 graphic rotary gobos, a framing system module with 4 blades with full insertion, a 16-blade iris and three prisms combinable on two different levels. A special system called "Tri fusion" allows to merge 3 frosts in a linear fashion.
The menu and the full DMX, RDM, ArtNet and sACN connections are still there present, as well as the carefully designed ventilation system and its 4 modes: Standard, Studio, Continuous and Studio Continuous. The SolaHyBeam will soon be available in two versions, Ultra-Bright for maximum power, High-Fidelity for total and faithful color compliance.
High End SolaPix
ETC France was showing for the first time in France the SolaPix 7 and SolaPix19, Wash moving heads with unprecedented potential for graphic creations.
Lovingly nicknamed "Pancakes" by their users, the SolaPix models allow spectacular effects thanks to their arrays of 7 and 19 RGBW 40-Watt LEDs, but also by the combined use of the HaloGraphic system and the Flex Effect generator.
All the details can be read following our former news thread
More information on the High End Website
Posted on 30 December 2019
Crédits -
Text & photos: Tristan Szylobryt