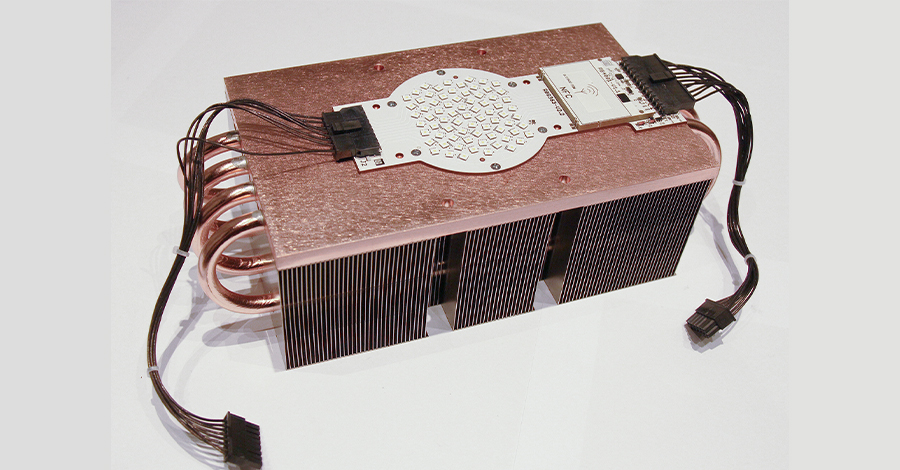 In its new Esprite Spot Profile, Robe incorporates a proprietary white LED engine manufactured in-house in Czech Republic. To ensure the sustainability of the moving light, the light source called "Transferable Engine" can be swapped as quickly as a generic lamp and keeps everything in memory.
---
---
We interviewed Vincent Bouquet, Robe Product Manager, to go over the question.
SLU : Vincent, can you tell us who has ESPRITE fixture in its fleet today?
Vincent Bouquet : Il y a Mvision (Longjumeau-91), Eurosono (Irigny-69), Match Event (Elancourt-78), Alive (Tourcoing-59), Avéo (Auxerre-89), Audio Pro (33-Mérignac), CEC Sonorisation (Limas-69), Loct'Ambule (Mundolsheim-67), Dimension Events (Elne-66), Mag Scène (Saint-Etienne-42), Music Plus (Grenoble-38), Pan Pot (Brignoles-83), Regietek (Gonesse-95), STS (Beaumont-63), Cynergie Sonorisation (Amiens-80) et BLive (Bussy-st-Georges-77) … Plus de 300 machines dans toutes les régions de France.
SLU : While manufacturers are announcing a lifespan of 40,000 to 50,000 hours for 30% of intensity loss, which corresponds to the lifetime of a moving light, what is the thinking that prompted Robe to develop a transferable engine?
Vincent Bouquet : The idea is that if within 4, 5 or six years the colorimetry changes and the intensity decreases by the aging of the LEDs, it will be possible to replace the LED engine, but this is not the primary goal of this development.
The engine embeds an intelligence, a memory. Once out of the fixture, which takes less than 4 minutes, it retains all of its information. Via a blog, the user can get the serial number of the (or more) fixture (s) where it has been installed, which temperatures and temperature variations it has undergone.
We know the intensity delta compared to its factory output, and especially the number of operating hours. These informations are stored within the engine and not in the fixture.
SLU : How do you retrieve these info?
Vincent Bouquet : Via the ROBE COM application available for iPhone and Android, through a NFC (Near Field Communication) antenna. This application was originally developed for the iPointe – which does not include a touch screen as it's a IP65 rated unit – to navigate the menu more quickly than with capacitive buttons.
---
SLU : When you say 5-6 years, how many hours does it represent?
Vincent Bouquet : It is difficult to make an accurate estimate. Robe reports less than 30% of intensity loss over 20,000h and applies a 4-year warranty on the source. Mastery of use allows you to be more flexible and to replace an engine under the warranty. And the replacement does not require a return of the lighting fixture to Robe, it is still much simpler.
SLU : For example, I am a service provider and after 4 years of use, I realize the intensity of the engine has dropped by 15%. Can I return this engine to Robe to benefit from a new LED card?
Vincent Bouquet : Outside the warranty, you just need to order a complete engine, as if you would change the lamp. The price is roughly the same as of two BMFL lamps, the list price is 800€ ex. V.A.T. And Robe can collect the old engine for free for recycling. But this is not compulsory.
SLU : What are all the reasons that could lead service providers to change their out-of-warranty engine?
Vincent Bouquet : I'm thinking about those who will need to keep the lighting fixtures even if they invest in new moving lights to stay up to date. I even think that they can keep a "lamp" budget and consider changing the engines every two years if they wish.
Afterwards, everyone can have to change the engine if in the next 5 years Robe comes with more efficient LEDs than today, in the same form factor and a significantly higher power consumption. Robe has planned a power reserve of 100 W. Today, of course, the LEDs (73 Osram) in use are the most powerful available in this format.
The built-in engine of the ESPRITE, called Performance, promotes flow at the expense of a CRI of 70 which can increase thanks to an integrated filter. Robe is working on the development of a Studio engine, with a similar color temperature, but with a CRI of 94 to precisely avoid the use of filters. Service providers will be able to juggle with two types of CRI depending on the application of their moving lights.
---
SLU : Does Osram undertake to keep in their catalog this precise reference of LEDs which equip the lighting fixture with the same color temperature?
Vincent Bouquet : Osram offers a warranty greater than 2 years for the longevity of this LED reference. However, we expect much more, and we have a large stock of this reference.
Having measured it on several fixtures, the color temperature is precise, Robe announces 6700K on the output and I have never measured more than 6790K and the UV delta is close to zero.
SLU : Is there a way to calibrate a new zealous module in intensity that would return to the fleet?
Vincent Bouquet : Yes, there is a dedicated DMX channel for this purpose in the ESPRITE. The fixture is aware of its percentage of intensity decrease and indicates it by a color code:
– White : From 0% to 5%
– Red : From 6% to 10%
– Green : From 11% to 15%
– Blue : From 16% to 20%
– Cyan : From 21% to 25%
– Magenta : From 26% to 30%
– Yellow : From 31% to 35%
– Orange : From 36% to 40%
---
If, in a fleet of 24 moving lights that have already lived, I have a fixture equipped with a new LED engine, we can limit its intensity via the console.
– Via a DMX channel, the group of fixtures is selected.
– We send a specific value dedicated to the indication of losses by colors. As an example, I get 21 moving light in red which have lost between 6 to 10%, 2 fixtures in green which have lost between 11 to 15% and one fixture in white, the new one, which has lost nothing.
– Within the kit, we thus detect which one has had no loss.
– We select again all the fixtures and tell them, via this DMX channel, that the fixture with the biggest loss is green. The other fixture take knowledge of this, so the fixture in white will drop its intensity by 15% and the fixture which were in red will lose 5% only.
– We quickly calibrate all fixture's intensity, without the need to search and adjust the intenisty fixture by fixture.
This is an important advantage and a time saver for the operator. It can be useful in case of sub-renting if I have a homogeneity problem between my fleet and the sub-rented fleet. There is always a time when I will have to match new and old machines.
SLU : Is this a parameter that interests service providers in the foreground?
Vincent Bouquet : Not all of them, but it is a plus that proves that the system has been designed to the fullest of its possibilities. It's not just 4 screws to remove the engine and put a new one in place. There is a real reflection behind the concept.
SLU : Today, what particularly appeals to them?
Vincent Bouquet : They like the light output, the clean color mixing, the blades which are quite sharp and precise. They like the fact the blades do not influence too much when there is a color or a gobo. The optics have been well designed. These three points, plus the weight of the machine, less than 28 kg, and bonuses like the transferable LED engine, and a well-priced fixture.
The brand also builds loyalty, they mostly are Robe customers.
SLU : Will we find the principle of transferable engine in future fixtures?
Vincent Bouquet : For fixtures with white LEDs, yes. The Esprite is the starting point, the middle of a range that will extend up and down in terms of light output.
More information on the Robe Lighting website