It all started with Norbert Ernst, German IT specialist specializing in industrial control systems.
Nice kinda resumé, a bit too serious and not that fancy … Yet, by starting Astera in 2007, a real changeover did take place.

He hired Simon Canins, Munich guy like himself, whose status as "Entwicklungsingenieur" (that's "Development Engineer" for you reader not familiar with German) lead him directly heading the R & D dept.
Their new guideline was to bring innovation into the world of compact wireless projectors, from control system to installation accessories, their motto being quality and ergonomics.
The "Wundertechnologie" (Tech Wonder to your ears) now operates. Some components later, including Cree and Philips LumiLED® leds, LG Chem batteries, Neutrik connectors and Lumen Radio CRMX® modules, their TitanTube lighting system becomes a reference for the television and photography film industry.
Astera System, wireless at your fingertips
The AsteraBox CMRX, or ART7, is a pocket Control Tower.
This is the cableless versatile interface between lighting programming devices and Astera projectors. The operating scheme is based on the AsteraBox wireless box, the AsteraApp application (or a lighting console), and one of the many projectors in the Astera range.
The heart of the system is, as with any technological evolution, communication.
The spirit of it all lies in the global and total ergonomics of the various elements.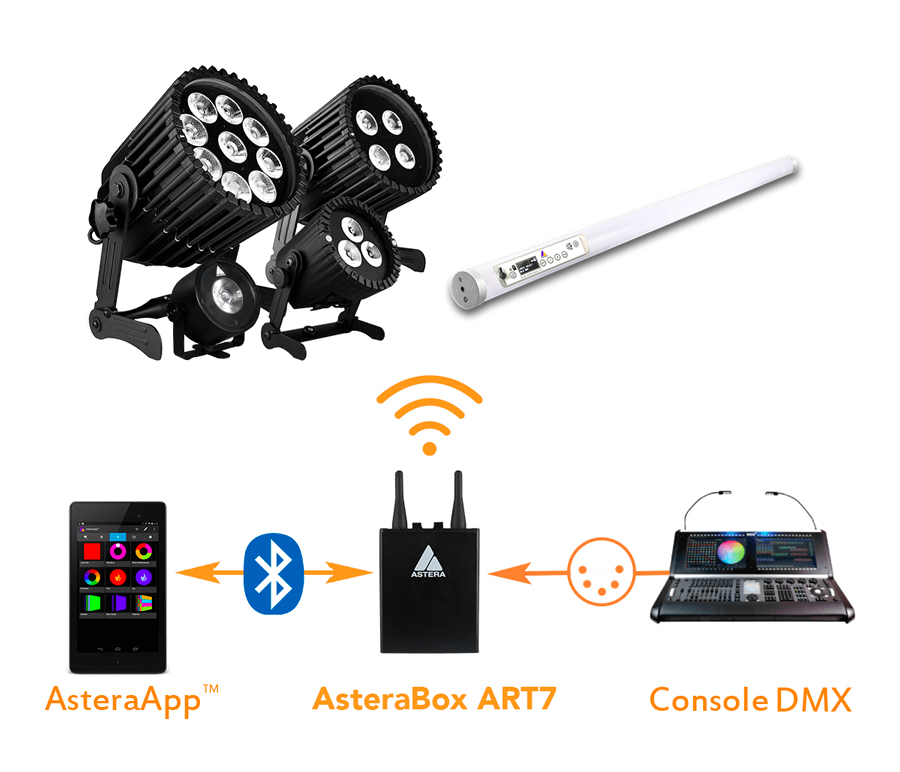 Physically, it is the size of an intercom pocket box, with led indicators, dual diversity antennas and grip belt included.
Its USB charger, its autonomy of 20 hours, its resistance to shocks and humidity ensure long days of work without flinching, hanging on the hip of an electro or the Best Boy.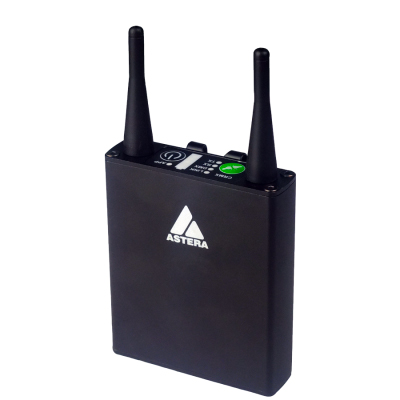 The AsteraBox can receive information in many ways : in DMX512, via its mini-jack DMX adapter, by the infrared ARC1 Astera small remote control, or by Bluetooth. This last connection will be privileged to have directly on his device Google or Apple the application AsteraApp. It can manage projectors remotely, view their status or quickly program a large number of light effects, using then the integrated RF function (868 MHz in Europe). All its information transmitted to the projectors by the ART7.
The same AsteraBox can also be used as a CRMX® transmitter, the LumenRadio DMX wireless standard, a guarantee of quality. The same system is nevertheless open to the second largest specialist in wireless distribution, Wireless Solution, the majority of Astera projectors supporting both protocols (CRMX® or W-DMX®).
This is already the case for AX3, AX5, AX7 and AX10 led PAR, all waterproof, battery-powered, and wireless, with power consumption respectively of 15, 45, 60 and 135 Watts. AX1 and AX3 are in RGBW, AX5 and AX10 in RGBWA (and better CRI). All these models can also be controlled thru the same aforementioned infrared IRC1 remote control.
This one, another useful trick, can also be used to point at some of the fixtures you want to add to this or that group of fixtures when selecting them while in addressing or pairing mode ; very handy when all the gril is already up and running, and avoiding the usual "press the on/off button to select this fixture" routine.
AX1 PixelTube and Titan Tube, stars of the sets
The story goes on with the two screen stars of Astera, PixelTube autonomous lighting tubes and TitanTube, acclaimed by many directors of photography worldwide. The AX1 PixelTube has become a reference since its PLSN Goldstar Award received at the LDI of 2017, rewarding a crazy year of innovation for this little light stick.
Despite its false "fluorescent tube" look, the AX1 is made out of a line of 16 independent RGBW modules, spreading its 700 lumens over 180 degrees. A CRI greater than 88, a battery ensuring 20 hours of autonomy, an IP65, functions of strobes, colors and dimmers and a complete kit of various hooks, turntables and spigots have gained many users. The catch-up video is here:

Awarded in turn in 2018, both at Plasa and LDI, the Titan Tube is the ultimate evolution of the LED tube for cinema, at least until next year, you never know with LED technology!
This 2018 version consists of a lighting bar entirely designed for filming. Keeping the principle of DMX wireless up to 300 meters, he now accepts other protocols, whether by infrared remote control ARC1, wireless CRMX®, and great news wired DMX connection or on the tube itself in manual mode, thanks to its built-in LCD display. With its integrated menu the user can directly access the color, hue, saturation and intensity (HSI control) settings.
Its polycarbonate construction and metal end caps now contain 16 pentachromic LED sources, with a 180° illumination field and a color temperature to choose from 1,750K to 20,000K.
The special color mixing of red/green/blue/mint/amber LEDs allows an impressive maximum of 2,900 lumens, with 96+ TLCi and CRI, despite a power consumption of 72 Watts only. For short amount of time (2 hours during actual takes on a set, which is sound enough), the output can even be boosted by a ratio of three.
IP65 waterproof by nature, like the rest of the Astera range, the Titan Tube is powered by a Lithium-ion rechargeable battery. This allows up to 20 hours of working time for only 3 hour recharge time, while keeping up to a lightweight 1.35 kg.
Amongst all available accessories, including clever hanging devices, let's focus on the PowerBow for a short while : it can not only provide the power supply for 10 Titan Tubes, but also can send them wired DMX512 data, piggyback on the standard 2.1 mm PSU cables. It is Art-Net and sACN compatible as well, allowing complete "pixel mapping" control on an almost unlimited quantity of these tubes in extended mode, whereas on very large events the maximum adjacent CRMX® universes had a limitation of 8 in total (according to Lumen Radio, whereas we know some crazy french guys went up to 16 simultaneous universes at a time with no fuss at all, but "don't try this at your place", as the Swedish guys could say). Good news indeed, when you learn that "extended mode" means up to 112 DMX channel per tube (OMG !) …
The more you'll use Titan Tubes on a single operation, the more you'll need the new Charging Case, complete with all accessories (hooks, spiggots, and so on), and an interesting way of displaying the tubes inside the case, as you'll get a global all-at-once view of all the display menus in a glance.

Integral part of the whole Astera ecosystem, and totally essential for all Best Boys and techies to always keep in-hand control, the Astera App software allows quick and easy programming and addressing of all Astera models (only) once linked to an AsteraBox. Several links can be achieved on the same set or in the same place, and a Pin code will lock to your very own device, and not the colleague's present on the same site.
As there are already some competition going on around on tablets these days, here are the Astera key points :
---
Moreover, there's a bunch of functions dedicated to event orientated applications :
Anti-theft alarm and blinking (you can't miss it !)
Auto BPM for DJs (from the AsteraBox)
Standby mode and auto-start modes on internal clock, to save up some battery time,
and prevent you form rushing out diner break to get back before guests entry time
Precise Flicker free
Software Auto-Update
Manual included, and video tutorials on live on Astera Youtube channel
More info on the Astera website
Posted on 3 December 2018
Crédits -
Text and photos : Tristan Szylobryt. Translation : Bruno P. Souchaud.