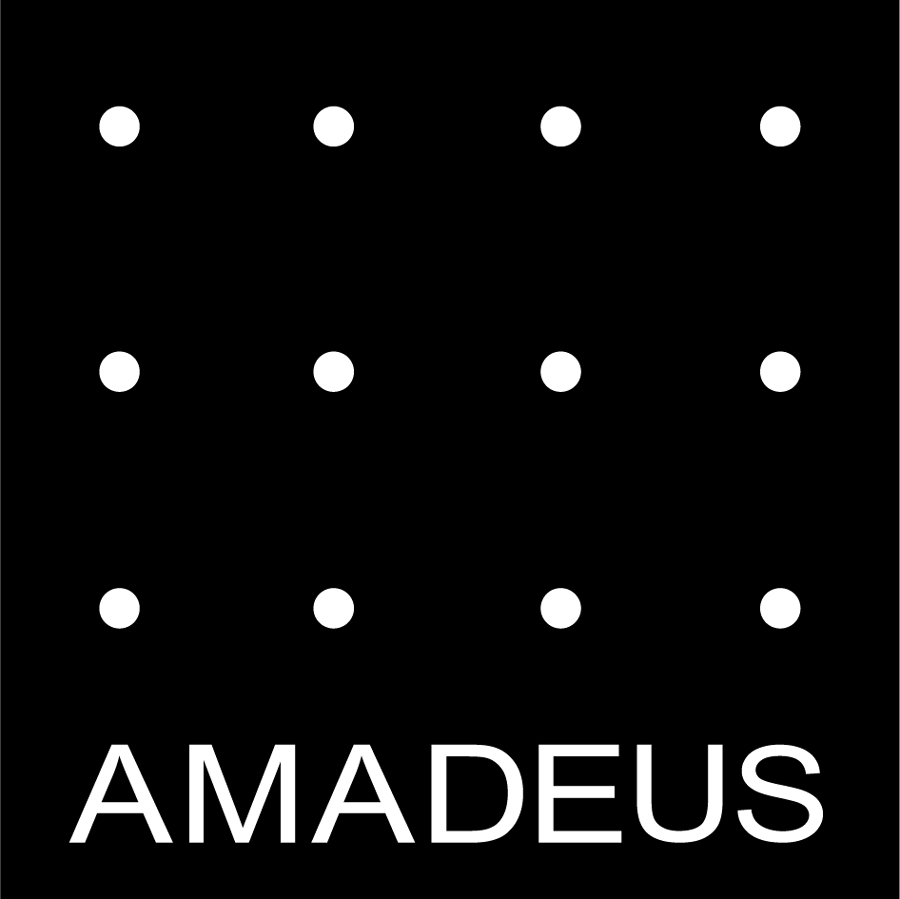 Amadeus was created in 1992 from the collaboration between Bernard Byk and Michel Deluc. As a unique and creative company, UFO among the large, even the very large French speaker manufacturers and beyond, Amadeus has found its way in France, as well as in the rest of the world.
The company provides professional solutions and products combining acoustical transparency with stylish design — often bespoke.
Always pushing limits, Amadeus is both able to equip a stage with a very nice small-format line array system, to provide great stage monitors, or to design stone-covered speakers for an immersive art creation.
The brand has an impressive catalog of passive, self-amped, and Dante-enabled speakers capable of covering all integration markets, ranging from 'invisible' to very powerful models, and offers some gems that delight recording studios and sophisticated music lovers.
Finally, Amadeus has chosen to work with Paris-based IRCAM Institute to design HOLOPHONIX, a powerful spatial sound processor, constantly updated with new features, offering many formats for sound immersion and optimization. Furthermore, this processor can be used with any speaker brand, including of course Amadeus speakers.
Both the organization chart and capital structure are changing at Amadeus. In the light of these evolutions, we questioned Gaëtan Byk, who still manages marketing at Amadeus, but who is now also President and owner. He agreed to answer questions that were sometimes rather harsh without doublespeak. Kudos to him. 17 questions to know everything about the present and especially the future of Amadeus
SLU : What's the turnover of Amadeus today, France vs. export? And how many employees?
Gaetan Byk : In 2019, the company's turnover (ex VAT) was 2,699,000 € among which 700,000 € for export ($3,280,000 and $850,000 respectively).
We have 19 full-time employees and hire several 'exclusive' freelance workers. In comparison, 2012's turnover was 1,500,000 € with 18 employees, and 2015's was 1,800,000 € with the same number of workers…
SLU : What's your business plan for the five upcoming years?
Gaetan Byk : From 2015 to 2019, our average annual growth was 9.4%, and our operating profitability has more than tripled during this period. A 'realist' business plan would be to consider that this trend will continue. In the present circumstances, however, I won't give any objective.
---
SLU : How will Amadeus evolve industrially? 'Ready-to-wear'? 'Haute couture'? Mass production?
Gaetan Byk : For many years, my mission has been to find a space for Amadeus, a unique place where technological innovations with arts and crafts, combine and complement each other.
Our industry is flooded with an abundant supply of products and solutions, often similar. Some of them, made by certain of our colleagues, may nevertheless be of high quality. I think we need to go where our main confreres can't, don't know how to or don't want to go.
---
Designing tailor-made solutions, responding to existing architectural, acoustic or technical constraints has been our space of expression for a long time. Over the past few years, some rather out-of-the-norm products were born this way.
For example, the Philharmonia, a reference monitor created with Jean Nouvel for the Philharmonie de Paris; the 70 stone-clad speakers made for the Panthéon; the unique speakers designed for iconic Krug Champagne House, made of COR-TEN steel, cut and then laser welded; the nearly 40-metre-long sound ramp we are currently designing for the Festival d'Avignon; the first immersive setups we imagined with and for the Théâtre National de Chaillot, La Scala, La Comédie Française, etc.
Several development projects in spatialized sound (a domain we've been believing in for a long time and which, at last, drives passion) are also underway. The success of the HOLOPHONIX project, a sound processor that already equips some of the most prestigious musical, theatrical or international museum institutions, confirms our views in this direction. We would like to extend these works into research projects in the domain of active acoustics.
SLU : How will the current range of products evolve?
Gaetan Byk : Our ranges of 'standard' products were always born from specific demands or special developments, for particular places or projects. Our new controlled-directivity C Series was born from developments initiated in the Théâtre National de Chaillot. Our new ultra-low depth subwoofers were born from limitations we had in the Théâtre de la Ville Les Abbesses.
The sound ramps we are currently developing were born as we realized that since the Renaissance, spectators placed closest to the stage are paradoxically among the least privileged. At the time, the spotlight was made with oil lamps and generated a dense 'fog' between the spectators' view and the stage. A few centuries later, there is now a 'sound obscurity' for the same audience.
A second constraint persists, as users and directors don't want to see a 'swarm' of speakers placed, if not thrown, on the stage, with all the implied aesthetic constraints, etc.
I can't count specific development requests we are currently working on, but they lead our catalogue evolution for the years to come.
---
SLU : Generalist, specialist, speaker and solutions manufacturer, acoustician, luthier… What are the products and services Amadeus is dealing with, and for which markets?
Gaetan Byk : Our approach is rather transversal and our know-hows very complementary. We mainly work in the electro-acoustic industry, namely the production of loudspeakers for live entertainment applications and high-end hi-fi through the Philharmonia brand.
We also deal with on purely acoustic issues, mainly in the world of the recording studio, for many artists, producers, arrangers, or commercial studios. These departments are managed by Michel Deluc.
Lastly, the development of the HOLOPHONIX brand, based around spatial and immersive sound, led us to new areas or markets. We were thus confronted with new issues. As a matter of fact, we are currently working in collaboration with the Swiss Federal Institute of Technology in Zurich on a problem of acoustic simulation, to allow them to simulate urban acoustics and their associated noise pollution.
We are also working for a French startup on a medical station that allows the treatment (by sound) of neurodegenerative diseases, etc. More and more innovative projects like these abound since the HOLOPHONIX genesis, beyond purely cultural projects.
SLU : What's left of craftsmanship and wood chips? Is this approach still viable?
Gaetan Byk : As I said, I think there will always be a place for innovative and different products, used in solutions designed, developed, and manufactured on demand.
'High-flying' products like Philharmonia, a genuine UFO in our contemporary electro-acoustic landscape–the only speaker in the world that was codeveloped for a prestigious place (the Philharmonie de Paris) with one of the most famous and awarded architects in the world (Jean Nouvel). The key is: never stop thinking, searching, innovating…
SLU : Does the financial arrangement you initiated give you the majority in the company and leave you resources to undertake and work on new product ranges?
Gaetan Byk : My personal financing capacity was obviously strongly harnessed by this share purchase. However, the company's financing capacity is important, as is our own capital. Funding for future projects is expected to be seamless.
I am also thinking about finalizing our HOLOPHONIX project in a dedicated eponymous structure, in order to accelerate its growth and development with partners, without therefore opening the capital of the parent company, Amadeus.
SLU : Tell us about upcoming ranges or products, tendencies, customer requests…
Gaetan Byk : We are running several projects in parallel, some of them are still confidential. We are developing large-format 'sound ramps', between 12 and 40 m-long, 40- and 140-feet, for several cultural places, among which a 'long-range' ramp for the Cour d'Honneur of the Avignon Festival. Every development is specific, but it feeds the developments to come. More and more cultural places trust us to develop such very large-format front fills, totally integrated in the scenic infrastructures.
We are also developing a kind of column-type speaker, building on the form factor, the internal structure and the acoustic load of our Philharmonia monitor, but dedicated to live applications, in mid/long-throw setups, with a very elongated format, very curvy… I let you imagine the rest! 🙂
We are also working on a series of 'high-bass' complementary modules for our new C-Series, based on a 'active transducer/passive radiator' couple. This concept is inherited from our hi-fi work, and gives an absolutely perfect impulse response, a total absence of turbulence and vent compression as the vents are actually removed. Finally, we offer our C-Series as a variable directionality stage monitor variant, with a very 'low profile' shape… Two models will be unveiled before the summer, the C12R and the C15R.
SLU : Was your rise to capital necessary to have the free rein or to avoid losing the company? To prepare a succession or to revive Amadeus?
Gaetan Byk : There are mainly two reasons. One is very rational and financial; the other is more philosophical and personal. I needed to have a genuine control on the capital, to be able to initiate structural investments, development projects, to hire people, etc. Former shareholders didn't necessarily want to launch these costly projects, particularly at this time.
During the six or seven previous years, I was able to create several new products, without ever jeopardizing the structure or investing unreasonable amounts or money. But this task of permanent balancing became too complex to deal with.
Last but not least, there are moments in life where choices impose themselves or you know that this direction is the one you want to take, no matter what. I know this brand, a large part of its team, of its customers, of its users or prescribers since my childhood.
I built myself with them, I thank them for that. So, extending my investment and my involvement for this brand and its ecosystem was obvious for me.
SLU : How did you deal with the Covid pandemic? Are orders for 2022 and 2023 about to keep their promises?
Gaetan Byk : Not too bad, I'd say. Nevertheless, we experienced a decline of almost 30% in business in 2020 compared to 2019, the best year for the brand since its inception. Projects are starting up again, faster in Asia, where we are getting more and more involved.
We mainly work on very long-term projects as there are one to five years from the phases of research, design, prescription to completion. We are currently working on projects to build or renovate rooms that will come into being in several years.
SLU : What will be the new organization chart? Who will be in charge of Marketing and Sales?
Gaetan Byk : I am officially President of the Amadeus (Simplified Joined Stock Company) since March 16th, 2021. I'll keep my functions as Marketing and Sales Director for several months, and I hope we'll be able to quickly find someone sharing our philosophy and able to take over this extremely strategic position.
SLU : Your design office is handled by a single man. Is this defendable?
Gaetan Byk : Michel Deluc is the co-founder of the Amadeus brand, and he has been Head of R&D in the electro-acoustic department since its inception. He has been helped by three engineers for several years. Completing our team with a new purely electro-acoustic profile is currently under study.
The HOLOPHONIX project R&D is completely separated from our electro-acoustical department. It is co-lead by Olivier Warusfel and Thibaut Carpentier at IRCAM and by Johan Lescure at Amadeus.
SLU : Will the current economic model be changed in order to rely in the future on donors in order to accelerate the development of Amadeus?
Gaetan Byk : My goal is to remain, as far as possible, the majority shareholder of the Amadeus structure, in order to preserve our DNA and above all not enter into a logic of unbridled growth. My wish is to do better, not more. However, HOLOPHONIX, which already has a lot of autonomy and whose youth, growth and ultra-technological profile would make it a great start-up, is open for thought. Finalizing this activity and backing us with financial and/or technological partners is currently under study.
SLU : What about current executives, who earned money as you got debts? What will your father do now?
Gaetan Byk : Bernard is 73 years old, and I think he really deserves to take some rest. He began to gradually take some distance from the brand, as soon as I arrived, a little more than seven years ago. He left the reins a few years ago. He stayed to formalize the capital transfer, not the function or responsibility transfer.
We therefore launched together a company valuation process, which took nearly a year and was handled by the Parisian firm BM&A, a leading name in the audit and consulting market.
We completed the 'deal' in the first quarter of 2021. Bernard was trained as an architect. He will return to his first love with an ambitious project of rehabilitation of an historical monument, hence far away from the Sound planet…
SLU : Will you give up this heavy familial aspect, replacing it with a mix of skills and origins?
Gaetan Byk : There is a very 'familial' atmosphere in our company, perhaps because many persons have been there for a very long time, or because our structure kept a human size. In all, we have fewer than 25 employees, including alternants and doctoral students.
The same goes for newcomers, who integrate themselves perfectly in this mood. I believe this atmosphere is part of our DNA, and I certainly contribute, if unconsciously, to this. I think we're more of a family than a team.
SLU : Who's Amadeus biggest enemy?
Gaetan Byk : I don't have any enemies. I only have colleagues, and some of them are more competent, ingenious and thus potentially more 'dangerous' than others… 🙂
SLU : What's the 2021 main/reference project?
Gaetan Byk : There are many. I don't like to categorize or rank projects, as most of them are very rewarding from a human, technical, or technological point of view. On the other hand, I am extremely pleased and honored that our brand and our group have been selected as part of the competition for the complete renewal of the scenic infrastructures of the Cour d'Honneur of the Festival d'Avignon, which is probably the most important contemporary live show in the world.
Being present in Avignon, with an extremely innovative device built around the HOLOPHONIX processor, is a form of consecration, in any case a major recognition of our work and the ideas we defend!
More information on the Amadeus website
Posted on 29 June 2021
Crédits -
Text: Ludovic Monchat - Photos: Amadeus, SLU