Following the acquisition of Claypaky by the ARRI Group six months ago, Claypaky CEO Marcus Graser reflects on the manufacturer's commitments and current developments.
---
After the separation from Siemens AG through an  IPO in 2023, OSRAM, the former mother company of Clay Paky, had been acquired by Austrian semiconductor company AMS in 2019. Shortly after finalizing these acquisitions, AMS-OSRAM announced its intention to divest certain activities, with the rationale that five or six companies, including Claypaky, were not part of the Group's core business. As it turned out, this manufacturer was one of the last to be sold, due to delays stemming from the Covid pandemic.
Marcus Graser explains : "This strategy was purely focused on their core business, and I think it's worked well for us so far. In fact, we're very pleased with Arri as our new shareholder, and personally I fully understand the reason why Claypaky was sold. It made perfect sense and, I have to say, it was handled professionally."
---
SLU : During this period, was the company supported in its response to the pandemic?
Marcus Graser : Osram supported us in spite of revenue losses that were in the worst period as high as 80%… In terms of cash flow, the Group supported us in managing the costs associated with maintaining our staff over a long two-year period and even beyond to continue to invest into innovation and new products as well as machinery and modernization of our infrastructure
The changes and developments brought about by ARRI
It was a long planned transaction, with an investor who already had a strong presence in the world of lighting. Of course, one wonders what changes might occur, and whether a market logic might apply, or whether synergies between the two giants in the industry might be established. But the parties involved seem to be very attuned to each other's unique characteristics, which is good news.
SLU : Will you continue to use Osram as your main supplier of LEDs and lamps?
Marcus Graser : We've always had a very flexible policy with Osram, in the sense that we always use the best LED or lamp for our fixtures. As it happens, some of our products don't have an Osram lamp or LED. So we were really independent, always aiming to build good products. That said, Osram makes excellent products and, where we can, we use them.
SLU : In the wake of ARRI's acquisition of Claypaky, will you be continuing production in Italy, and will this have an impact on your workforce?
Marcus Graser : Yes, we will continue to manufacture here. That's the plan, and it's also in line with our shareholders' philosophy. In fact, I believe that Italian manufacturing is one of the reasons why ARRI bought the company.
They are also a company with a strong technology and industrial background, and there are advantages in terms of labor costs, which are lower than in Germany. There's also a unique advantage in terms of hiring opportunities in the north of the country, which means that there's a very good pool of engineers and production personnel. The current staff will therefore be retained, and we are actually looking for new talent. In 2023, we hope to be able to hire between 15-20 new colleagues.
SLU : Is everything currently manufactured in-house?
Marcus Graser : R&D is carried out in-house, and we are careful to maintain the right balance between innovative, high-end products made in Italy and entry-level products with production outsourced to the Far East.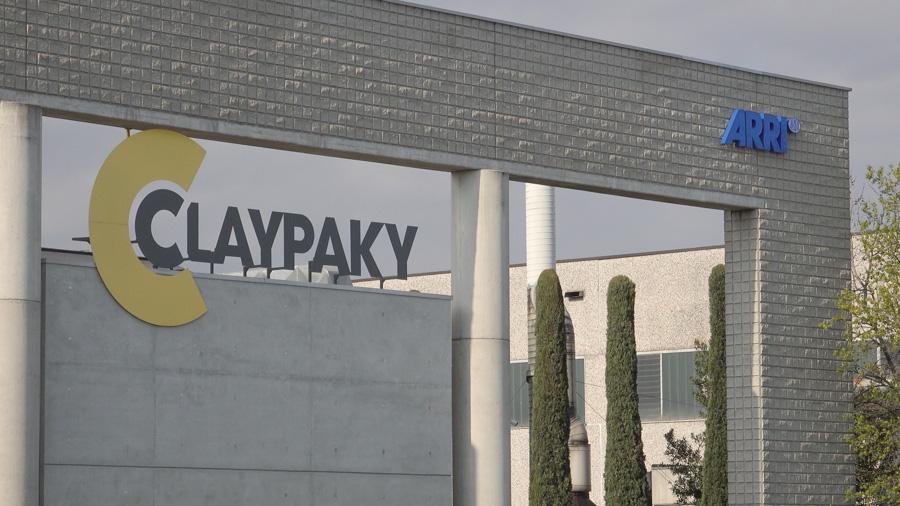 SLU : How might Claypaky and ARRI develop their synergy?
Marcus Graser : ARRI is renowned as one of the market leaders in cinematographic equipment, or "CineStyle" as it is called, but also in sectors such as television, film production and theater.
As far as Claypaky is concerned, I think that on the one hand it could open certain doors for us, as it seems that the film industry is using more and more moving heads.
On the other hand, we'll definitely be working on certain technological synergies, as ARRI is known for delivering very high-quality color control, from which we could benefit. As for us, we're renowned for our motorized fixtures, electronics and optics.
---
SLU : Is this work already underway?
Marcus Graser : Our engineers are already working together on certain projects. The good thing about ARRI is that they're not looking for radical integration and reorganization. Instead, they're looking to maintain Claypaky as a separate, independent business unit, while trying to foster the exchange of know-how. Our business is different, but at the same time also very complementary to theirs.
---
Marcus Graser, current CEO of Claypaky, has a 20-year professional career under his belt, starting out as a management consultant for Siemens. Three years later, he joined Osram and rose through the ranks within the group, moving from the automotive division to the architectural division, before finally being chosen to head the famous Italian show light manufacturing company. "The most challenging job of my career and the most exciting so far," as he has himself described it. In September 2019, he would succeed his charismatic predecessor, Pio Nahum, who was retiring.
Marcus Graser : "You can imagine that it was already a rather peculiar time for Claypaky, as the company was emerging from a period of difficulty. And when I'd only been in the job for three months, the biggest crisis in decades began with the pandemic, followed by major difficulties in the component supply chain and a war in central Europe, on top of many other challenges".
Positive, spirited and dynamic are the qualities of the new CEO, who is deeply committed to the success of the company and its partners. During this difficult period, he made a number of internal changes to cope with an industry in turmoil, and took the opportunity to introduce a new vision.
"We wanted to renovate and transform the company as a whole from innovation to process, people and culture. We therefore proposed changes in key areas, starting with an innovative approach, ranging from the development of totally new technologies, such as laser sources, to specific noise, color management and thermal management algorithms. The story continues today with the recent acquisition of the brand by the ARRI Group".
---
Video Interview
Marcus Graser takes us on a tour of the Claypaky company in a video interview.
---
A "Smart Product" Portfolio that anticipates demand
Since taking up his new post in September 2019, Marcus has been working to develop the brand's philosophy by making far-reaching changes. He has initiated work focusing on the product range.
Marcus Graser : "We have withdrawn products from the catalog that we felt were no longer in step with the times. At the same time, between 20 and 30 new products have been introduced to the range since 2019". This initiative is designed to ensure that the company is well represented on the market in a variety of categories, power classes and source technologies."
SLU : Do you expect further innovation in the LED sector, or do you think the technology has reached its peak in terms of efficiency and performance?
Marcus Graser : Yes, I expect LED technology to continue to evolve, and not just in terms of white LEDs, but also in terms of multicolor LED sources, to offer higher color quality and greater efficiency. We're also likely to move towards the optimization of all systems involving the interaction between the LED light source, the thermal management of the electronics and the complete integration of these systems in a fixture.
What's more, these days, almost all the new luminaires are IP65 rated, and there will be more innovations to come, like the use of new materials. But overall, I think the steps might be a little slower compared to the exponential evolutionary curve we've experienced with LEDs so far."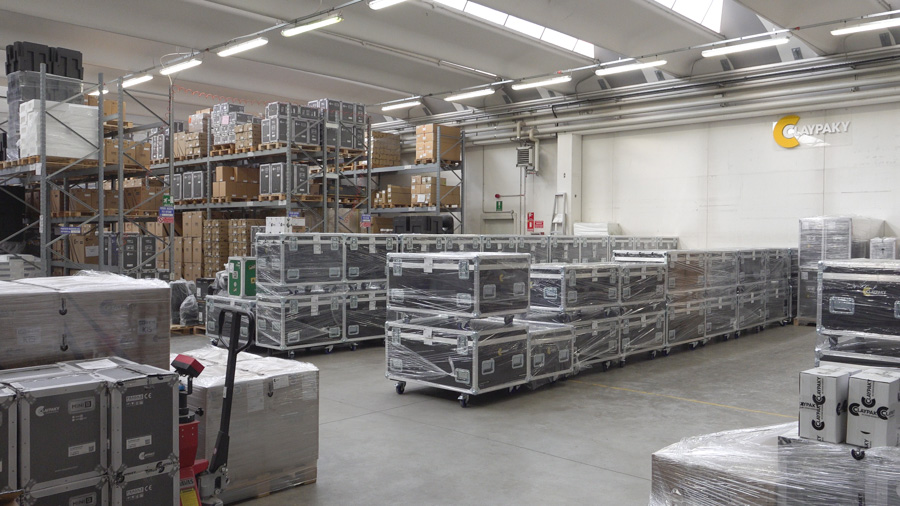 Modernization continues with a digitization initiative that introduces new processes for customer relationship management, demand planning and forecasting. This digital aspect extends to Claypaky's fixtures, which have become "Smart Products" thanks to the CloudIO system. The goal is to facilitate service and handling.
Another aspect of the changes that have taken place concerns the organization of production and the application of a Kanban workflow. "Our internal flow of products is now managed in this way, and we do the same with our suppliers. This more rational approach means we can minimize our inventories while maintaining good responsiveness".
---
The Kanban method is a workflow management process first developed and applied by Toyota as a planning system, with the objective of "just-in-time" manufacturing. The downstream workstation communicates its needs to its "supplier" (upstream in the chain) via a set of labels called "Kanban" in Japanese, according to a "Pull" strategy.
---
In response to the pandemic, and because people remain at the heart of the business, Marcus, who is very attentive to the needs of the company's 150 employees, decided to emphasize the positive aspects of the entertainment industry, which was at a standstill at the time, as well as the underlying missions and values.
"Our passion and our way of doing things must also be backed up by sound values. So we introduced the 'Claypaky way' program to take concrete steps in the direction of training to build everyone's skills. New methods of collaboration have also been introduced, bringing together people who work in different departments".
A fond acknowledgement to Davide Barbetta, Marketing Production Manager, who guided Marion Schneider (Head of Marketing at Dimatec in France) and myself through the company in the beautiful Italian light.
---
A roadmap with expanded objectives
With a consolidated internal strategy, the company has been able to work on a roadmap to guide it through the next few years.
Marcus Graser : "Claypaky has always worked in the Touring Rental and Live sectors, accounting for over 70% of our business. Today, we're trying to position the company on several pillars by strengthening our theatrical portfolio.
Along these lines, new static fixtures were launched under the ADB by Claypaky brand (a brand traditionally dedicated to theater) at Prolight+Sound 2023. "The range will focus on modernity while respecting a good compromise between innovation and price".
We all remember the recent decision to discontinue activities associated with the ADB Ocean console. This was a logical choice, given the strength of certain competitors, bbut one that seems to have been a little hasty given the return today of a rich offering aimed at the Theater.
The installation sector will also be addressed, and although Claypaky products may already be used for certain architectural applications, this is a sector in which the brand still has little presence. This objective now seems attainable, thanks to a distribution network that extends to over 70 countries.
---
The Claypaky touch
SLU : But what makes the company so special?
Marcus Graser answers without hesitation: "In addition, of course, to the 'Italian touch' – that is, the attention paid by Italians to design and a certain way of doing things – I think what really sets us apart is innovation. We have invested a major part of our resources, around 8% of our revenue. I think that is  and always will be the backbone and DNA of the company".
SLU : What products would exemplify this innovation?
Marcus Graser : The Sharpy, which took over every stage and TV production in the world, and long before it, the Astroraggi, which was very popular in discos, made the company famous.
And even though the market is now much more mature and ever more competitive, we continue to innovate with fixtures such as the Xtylos, the first source equipped with an RGB laser engine developed entirely in-house.
---
Source diversity is another of Claypaky's hallmarks, as the CEO points out: "We're one of the few manufacturers to use different source technologies in parallel. Whether it's lamps, white and multicolor LED sources, RGB laser sources and, now a white laser.
I think another difference is that we're one of the few companies still manufacturing here in Europe. Having our own know-how in the way we industrialize and manufacture products makes all the difference".
---
SLU : What about the products manufactured in China?
Marcus Graser : We use the ODM (Original Design Manufacturer) activity with a "Claypaky" imperative. In other words, we don't just specify products. We also develop and design essential parts of the assemblies, to achieve a combination between the production capabilities of our manufacturers in China and our own skills. This is a significant difference compared with certain competitors who simply rebrand existing fixtures.
An Original Design Manufacturer, is a company that manufactures a white-label product on which another company can affix its brand.
---
SLU : Does this help combat the problem of Chinese imitations?
Marcus Graser : Thanks to our firmware, copying our products has been made more difficult. In addition, all our expertise in optics and light sources has been relocated in-house, and our dedicated engineers have been employed within Claypaky since three or four years ago.
While copying continues for us and our competitors, I think the best response is still innovation and speed. Being the first brings competitive advantages, as with the laser source, and we take care to protect our ideas and create international intellectual property patents, even if this is not always effective, particularly in the Chinese market.
SLU : Does Claypaky have a flagship fixture at the moment?
Marcus Graser : We've moved away from a "hero product" strategy. Certain products have been very successful, such as the Unico, Mythos and Sharpy. Of course, we realized that if there were problems with the supply chain or copying, it would be difficult to stay ahead. So, if a product works well commercially, that's fine, but we make sure that we're also viable in various market segments and with different products.
The Volero Wave is currently well received around the world, although we're still catching up on the supply side. It's a fixture that opens up new effects and possibilities for lighting designers, thanks to its versatility. That said, many other products are selling very well, such as the Sharpy X-Frame and Sharpy Plus.
---
---
The CP Green approach to production
With the launch of the new Skylos, a laser-powered skytracer capable of competing with 4,000 W xenon lamps, the manufacturer continues its revolution in environmental awareness. At the same time, a zero-carbon production strategy is becoming increasingly important.
Marcus Graser : In fact, for us innovation is not just about the product or the process, but also about the way we create it and its ultimate impact not only on the market but also on the environment. To my knowledge, we are the first and only company dedicated to entertainment lighting to have been officially certified ISO 14064-1.
This certifies our efforts to measure our carbon footprint. We did this for the first time in 2021, and our former Technical Director, who has now retired, is in charge of the CP Green project. The goal in calculating our carbon footprint is to reduce our emissions and become greenhouse-gas-neutral in our operations and facility by 2030.
ISO 14064-1:2018 Carbon inventory management system certification: Specification and guidance, at the organizational level, for validating the approach to quantifying and reporting greenhouse gas emissions and removal. (Source iso.org)
---
SLU : What concrete examples have you implemented?
Marcus Graser : We've optimized the building's heating and will install solar panels on the roof to sustain a good part of our electricity consumption. For new car purchases, we always prefer electric models.
Furthermore we try to optimize Supply Chain and transport routes to lower Carbon emissions. It's a very serious project, which may one day have a commercial impact, but above all we think it's important to do it as a company and "corporate citizen".
The first and really difficult step was to measure our overall carbon footprint in a reliable and scientific way and derive a carbon management plan from that. Now we are into the next phase of looking for ways to reduce and compensate our emissions created by our company site.
SLU : Innovation in this field will surely arise from collaboration between manufacturers and users. Have you already received any specific requests in this area?
Marcus Graser : We're seeing this more and more, as some top lighting designers, encouraged by their client artists, are emphasizing this point. Coldplay is one of them, and this sensitivity is spreading to other acts. I believe that Live Nation has set up a department dedicated to this issue, and some suppliers ask us to avoid plastic packaging.
We're also open to ideas for reducing CO2 emissions in the manufacture of our products. That's why we invest heavily in laser technology, as these sources deliver high lumen-per-watt efficiency. For example, a very narrow powerful Beam like the Xtylos consumes around 300 watts, whereas an LED source would need minimum 1,000 or beyond watts and even not delivering the same result in the beam appearance than the laser source can provide!"
---
Since 2019, Claypaky has faced many challenges with a dynamic, modern and efficient approach under the leadership of Marcus Graser, the CEO who will soon be celebrating his fourth year at the helm of the company. Both internally and externally, the company is implementing new methods
From R&D and Kanban manufacturing to product delivery. The optimization of the catalog, attention to customer requirements and ongoing innovations are all aimed at improving manufacturing and working conditions in order to maximize the brand's customer base.
Their product range and production approach are being revised to meet the challenges of climate change in a timely fashion, a wise move in the race between premium manufacturers in a market that has become highly competitive over the years.
Even if the engine has to rev up from time to time, you also have to be able to stand the test of time, and the Italian team has long understood this. Their know-how and reassuring, engaging approach continue to impress us.
Posted on 6 September 2023
Crédits -
Text, Photos and Video: Allison Cussigh