Blow of genius and sheer excess, here. Maestro Vittorio Storaro, soon octogenarian, still has not stored away his photocell of director of photography. Whoever trumped the Oscars of photography in the eighties, for Apocalypse Now, Reds and The Last Emperor alternates since between formal research on lighting and movie sets.
Photography author
His reputation is famous, and comes from his Storaro filter range from the Rosco catalog, his books and conferences on painting and lighting and his collaboration with the great director Carlos Saura. He finds with Woody Allen this constant desire for evolution that never left him. Convinced belatedly by digital in 2016, the painter of the film has offered a unique signature at De Sisti developing with his daughter, architect light, an astonishing range of LED projectors for cinema.
The Muses of Light
On 4 July 4th, 2019, the prototypes of 'The Muses of Light' LED projectors were unveiled and used for the first time on the set of Woody Allen's latest film, Rifkin's Festival, shot in San Sebastian.
Inspired to Vittorio Storaro by the nine muses, he added the goddess of cinema to the nine girls of Zeus. This range of projectors aims to provide virtually all types of lighting on a cinema shoot. All based on an assembly of white diodes with variable color temperature, they come in a wide range of shapes preceding their function.
Spot Lights
Honor to the eldest with Calliope, epic poet, whose such-named projector takes place in a PC casing around a single 600-watt Led source.
With a variable color temperature between 2800K and 6600K, Calliope projects a 60° beam for powerful and well cut shadows, like a generic Goya would do.
Made thinner for its official release, the Calliope has the settings of a PC and 4 barndoors.
Melpomene, as the majority of its sisters, is based on a specific geometric shape to address specific needs. Here, it is a triangle with a narrow 11° beam thanks to the layout of its LEDs.
Used as an incident light source for dramatic purpose, Melpomene uses 640 Watts of white LEDs of variable color temperature between 2800K and 6600K to deliver more than 9,000 lux at 10 meters.
Designed as a square of LEDs, Tersicore needs 1,280 W of electricity to power up its 320 LEDs with variable white. The powerful flow of Tersicore remains uniform despite its tight angle of 17°, ideal bright light sent in the image field. Nearly 10,000 lux are measured to 10 meters with this Spotlight model.
Reduced version of the latter, the Clio is a rectangle half its size, where the technical specs are – logically – divided by two. With a power consumption of 640 W, its 160 variable white LEDs deliver 5,000 lux at 10 meters. It comprises the same impact and tight 17° beam as the Tersicore, to which it will be naturally associated.
Soft Lights
Polymnia is a pentagon projector with diffused light output. Its 280 W of variable LEDs generate an average 25° halo for fills or soft lights. With almost 4,000 lux at 5 meters, Polymnia is clearly a close field lighting tool.
Wider and more diffuse, Erato serves as a hexagonal complementary source with wide diffusion. Equipped with 360 W of LEDs, its angle of 38 ° provides a nice coverage for small distances.
The 2,800 lux at 5 meters from the Erato reserve it for soft lighting.
Built on the same model, Euterpe takes place in a barely wider 8-sided support. This octagon of light is based on 700 W of LEDs, with very wide radiation. The light spreads gently over 60° of coverage, providing less than 1,500 lux at 5 meters, with very fine shadows.
True focus of light, Talia brings up 1,500 W of LEDs over a very wide area of ​​80°. Its twelve-sided 12-sided format provides illumination with practically no shadows, with a beautiful 3,000 lux at 5 meters.
Urania is molded in a semi-circular asymmetric support. With its reduced size, it is dedicated to the closest applications or specific lighting purposes, using a half-disc 180° projection for radial lighting.
Spot lights Aurea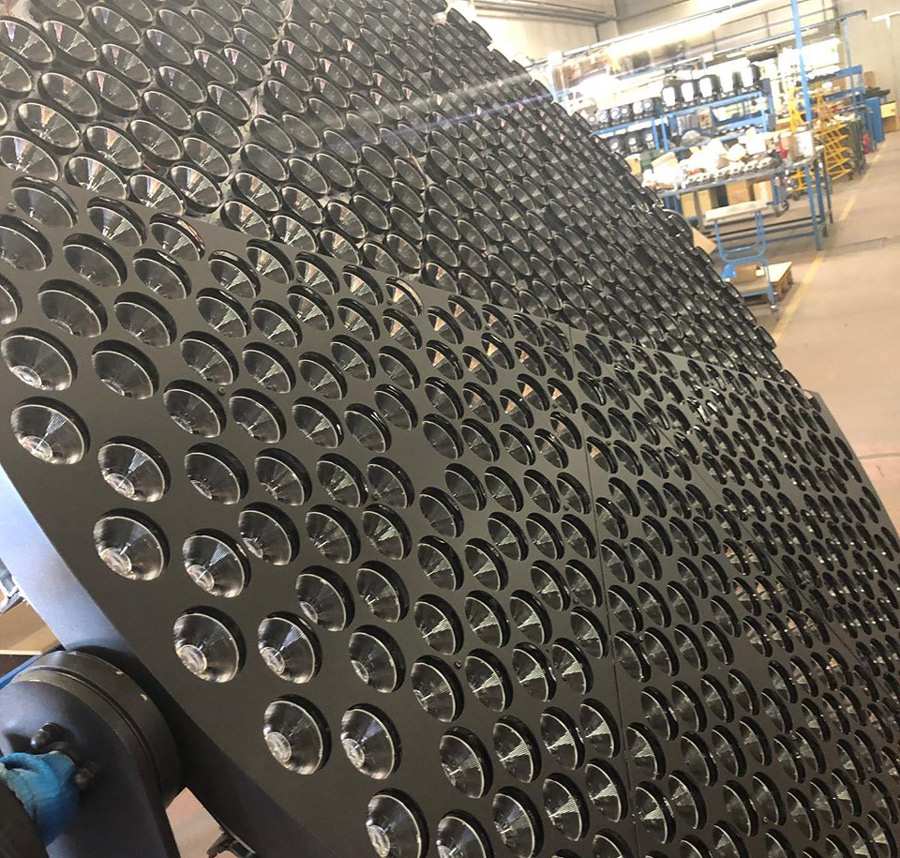 Solar mammoth, Aurea, this new muse of the cinema world, is the most radical in the range indeed.
With a large disc of LEDs, 2,400 W of electrical power and a tight angle of 11°, the beam strike like a sun with more than 30,000 lux at 10 meters.
It crowns with royal panache this range of projectors so particular… and bright.
---
This range of fixtures imagined by Vittorio Storaro and designed by De Sisti is still in the development stage, certainly functional, but far from finalized. The projectors will see all their sizes reduced in the final versions, and will be coming with a range of accessories specific to the cinema, such as Chimera and others.
In addition to the respect due to this great man of photography, we can only be in awe of his vision as an artist and his scientific rigor, intact for more than 50 years.
Here's the very first teaser of this Storaro range by De Sisti
---
More information on the De Sisti Website.
Posted on 22 September 2019
Crédits -
Text: Tristan Szylobryt. Translation: Bruno P. Souchaud.