With the new A Series unveiled at Infocomm 2019, d&b audiotechnik introduces the augmented array: an advanced loudspeaker concept born from the d&b applied evolution system development philosophy.
Combining variable splay angles, two approaches to acoustic optimization, and advanced waveguide design, the A-Series addresses applications where coverage flexibility in both the horizontal and the vertical is paramount. Wilkommen!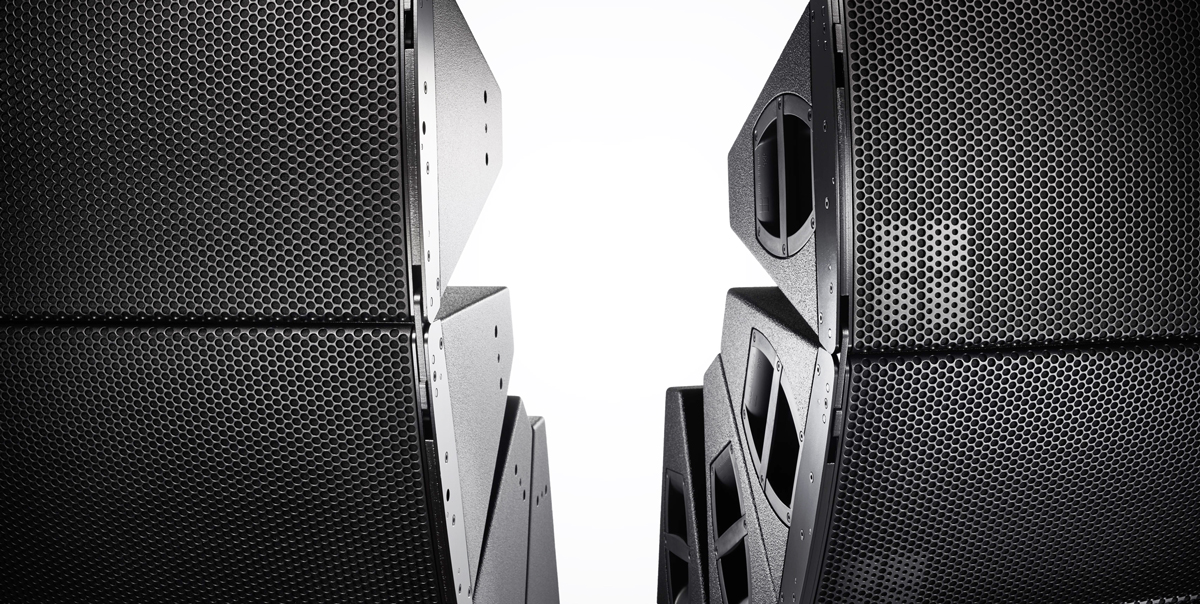 Unveiled at Infocomm 2019, this new A Series brings a quick and simple answer for both Touring and Installation markets, with 2 loudspeakers, or 4 if we count up the installation versions. The main point here os more about a new philosophy, the variable angle array with point source speakers.
This yet unseen speaker coupling versatility open the doors of a variety of markets which single point source or fixed curve arrays can't address properly.
Realizing all the adaptability of a point source cluster with the extensive control options of a d&b line array, the system comprises the AL60 and AL90 loudspeakers, with ALi60 and ALi90 offering cabinets designed specifically for permanent installation.
Using the appropriate frame, up to four AL60/AL90 and ALi60/ALi90 loudspeakers can be flown either in vertical or horizontal arrays. Variable splay angles between adjacent cabinets can be set in five degree increments from -10° to +10° allowing the finest of adjustments and ensuring sound is directed precisely where it is wanted.
With the corresponding frame, it is possible to hang up to four AL60/AL90 in vertical or horizontal mode to perfectly cover the zone you need to control. To achieve this, it is possible to vary the angles by steps of 5° between -10° and +10°. The "sum" of two enclosures with a native vertical coverage of 30° can provide a result of 60°, but can also vary between 50° and 70°.
To flatten perfectly the coupling in the very sensitive area where you have at the same time 10-inch speakers and drivers, and whatever the chosen angle is, the 200 Hz – 2 kHz band can be granted on request by an algorithm embedded into the amplifiers, called Midrange Directivity Control (MDC). Just specify which are the "internal" and the "external" enclosures, let's call this a "mini-Array Processing".
If you ever feel like it, the "real" Array Processing can be helpful to give a perfectly linear frequency response and the close field coupling, or for longer throw.
In both cases, MDC or AP, you won't be able to couple two speakers per amp output. Midrange Directivity Control (MDC) ensures frequencies between 200Hz and 2kHz are evenly distributed, regardless of the splay angle.
With 60° horizontal dispersion and directivity control down to approximately 550 Hz, the AL60/ALi60 can cover a distance of up to 30 meters.
The AL90/ALi90 – with its 90° horizontal pattern control down to 370 Hz – is sonically and mechanically compatible, ensuring the same optimal acoustic result is achieved consistently anywhere, at any angle – whatever the configuration.
The AL60/AL90 loudspeakers share a passive 2-way design featuring one 1.4" exit HF compression driver with a 3" diaphragm mounted to a wave shaping device, and two 10" neodymium LF drivers.
The combination of sophisticated waveguide design and the symmetrical bipolar arrangement of the LF drivers allows a smooth overlap of the adjacent frequency bands in the crossover design.
The wave segments of each cabinet couple without gaps and sum up coherently. The weight of the two models is the same, 23 kg, and the frequency response is 60 Hz to 18 kHz @ -5 dB.
The A-Series is compatible with a range of d&b amplifiers and subwoofers so that the system in its entirety can be tailored to meet specific application needs.
The companionable four channel 30D, D20 and D80 amplifiers provide extensive user-definable equalization containing two 16-band equalizers with parametric, notch, shelving and asymmetric filters as well as delay capabilities of up to 10 seconds.
The V-GSUB and Vi-GSUB are recommended for low frequency extension using the A-Series, with many more options available for mobile and install, large or small.
Wolfgang Schulz, Product Manager d&b says: "The A-Series, augmented array provides our customers with a new set of scalable solutions that work as a standalone system or in combination with the full range of d&b systems.
The flexibility of the splay angles, the Midrange Directivity Control function and the ArrayProcessing capabilities enable the A-Series to address a huge range of applications with coverage consistency that is unparalleled."
The first deliveries of this new system should occur Q4, 2019. Our Pro Audio team will try and get a listening test of a whole set up as soon as some demo units are available for this, we'll keep you posted!
More information on the new d&b A Series.
Posted on 28 June 2019
Crédits -
Text & photos: d&b. Adaptation: Ludo Monchat.