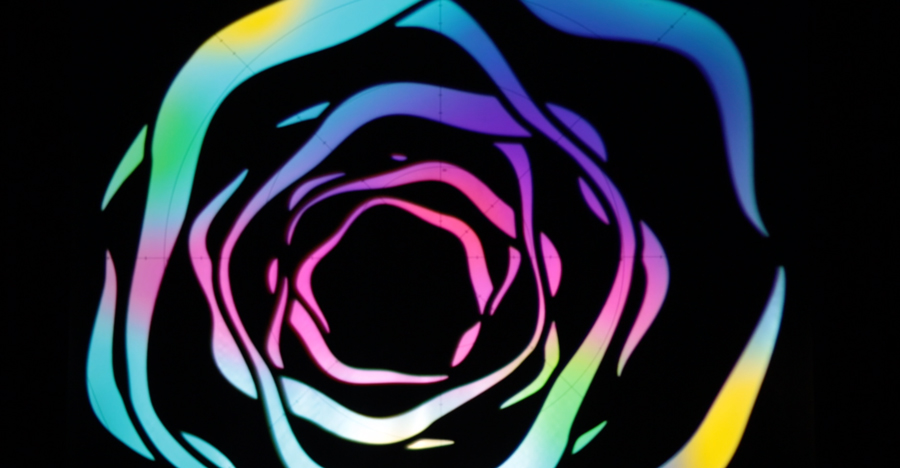 First ever Ayrton projector equipped with a 1,000 W LED module, the Huracán-X is a monster of brightness, loaded with new technologies in the sheer management of colors and effects.
Stuck on his Prolight + Sound display pod, he kept his talents secret in the public eye. Yvan Péard, director of development, took the time to unveil most of them to us.
Yvan Péard asserts : «The Huracán is like modern watchmaking. It is slightly bigger, thicker and larger than the Khamsin and it uses the base of the Ghibli with a 1,400 W PSU.»
With its 44 kg weight, a more spacious center distance to fit the new effects discs, a 178 mm lens and a size that exceeds 80 cm high (with head pointed upwards), the Huracán is indeed an Ayrton giant, but remains comparable to large discharge projectors already known to the Pro lighting market.
Just as its power, its native 1000 W of white LEDs and its top notch cooling need a lot of energy to express themselves. And its 1,400 W of power consumption is not too much to deliver the announced record light output of 50,000 lumens.
But far from being only a light cannon, this record projector boards a yet unseen total control on color and animations.
Yvan Péard : «We have patented its system of complex substractive color mixing based on the classic CMY one, plus a complementary Color Temperature one, combining 3 correctors CTO (O=Orange), CTB (B=Blue) and CTP (P=Pink) or Minus Green».
Clearly, the three classic CMY color mixing flags are doubled with their complementary linear correctors CTO, CTB and CTP (minus green). To understand this new system of 6-color mix (!), the following video compares the three primary discs and three pastel correctors.
The three CMY primary flag are in fact replaced by azure blue, violet and mustard, to obtain very deep red, green and blue color mixes in addition to very soft new blushes. Each color component is shot in this video in progressive crossfades over 20 seconds.
---
A wheel of 6 very specific colors completes this complex process, as well as two DMX channels of pre-programmed colors in E-Color code, a common European standard for gels. The first E-Color channel is visually calibrated using as a reference a halogen profile equipped with the requested gel, the second in HMI 5600K. Each time the DMX value will be identical to the reference color code.
---
Yvan Péard : "We will develop the algorithms that should allow people who have color triangles on their console, GrandMA, ETC … to fully exploit the possibilities of this machine. It is an ambitious system, one of the keys of the Huracán, which is reserved for high-end machines. To do this we use E-Color references in 3200K and 5600K daylight. A titanic job indeed!"
High-end is the perfect term for the gobos and effects management. On the two wheels of 7 rotating HD glass gobos, 2 slots are reserved for interchangeable cassettes. Each cassette is composed of a reverse gobo double gobo, to create 3D projections by playing on the focus.
The picture you get is hypnotic, with its geometric petals winding endlessly in arpeggios of multiple hues.
---
In addition, two prisms, a linear 4-facet and a circular 5-facet, are added before getting to two new patented effects discs. The first is reserved for complex graphic animations, the second launches a real carousel of colors.
Yvan Péard : "The multi-positioning effect wheel simulates water, fire, the sun in the center and all the perspectives… where you want it.
The aim of this invention is to precisely position this effects wheel in the beam in order to obtain a multitude of graphic effects such as horizontal, vertical or axial scrolling, with the possibility of navigating between all these positions."
If these continuous animations are largely known, with a marked vertical passage, it is more rare to be able to use it horizontally, and to our knowledge never yet in a circular way.
---
Yvan Péard : "We also have a glass effects wheel, a combination of Cyan Magenta Yellow that mix together… We will be able to scroll thru the colors in a non-focused way. These can be mixed with the six colors of the mixing system to make colors appear and disappear. A real floral explosion."
Very Pop Art, the possible combinations happily collide the typical oil bath effects from the sixties and the geometric deconstructivism of the chosen gobos.
---
---
To perfect this almost idyllic picture, an iris, two frosts and a framing system of four fully closing blades are integrated before the last centerpiece of the Huracán: an impressive zoom that increases the beam from 6.2° to 62°.
Scheduled for Q3 release, this Profile represents the quintessence of Ayrton, or to let Ayrton's teams say things more frankly:
Yvan Péard : "In the spirit it's a Bad Boy*… tough delivering. We've never made such a ballsy fixture before!»
*Bad Boy: cult, non-compromising projector manufactured by PRG, exclusively used on their own big operations such as Olympic Games Opening Ceremony or Eurovision Song Contest.
More information on the Ayrton Website..
Posted on 20 July 2019
Crédits -
Texte et Photo Tristan Szylobryt. Translation: Bruno P. Souchaud.