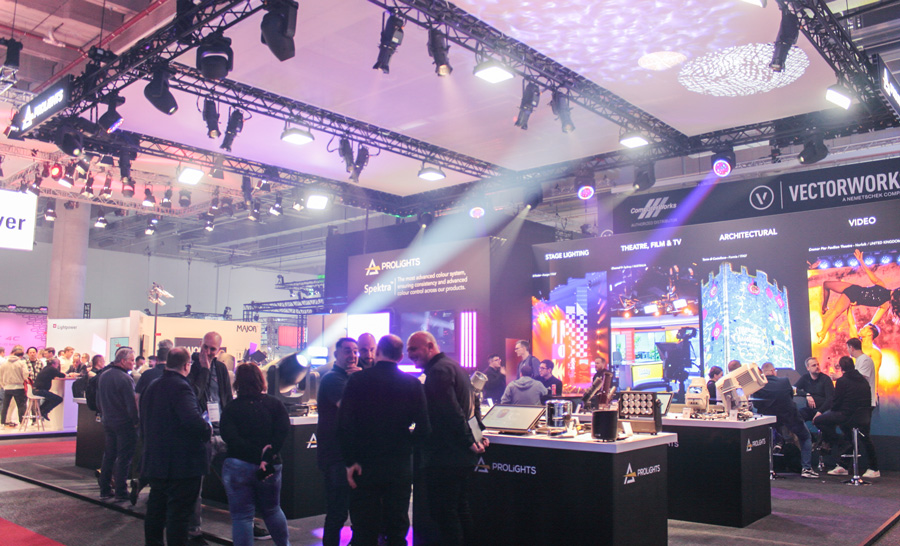 The Prolights product portfolio has been expanded with the addition of a hybrid moving head that combines powerful versatility with a compact footprint, but also the IP-rated LED PAR lights, Astra PAR7IP and Jet PAR7IP, as well as the Flood300FC LED, an alternative to traditional flood lights. Fabio Sorabella, CEO of Prolights, presents them in a video.
---
---
Astra Hybrid 420
The Astra range, which includes most of Prolights' flagship products, now boasts a new model with the introduction of the Astra Hybrid 420, a versatile fixture equally at home in the roles of Beam and Spot, with a variable linear zoom between 2.7° and 40°.
The fixture is powerful – with its new Ushio lamp rated at 420 W and a nominal operating life of 6,000 hours – small and fast (for its class), with a compact size of 45×66 cm, but especially well-equipped!
Under its covers are two gobo wheels, one of which rotates with 10 positions plus a wheel with 18 fixed gobos. To color the beam, no less than six different wheels are used, three for CMY linear trichromy and three others which incorporate full colors and temperature correctors.
As for effects, the Astra has plenty to offer! It features an animation wheel with insertion and rotation control, two rotating combinable prisms with four and eight facets, and a linear frost.
To control all this, you'll need 30 DMX channels (there is a single control mode, which is worth noting). The RDM-compatible fixture also features ArtNet, sACN and W-DMX control.
---
Astra PAR7IP et Jet PAR7IP
The new Astra PAR7IP and Jet PAR7IP are two IP65-rated LED PARs, that share most of their features, but have different output power. Each features a zoom range from 4.5° to 53°, a 7-LED RGB module supplemented by warm white, and a color temperature range from 2,800 K to 10,000 K.
---
They can be controlled via DMX+RDM, as well as via CRMX (Lumen Radio) and W-DMX wireless protocols. The JET PAR features 20 W sources, while those of the Astra are rated at 40 W. The Astra is also equipped with Pixel Control for independent control of each LED source.
---
EclExpo Flood300FC
We continue our tour of the latest products with the EclExpo Flood300FC, an asymmetrical LED fixture designed to replace CDM or tungsten-source flood lights and other asymmetrical fixtures. Equipped with a 300 W RGB+warm white source, it generates a wide beam of 100° x 60°, perfectly suited for indirect lighting.
---
Its power and its high-end specifications, including a CRI/TLCI of 93, variable white (2,800-10,000 K), variable-frequency PWM (between 600 Hz and 25 kHz) and compact dimensions (39×24 cm, weighing just over 5 kg), make it an excellent choice for a wide range of applications, from exhibitions and TV studios to events and theaters.
---
In fact, Prolights has developed a forced ventilation system compatible with those applications where noise is undesirable, by oversizing its fans so that they only run at reduced speed.
For more information, visit the Prolights website
Posted on 4 August 2023
Crédits -
Text & photos: Jérôme Boutié – Video: Allison Cussigh – Translation: Ted Hall