What a choice of tubes for Astera! The 2 m version of the hit-selling Titan Tube doesn't affect the success of the previous Helios smaller brother (in 50 cm length), with its galore of clever accessories. Tube it or not tube it? No question, just try se 'em all!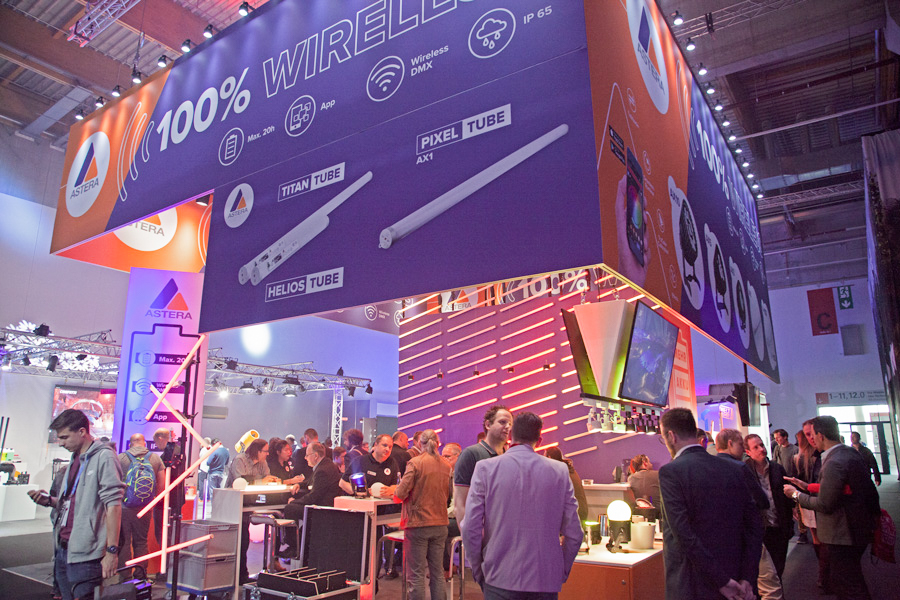 The Astera Led stand was always full of visitors some months ago during latest Prolight+Sound exhibition in Frankfurt. The main reason for this strong interest, of course, was the up-and-rising new models quality, that you could feel and experience since the launch of the AX series.
Their major points include a deep work on the LEDs' optics (especially with the AX5, bearing proudly french Gaggione optics, hurray!), cleverness of the flight-cases with their reinforced charging points, and, last but not least, further developments of the bi-directional AsteraApp transmission and total control software.
Quite recently, Astera took a major interest into the wonderful world of Cinema sets. A very updated version fo the AX1 tube, named Titan tube, was launched last year, and this new market for Astera did make them feel like Hollywood stars in the Cinema lighting world.
Here's our SoundLightUp interview of a very enthusiastic Sebastian Bueckle, Astera Sales and Marketing Director, holding firmly the helm of this new market, or rather the new extra-long Astera tube, the Hyperion, soon available: distributors should all be getting their samples this month but larger quantities are only shipping in October.
Soundlightup : So tell me Sebastian, are you practising Pole Vault or Javelin Throwing?
Sebastian Bueckle : (Laughs). Well, apart from my participation at the forthcoming Athletics Championship, this one can deliver some very efficient lighting, wireless 'cause on batteries of course, and I can control it from the other side of the stadium in long distance wireless DMX! More seriously, it is the bigger/longer brother, and arrived most recently, in the Astera tube family.
We actually designed it on request for a customer, and then finally it has totally seduced whoever saw it afterwards, so we went for a standard production and product launch.
The nice thing about it is that you can design long lines for matrix purposes, for instance for stage backdrops, without having the line up two one-meter Titan Tubes one after the other. This newbie is called Helios and is 50 cm long. His name is derived from the ancient greek, it does deliver a lot of light, almost like the sun! (smiles)
SLU : So, can I say that the family is now complete?
Sebastian Bueckle : That's the least we can say, indeed. it was crucial for us to have all this tube family complete, with high CRI (above 96, and TLCI * too!), thanks to the RGGBA 5-color mixing, and the « Boost » feature to multiply the luminous flux at will by a 2.5 factor
SLU : But in this case you lose some working time?
Sebastian Bueckle : Of course, but as the lunch break allows you to reload it, and because of the many actual breaks and interruptions in-between phases of actual actual shooting, it's possible to run that way during a whole day of filming.
In Live usage, light output requests are different. On a stage where the tubes (the 3 models can now make patterns and zigzags at will) can be connected to the mains, for example at the back of the scene, we are not limited by the battery and we can push the light output as much as we need or want.
This new feature is also essential, 'cause when you there are a lot of lighting around, moving heads, color changers and the lot, tubes were kinda lost in the big picture. In decorative lighting, for events for instance, on staircases, flanking entrance doors, etc, the working time is self-adjusted by the tube software itself, using the AsteraApp menu at first, or anytime.
The other key feature is the Pixel-per-Pixel control in DMX512. The limitation of the number of DMX universes due to the CRMX/Lumen Radio system on huge installations is no more a problem, as the DMX can be sent multiplexed to the tubes, piggy-back on the PSU cable.
This is why there is a DMX input socket in the PSU block from the flight-case, that can be installed or hung in the stage set-up, and can be connected to 10 tubes. Of course we can supply a variety of 2.1 mm jack cables, different lengths, so you don't need to solder them yourself…
SLU : Does the booming (and quite recent!) Astera presence on the Cinema/TV market explain the number of accessories on your booth?
Sebastian Bueckle : Naturally, we have developed cases for the Helios model, they're shown here beside the one for Titan tubes, with every accessory included.
But for the shooting sets, we can also provide a carrying bag just as complete (but smaller and much lighter), limited to 4 Helios.
Then we have a wide choice of reflectors, Chimera-like diffusers, and so on, from various specialized manufacturers who are used to the Cinema market already.
SLU : All these features you told us above (CRI, "Boost mode", etc) are only applicable to this new generation of tubes, do you thinkl you still need to keep into your global offering the "good ol' AX1"? As it has RGBW color mixing only, and a lower CRI?
Sebastian Bueckle : First of all, you'll notice there's still quite a price difference between this "good ol' AX1" and the Titan tube (ca. 30/35%, Ed.), and it still sells OK for decorative lighting, where the notion of "purest white possible" doesn't apply, they just need ease of use and color effects. But it is true that for rental companies who are addressing several markets, their new choice now is Titan tube for their investments.
SLU : Some other news regading, let's call them the "cylindrical" projectors? (smiles)
Sebastian Bueckle : Mainly updates and new or more accessories, especially for more applications. For instance, to light up luminous volumes of shapes, we had already in our range the 180° diffusing dome for the AX3, but now we have designed a 360° dome for the AX5, it looks like a bubble on top of it, but it is very efficient!
It can look strange, but it is working perfectly at very short distance inside a cube or a sphere, considering the initial angle of the AX5 is a mere 13°!
---
For new installation markets, too, we now have the AX3 on a 3-phase standard rail adapter, very useful for museums, shops, and many more applications.
The mains PSU is right inside the rail adapter (this is why it is thicker than a standard one), but the control has to be wireless, or even IR remote for very simple requests.
More information on the Astera Led Website..
---
* Let's go further than the CRI: the TLCI (stands for Television Lighting Consistency Index) quoted above by Sebastian Bückle is like an extension of the CRI to say the least, mainly a very useful complementary way to quantify the color quality rendition under a white light.
The additional (CRI just has 8) rendering indices, starting with the red one, are taken into account into this way of qualifying the quality of lighting. This is very important to light up with accuracy actor's skins, costumes, set-ups, and so on.
---
Posted on 16 August 2019
Crédits -
Text & photos & translation: Bruno P. Souchaud.