Do you remember good ol'VL5 or even VL500, both proudly boasting a turbine engine look? This very recognisable design is a cross-mix with the look of the brand new VL6500, to create the future creature from the brains of Vari-Lite.
Why say "future creature"? Coz' this newbie is not yet included into the manufacturer regular portfolio, and is still under development. As we were longing to come back from Frankfurt with actual news about it, we questioned our deep throat contact Jean-Martin Fallas, Product Manager for French distributor Freevox.
The VL6500 is an evolution of the VL6000 Beam, this big searchlight lookalike fixture. This shows a strong will from Vari-Lite to propose, in addition to being an efficient machine, a nice look and feel allowing this unit to integrate nicely into a complet lighting set-up. From the roots of the VL5 and the VL500, it doesn't use again their rotating fins system, except for the linear Frost, as the other features remain well hidden behind the big ellipsoïdal reflector, already part of the VL6000.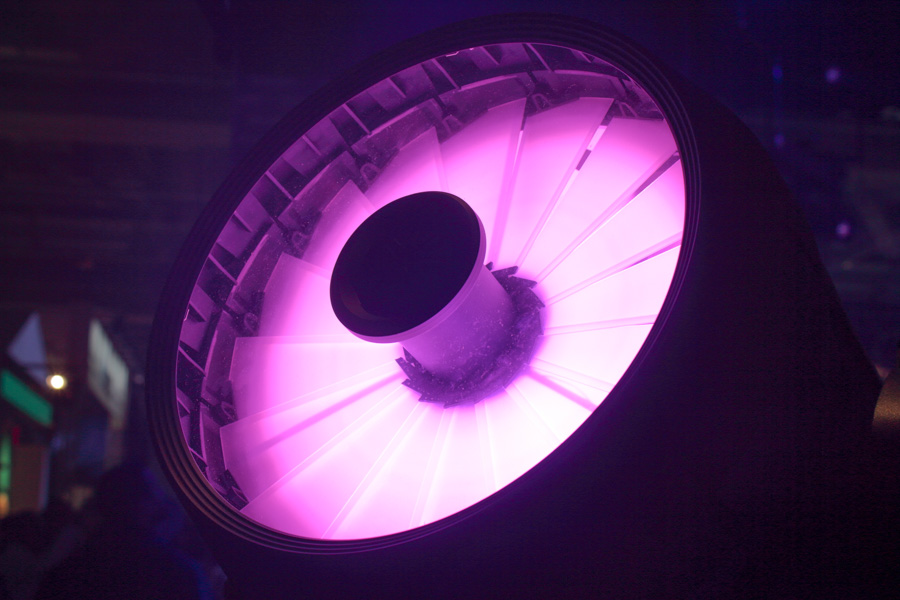 Let's have a deep review of its functions, now… Without stepping into details, as these are not all unveiled nor definitive, we quickly learn that the color wheel used until now leaves way to a complete color mixing system. Ths module also includes a progressive CTO.
The already mentioned Frost, shown on the Prolight+Sound booth, will stay in the definitive version, and widens the powerful beam up to 32° angle. The rotating gobos wheel is also present, but utilised more for aerial patterns rather than perfectly focused images, as this is not a Spot. Same for the Iris and 1,500 W MSR Gold discharge lamp, these will stay.
The global very masculine look will remain unchanged, except for some tiny details on the head. Same goes for the weight (less than 30 kg). quite puzzling (in a positive meaning) considering the massive size/dimensions of the unit.
We won't really learn much more at the time of this first contact with the two first ever manufactured units standing in front of us. More modifications of additions to the features? Date of actual release? Actual price? Wait and see, and stay tuned to SoundLightUp anyway…
More information should be available anytime soon on the Vari-Lite Website.
Posted on 16 May 2019
Crédits -
Text & photos: Jérôme Boutié. Translation: Bruno P. Souchaud.