DWR, which had been announced as distributor in 2019 for South Africa, followed the last years of 'Astera LED' becoming famous in South Africa. In fact, they started making sales to people interested in the brand innovative range of battery powered LED products immediatly.
One of the first sale in the country was to freelance gaffer Andre Beumer from Just Light It in Pretoria, who collaborate extensively with several leading DoPs and other clients in the film, TV, commercials and video industry.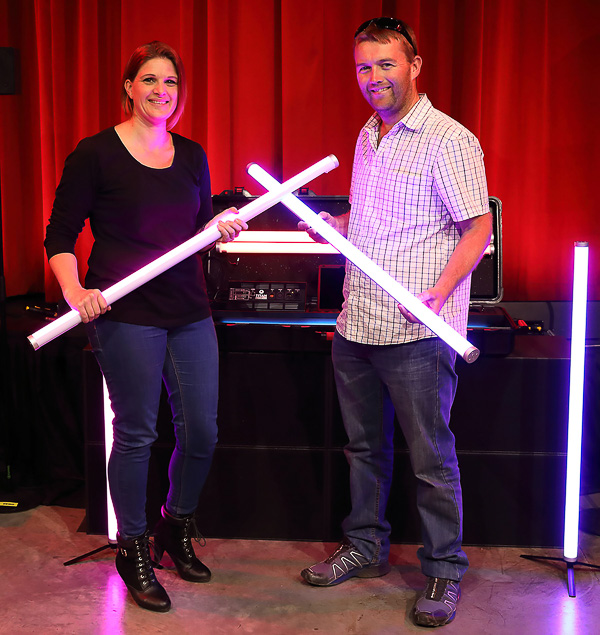 Andre was in need to get his hands on a set of Titan Tubes because a lot of his work is done on location in dynamic environments around Johannesburg so there's no studio lighting and every space is different. Everything has to be outsourced for the shoot, and this is an exciting way to work as it requires knowledge, quick thinking and the right tools when it comes to lighting.
Andre encountered Astera Tubes few times before in his career but these had been available only through other individuals like himself, who used to purchase them elsewhere to bring them back to SA. It was a good news that DWR and Astera struck the distribution deal. And following it Andre acquire the 8-way Titan Tube kit. "They are totally amazing tools," confirms Andre who appreciates the versatility of the fixtures.
With the onboard batteries they can be transported easily anywhere to bring the right light to a shoot, whether it's popping a Tube in the corner for some atmosphere, back lighting a subject or key lighting people's faces for interviews and getting perfect skin tones thanks to the high CRI.
He adds that he's impressed with the way Astera has thought of every possible permutation that someone might use to mount and rig the tubes – including hand-holding with the 'light sabre' handle. A selection of the most popular accessories is included in a neat flight case with the 8 Tube kit.
"You can really work fast on any site with these, utilising a number of smart features like telling the source how long to operate and other extremely helpful things." Andre loves the colour mixing, the quality of the light and the fact that the daylight to tungsten scales are "spot on". He states that the App control is a plus. Flexible, straightforward and great for on-set work where you need to make tweaks quickly.
Andre's future Astera investment should concern some the DoP Choice accessories "which make things even more adaptable," he declared.
More information on the Astera website
Posted on 12 January 2020
Crédits -
Text and Photo: Astera