Brompton Technology's Dynamic Calibration was one of the most talked about new technologies at last year's LDI Show, with more than 300 existing and potential customers from around the world passing through the door of its showcase room.
The company is now bringing this technology to Europe for the first time at ISE 2020 in Amsterdam. At this exhibition Brompton will be present on its largest ever trade show stand, where it will host regular public presentations of Dynamic Calibration and Brompton HDR. It is also launching the new Tessera S8 LED processor, and will have three of its ever-popular demo stations ready to show visitors exactly what a difference the Brompton processor family can make to the end result on-panel.
Dynamic Calibration is a ground-breaking new technology that enables LED panels to achieve a higher brightness and wider colour gamut than is possible with legacy calibration techniques, while maintaining uniformity. Dynamic Calibration is the enabling technology for Brompton HDR, as well as new, performance-enhancing features such as PureTone and ThermaCal.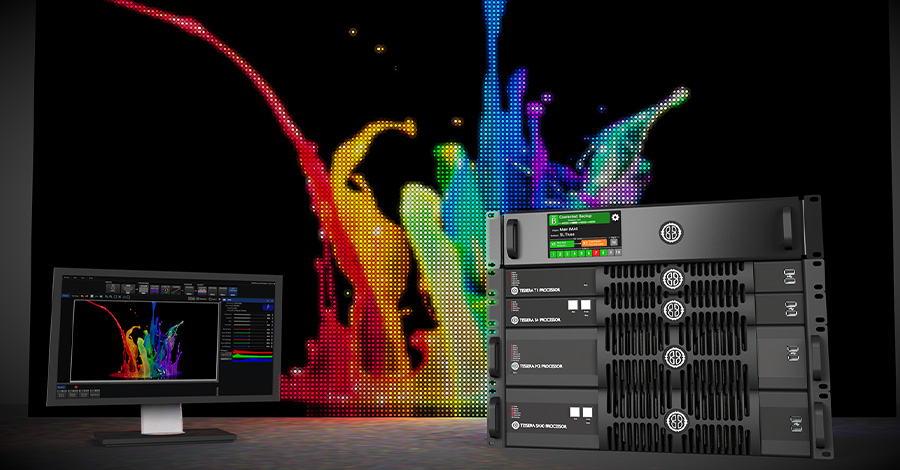 ---
The main demo screen at ISE will comprise of 98 panels of ROE Diamond 2.6 provided by Brompton partner 80six. These are not new panels and come from a working rental stock, calibrated with Brompton's revolutionary Hydra camera which gives them a new lease of life and unleashes the full brightness and saturation of their LEDs.
---
Following the debut of Dynamic Calibration at LDI, several visitors to the demo were very complimentary about the new technology.
"For the first time I understood why HDR was needed for LED screens," says LED screen manufacturer digiLED's CEO Graham Burgess. "Brompton's Dynamic Calibration allowed a five year old screen to demonstrate HDR in a way that I've never seen before. Along with the rest of the US-based digiLED team, I was blown away by the images that were presented at the launch. We can't wait to show this technology, on digiLED screens, to our customers."
Roly Oliver from UK-based rental company Universal Pixels concurs: "Thank you for a great demo [at LDI]," he says. "The content looked stunning and gave me a great insight into where the video industry is heading with HDR, and the ground-breaking application of it from Brompton."
Dynamic Calibration takes a unique and revolutionary approach to maintaining uniformity, while unlocking the full potential of the LEDs to achieve previously unthinkable levels of brightness and colour saturation. The result is a huge step forward in visual performance for all content, but in particular HDR. Brighter whites, higher contrast ratios, more saturated colours, and true-to-life colour accuracy deliver a previously unattainable level of image depth and realism. And Dynamic Calibration is not just for new panels, it can give existing panels using Brompton's Tessera R2 card a new lease of life.
"When it comes to content playback, it is quality of image not necessarily pitch, that is the new driver for LED display technology," says Sarah Cox, VP Sales for content creation tool company Notch. "HDR is the next step in image processing that provides accuracy in delivering the artist creative, as it was truly meant to be seen. Brompton has again, created industry defining tools, to deliver these incredible HDR workflows in a standardized, repeatable way."
Dynamic Calibration is enabled by Brompton's Hydra measurement system, an all-in-one industrial solution that incorporates all the measurement instruments and processing required for panel measurements.
"After seeing the demo [at LDI] of the new Hydra camera and HDR it once again reconfirms why we invested in Brompton Technology's products," adds Graham Northam, CTS-I / President of Canadian rental company, Apex Sound & Light. "Once again Brompton is way ahead of the competition with this technology and breathing new life into our existing inventory. All I have to say is, well done Brompton, well done!"
---
How does it work?
"Commonly used calibration methods achieve uniformity by sacrificing both brightness and colour gamut, forcing every LED to match the dimmest and palest LEDs in the entire screen. Once calibrated, this is used for all content over the entire life of the panel," explains Brompton's CTO Chris Deighton. "However, with ever-increasing demand for better image quality without increased cost, such sacrifices in performance can no longer be justified."
To benefit from Dynamic Calibration an LED panel must be fitted with a Brompton Tessera R2 receiver card and needs to be measured using Hydra – an advanced measurement system custom-designed for LED panels and exclusive to Brompton Technology (Fig1). The R2 Receiver Card may be plugged into an SO-DIMM socket, a form-factor first pioneered by Brompton and now provided in many LED panels (Fig2).
"Dynamic Calibration is a flexible approach that uses the immense parallel computing power of the R2's Dynamic Engine to process incoming video in an entirely new and innovative way," says Deighton. "Before making any decisions, the Dynamic Engine gathers a vast array of data, including the incoming video pixels, the video signal's metadata, Dynamic Calibration metadata, the precise capabilities of each individual LED and the user's preferences for how the image should be displayed." (Fig 3)
All this extra information is processed in real-time, with no added latency, to intelligently determine the best possible way to drive each LED. Areas of the image where peak brightness is the most important visual aspect will make full use of the LEDs' peak brightness. Areas requiring extreme saturation will make full use of the LEDs' maximum colour gamut. But all this is achieved without needlessly sacrificing uniformity across the rest of the image.
---
The result of this unique approach is a huge step forward in visual performance. Brighter whites, higher contrast ratios, more saturated colours, and true-to-life colour accuracy deliver a previously unattainable level of image depth and realism. Lifelike colour and brightness without the compromises inherent to legacy calibration.
The dynamic nature of the system means the desired brightness, primary colours and white point are all fully user-adjustable. What would previously have required a lengthy and expensive recalibration process can now be done at any time from the simple new DynaCal user interface on any Tessera processor, with changes seamlessly reflected in real-time on the screen – even during a live event.
Zebra indicators can be enabled to highlight areas of the image that are trying to drive the LEDs beyond their peak brightness (Fig 4) or colour gamut (Fig 5), allowing rapid fine-tuning of screen performance based on the content, viewing environment and user preferences.
Colour accuracy is managed throughout the entire system. Even with no user configuration, colours are perfectly balanced, skin-tones look natural and content looks just the way its author intended.
Dynamic Calibration is not just for brand new LED panels, it also allows existing panels using the Tessera R2 card to be given a new lease of life and it is supported by all Tessera processors as a free software upgrade.
Impressive Dynamic Calibration-enabled features
Using Dynamic Calibration measurement, analysis and correction capacities as well as computing power and high precision – high number of bits for colour encoding and computing – provided by the R2 receiver card, two powerful LED screen behaviour improvement features have been developed and were also introduced at LDI 2019; ThermaCal and PureTone.
ThermaCal
LEDs are affected by temperature and all tend to be a bit less bright as they get hotter. But the scale of this effect varies between colours, with red LEDs most strongly affected: heat a red LED by 10 degrees and its output typically drops by 10%.
Because of this difference in effect between LED colours, areas that are hotter or colder than the temperature the panel was calibrated at can show a colour shift. What is more, panels often heat up more in the centre than round their edges, which can lead to unsightly thermal patterns that mark out individual panels in the wall (Fig 6-7).
ThermaCal compensates for these effects and gives the user control of how much compensation is required based on the panel temperature and environment. It does this by both separating thermal effects from the optical calibration and by profiling each panel type to understand in detail its thermal characteristics for a smooth, panel-specific correction. The amount of correction can be adjusted dynamically, even during a show, to account for changes in temperature over time.
PureTone
LEDs and their driver chips are not perfectly linear, meaning that when asked to output a particular brightness they may not accurately achieve it. It is common for the red, green and blue LEDs to have different behavior (Fig 8), meaning that many panel types show a colour cast in darker greys or when using the panels at low brightness levels.
Most content has dark as well as light areas, so this non-linearity is a real problem that means you may not be getting accurate colours (Fig 9-10) and true neutral greys (Fig 11). It is also a common reason why different panels that appear to be matched when displaying full brightness test patterns are obviously unmatched when displaying real content with darker areas.
---
Previously, it has been difficult or even impossible to correct for this non-linear behaviour, but now PureTone builds on Brompton's new Dynamic Calibration technology to enable each panel type to be profiled in order to compensate for the non-linearities ensuring true, clean, accurate colours and neutral greys at all brightnesses. This is particularly important for film and broadcast work, where screens are often run at much lower brightness to match camera exposures, and maintaining neutral colour output is critical to looking good on camera.
PureTone depends on Dark Magic – which improves the quality of the image or video showing on LED panels when they are operating at less than maximum brightness – for additional effective bit depth in order to make very small fractional adjustments to the output drive levels. It also works alongside ThermaCal. Both ThermaCal and PureTone are exclusive to Brompton R2-based panels that are enabled for Dynamic Calibration.
More on the BromptonTechnology website
Posted on 4 February 2020
Crédits -
Text: Brompton Technology & Jean-Pierre Landragin