The hosts of the popular YouTube channel Game Theory wanted to produce a record-setting and award-winning live-stream event to raise money for the St. Jude Children's Research Hospital. To make sure it was a success YouTube Originals, Game Theory and St. Jude Children's hospital partnered with Mobeon Studios in Burbank to bring it to life.
Mobeon, in turn, partnered with Justin Preston of Preston Productions. Preston decided this was the perfect opportunity to use ETC's fos/4 Panel fixtures. The event was a smash success, raising $3.1 million for St. Jude's. The lights were also a success, impressing Mobeon Studios so much they bought an entire new rig of fos/4 fixtures.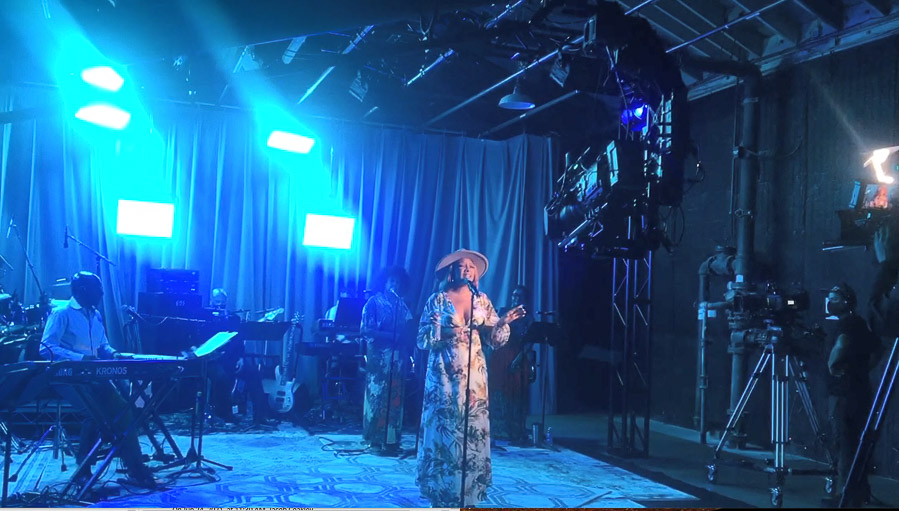 9 hours with the X8 array
Preston Productions has made a name for itself by servicing high concept projects with complex technical challenges such as "The Elf on the Shelf's Magical Holiday Journey," which used over 100 universes, 1000 lights, remote triggers, and 2.5 miles of fiber to connect it all.
For Preston, the important feature was the X8 array. The Lustr X8 lighting array in the fos/4 Panel and Fresnel is a patent-pending mix of green, lime, blue, indigo, cyan, amber, red, and deep red LEDs that set a new standard in LED lighting quality. It creates visually stunning saturated colors and as well as nuanced skin tone beautifully.
"The thing that sold me on the fixture was its ability to mix color," says Preston. "The results of adding Deep Red to the color mix are impressive."
They would need all of that color for the nine hours of the event, covering a "living room" style main set, five smaller set areas where a variety of stunts, games, and activities took place involving other YouTube celebrities – and even a robotic haircut outside. ETC's fos/4 fixtures were used in key, fill, backlight, and hairlight positions. In all cases, the fos/4 Panels delivered.
"The color mixing and rendering from the fos/4 line is second to none," says Preston. "The quality of light from the fos/4 was great in every situation. I loved how soft the light was with the standard lens."
The lights also impressed him even before he turned them on, with their NFC programmability and integrated power supply.
"I really like the NFC capability in the fixtures," adds Preston. "I love that I don't have to plug in fixtures to address them. If I want to change the address, my gaffer can be typing in a new address on their phone as they're walking to the ladder. Tap it once, and it's done. Now that I've used that feature in my workflow, I never want to go back. I also really like the integrated power supply. I'm not searching for an extra power supply with a 4-pin cable."
Deep red, deep investment
The fundraiser was filmed at Mobeon Studios, owned by Mark Alamares. The studio focuses on the next wave of entertainment convergence, melding live performances and events with virtual sets, including e-sports, virtual AR/MR/XR shows broadcast on traditional TV stations as well as OTT, digital, and social media platforms. A former game developer himself, Alamares was impressed with all the tech in the fos/4.
"We're working with virtual sets for shows that use AR, MR, XR, VR, any kind of reality. But no matter what reality you're in, you're painting with light when you're creating shows," says Alamares. "We need something that is versatile, flexible, interactive, and puts out quality light. We decided the fos/4 was perfect."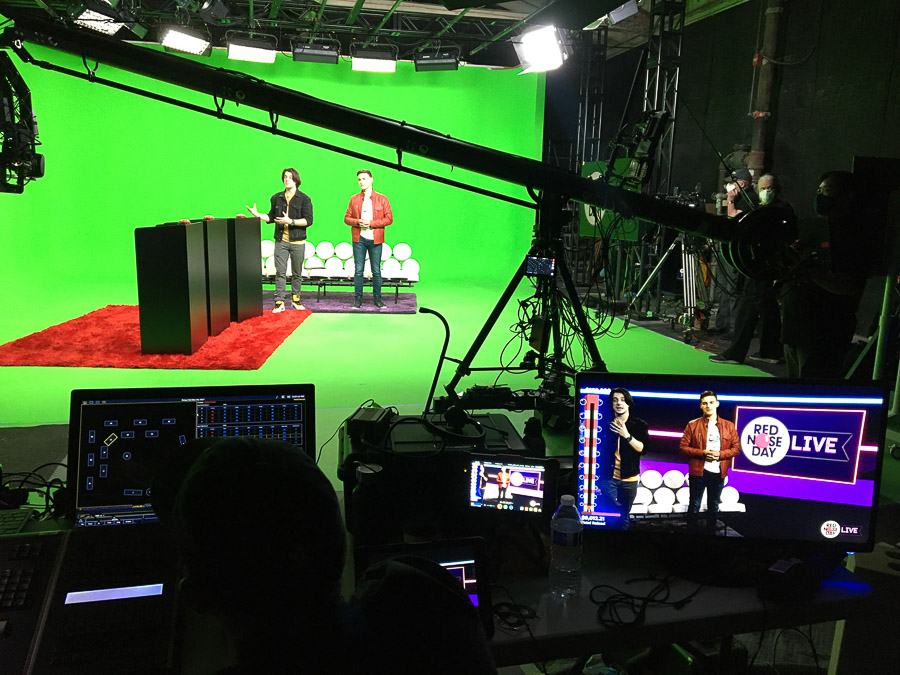 Alamares connected the lights to the Unreal game engine in his virtual environment and was impressed with how fos/4 replicated the virtual color in reality and cast it onto the live studio talent, so it all merged seamlessly into a cohesive show. He invested in more fos/4 units to create a new lighting rig built around them.
The new virtual studio space is a full green-screen studio with a ground-support truss grid with 12 small (8-inch by 24-inch) fos/4 Panels, 4 medium (16-inch by 24inch) fos/4 Panels, and 4 fos/4 Fresnels, all with the Lustr X8 array.
They just used the same rig on another successful fundraising event with MatPat from Game Theory. This time a fundraiser for Red Nose Day used a single virtual set with three cameras tracking live actors. An ETC Ion console (programmed by Lucas Garriety) controlled the lighting under the supervision of Mason Bell as lighting director.
"We were again impressed with the quality of light from the fos/4 fixtures and their programmability," says Alamares. "It just ticks the right boxes. They're great for on-location lighting but also a perfect fit for the in-engine virtual light as well. That's the versatility we're looking for. I'm trying to create ground-breaking technology experience, and I like how ETC helps Mobeon enhance the storytelling experience across all media."
For more info about ETC, you can visit www.etcconnect.com
Posted on 10 September 2021