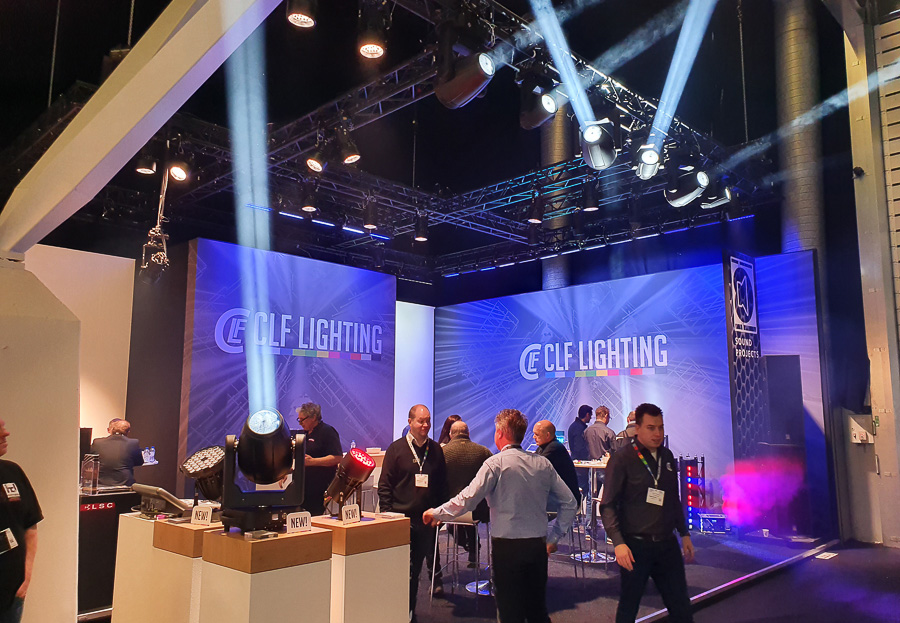 During the last ISE 2020 held in Amsterdam, we've discovered Odin, a zoom LED PAR with RGB+Lime, the very first lighting fixture developed by CLF lighting.
Marketing manager Remco Pouwels and export Manager Martijn Gerards gaved us a presentation of this small IP 65 certified lighting fixture, offering 12 RGB LEDs + Lime. This last feature turns out to be very interesting.
As a reminder, where the RGB trio had difficulty reaching some colors of the spectrum located between red, green and blue, the lime succeeds in filling this void and perfecting the pastel shades and the stretching range of whites from 2500K to 10000K with an IRC greater than 90.
Picture of the different colors offered by the lighting fixture

Additionally, this LED PAR offers a zoom range from 11° to 50°. As the unit is IP 65 certified, it can be used for outdoor and indoor applications. The unit enables 4 different cooling modes, including two silent modes, which offer great versatility. The lighting fixture can be remotely controlled through DMX/RDM, W-DMX as an option, and offers 5 control modes, from 4 to 13 channels.
CLF do not communicate the power of their LED chip, but announce a nominal consumption of 262W.
The manufacturer announces a 7525 Lux output at 5m with the tightest zoom angle.
Odin offers 4 dimmer curves for a better dimming experience. Some of the parameters can be "parked" or "locked" from the device's menu. This can come in handy for production companies who wish to avoid unsolicited changes.
Odin has been officially launched at ISE 2020, and is available for rental from Dutch rental company Rent ALL. The lighting fixture will be available for shipment starting April this year.
More information on CLF Lighting's website
Posted on 24 March 2020
Crédits -
Text and photos by Allison Cussigh