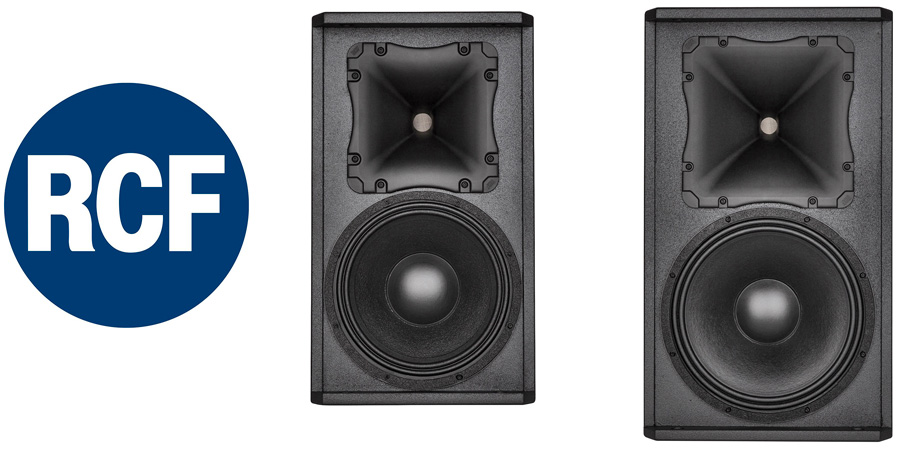 The full-range passive two-way RCF X MAX series has been designed as a multi-purpose speaker, to achieve the best nearfield quality, vocal coherence, and a stable tonal balance even at full volume.
X MAX series builds on the heritage of the popular RCF MAX series to create a complete range of solutions for high-powered applications in bars, party rooms, clubs, and discos.
The elegant and compact design with accurate finishing makes it suitable for almost any environment and architectural constraints.
The cabinet and its components are designed inside RCF's laboratories combining low resonant design and superior transducers, for remarkable power handling and clarity.
The X MAX Series features a custom-designed mid-freq shaping for close distance listening on a perfectly tuned crossover to ensure even coverage and detail of the vocal range and the best frequency and phase response. The LICC crossover design includes electronic protection on high-frequency driver.
---
The cabinets are built-in plywood coated with black textured acrylic paint. A sturdy powder-coated metal grille protects the front, and an acoustically transparent sound foam backing on the inside of the grille ensures protection from dust and humidity.
The base of each speaker includes a robust steel pole socket for mounting on a stand or a subwoofer pole. Threaded inserts are provided on all sides for optional mounting hardware. Included are multiple rigging points to fly the speakers for maximum architectural freedom in any installation.
The rotatable 90°x70° horn allows installation either vertically or horizontally for the best versatility in any environment and architectural constraint.
Both models feature 1,4" compression driver with electronic protection, X MAX 10 boasts a 10" woofer and delivers a maximum SPL of 128 dB SPL with a total power handling of 700 W. The 12" woofer equipped X MAX 12, reaches a maximum SPL of 129 dB SPL with a total power handling of 800 W.
---
To get the best out of the X MAX speakers and precisely tailor their sound, RCF recommends using the DX 4008 digital processor and the IPS 2700, a Class H amplifier delivering the right power to tackle them.
To get even more on this new series, visit the RCF website
Posted on 4 March 2021
Crédits -
Text: RCF & Ludo - Photos: RCF