Drive-in shows may be the order of the day this year, but Big Wreck isn't the kind of band you want to listen to live with your car's FM radio on and your windows up.
To get the maximum impact you need a full-on PA that provides power and detail in equal measure qualities Adamson Systems Engineering's class-leading CS-Series powered loudspeakers brought in abundance to the band's recent show at Canada's Ancaster Fairgrounds.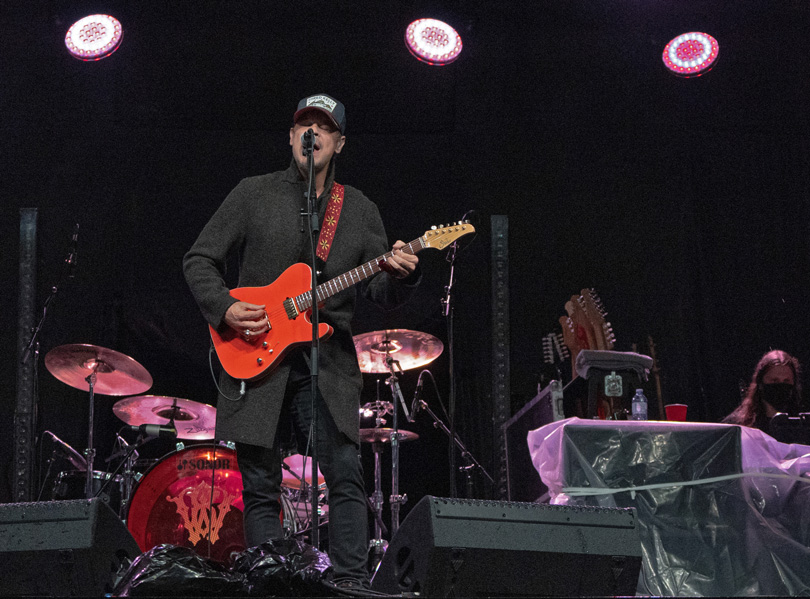 While drive-in concerts have become commonplace during the pandemic, increasingly they require traditional live sound reinforcement and the ability to transmit over FM, explains Colin Moore of Soundbox: "It's all about the experience, so it's becoming a mandatory part of the production specifications, and bands and audiences prefer it that way."
You can still socially distance and have great sound, he continues, adding, "Maybe one out of every ten cars had their doors closed and the radio on, but most people were listening to the PA."
And for good reason, puts in Big Wreck FOH engineer, Dan Preston. "With some rigs, the guitars are producing frequencies through the cabinets that they're not producing through the actual amp and, as far as the guitars, in particular, Ian Thornley has an expansive sound a big, wide tone that needs to be reproduced accurately.
I was able to do that here without having to fight the PA. I actually had to dial back my effects from a prior mix considerably. I use a lot of rolling and trap delays with Big Wreck and, with this PA, I didn't have to fight for them to be heard or separate at all."
Soon after Adamson officially launched the CS-Series, Soundbox purchased CS Upgrade kits for their entire Adamson S-Series inventory; twenty-eight CS10, eight CS7, and six CS119 kits in all. "And based on their performance we're really happy we did," Moore adds. In all, for Y108 Presents Live at The Drive-In with Big Wreck, Soundbox deployed eight CS10s and six CS 119s per side and three racks (one Network Distribution System, one Power Distribution System, and a CS Gateway rack at FOH for tuning and control).
While the decision to upgrade wasn't specifically motivated by the changes Covid has brought about in the live concert industry, the CS-Series on-board amplification and DSP, Milan-ready AVB connectivity, and compact footprint all speak to both current and pre-pandemic challenges.
"Having efficient, light weight equipment we can package and transport quickly, for less expense, is more important than ever," Moore explains. "We're shaving a lot of weight off our truck packs by moving to this new infrastructure.
As far as efficiency goes, this benefits Soundbox because we don't need to send thousands of pounds of amp racks out and that also funnels down into an application-to-application scenario. For instance, say a band touring in a bus and trailer want a side-fill rig, they don't need an amp rack. At the most basic level, they just plug-in power and an XLR and there's your side-fill package. That's impressive."
Granted, the core reason for the upgrade was performance: "It's pure physics," Moore adds. "The power wiring has gone from 100-feet to roughly 6-inches between the amp and the box, which plays a huge part in terms of how much horsepower these speakers have." Beyond that, it also cuts down substantially on the amount of infrastructure and effort, in terms of packing, transporting, and running the cabling and additional racks a passive system requires.
Further, the amplifiers themselves have been built specifically to drive the components in that loudspeaker. "That's the beauty of the CS-Series," says Jeremiah Karni, Adamson's Head of Education & Applications. "You have the benefits of minimized speaker cabling which means less signal loss through long cable runs, and over a decade of R&D aimed at creating the best possible amplifier and signal processing; an amp that's designed, built and manufactured, by Adamson, in-house here in Port Perry, Ontario."
And to keep both weight and overall infrastructure as lean as possible, he adds. "What required four 10-U racks before is now two 6-U racks, and the amplifiers only add about 6 lb per cabinet, whereas other powered loudspeakers in a similar range are quite a bit heavier."
There's also a day-to-day benefit for smaller events; namely, cutting down on the complexity of the rig for the end-user and, for Soundbox, the need to reconfigure amp racks on a per-project basis. "Not that we can't or won't do that," Moore says, "but it helps make our systems more turnkey and user-friendly."
From the standpoint of the on-site production team regardless of the size or scope of the gig the CS-Series provide substantial time-saving benefits when it comes to getting the rig wired and flown. "Anything smaller and lighter on stage is great. That's also a plus with this rig," Preston puts in.
Ultimately, however, the primary consideration with any sound system is how it sounds. "Right out of the gate (to my delight) when I was checking my L+R+Sub matrix sends individually, the hang itself produced so much of the lows. If it wasn't configured already, I'd have dropped the subs down to 60 Hz or 50 Hz right away. For what I do this was a treat. I like to push my snare and guitars down pretty low with rock bands to make sure that they (and not just bass and drums) have some level of concussive force when required, and I was easily able to do that," Preston adds, enthusiastically.
While other PAs Preston's mixed through do react similarly: "Not in this size format. I was very pleased and impressed. The lows were produced with clarity and tightness and let me place instruments exactly where I wanted them without convoluting my mix, and without pushing some elements into the subs, which is unheard of for this type of component sizing."
Additionally, the option to purchase CS-Series loudspeakers as a standalone solution or upgrade existing S-Series loudspeakers by simply switching out the cabinet's rear module, speaks to Adamson's ongoing commitment to aid users in leveraging their existing inventory and future-proofing that inventory via a complete system platform encompassing loudspeakers, software, and rack-mounted power, network and control elements.
The software dramatically enhances user's capabilities in terms of design, deployment, and control in both live and fixed install applications, Moore notes: "Sonically speaking we're very impressed, but we're equally impressed by the CS control software Adamson has developed and continues to add feature sets to – it provides a lot of flexibility."
Gateway is also extremely helpful for tweaking and troubleshooting and tweaking on the fly, says Preston: "Because everything is in one interface, instead of having to flip through pages and maybe use more than one computer, I can do everything I need using one software platform – which is ground-breaking."
Jamal Bleasdell, Soundbox's Head of Audio, concurs: "From design, you can switch right over to deploying all the settings to the boxes, and since each box has its own amplifier you can see how all the components are doing. If something is failing, you get a report saying that this horn or that driver isn't working the way it should be. So, you get a lot of information right off the top."
Housed in a single compact rack at FOH, and custom-created for the CS-Series. "Gateway is a big part of Adamson's future," Karni explains. "It's a single, uniform system control platform, not just for monitoring amplifiers, but with the design software and control architecture behind the DSP platform included, which makes for a simplified and unified workflow for the end-user."
"There's an optimization window so you can determine the best way to hang the PA, and a metering window so you can see everything metered right where you want it," Bleasdell says. Adding that he's is particularly impressed with Gateway's Optimization functionality.
"That smooths out the curvature of the PA and calculates that according to the number of boxes you have, so you have a smooth listening field throughout the whole venue. And you can adjust individual cabinets, so if the bottom box in the array is only a few feet away from the front row, you can turn that box down to the desired volume. Before, you could only do that in groups of two or three or four. It's way better having individual gain control for each loudspeaker."
"The array optimization algorithm is a recent addition to Gateway," Karni explains. "It's not a new concept. But it is a unique implementation that uses a series of FIR filters to smooth out the tonal response of the line array, and you have the ability – not just to change level – but to adjust the phase response of individual boxes, which is also a huge benefit."
The new offering from Adamson was a perfect fit for the gig, Bleasdell says: "I definitely heard a difference in the mid-range and the top end. It's amazing." Beyond that, the CS-Series components are heavily weatherized, which was particularly important for this show, owing to weather that bordered on 'biblical'.
"We were delayed an hour and a half and had a lightning strike about a kilometer from the stage. So, we asked everyone to stay in their cars, evacuated the stage, and just hunkered down and waited. But when the storm passed – even with the amps and all the electronics in them – the boxes worked great. We had no issues at all."
While this was Preston's first time mixing on a CS-Series PA, if he has his way, it won't be the last. "Overall, I found the rig properly balanced and clean. My main bus EQ had minimal tweaks, and honestly, that was to taste, not to alter my start point; I'm looking forward to working on this rig again down the road."
Additional info on the Adamson website
Posted on 14 December 2020
Crédits -
Texte : Adamson - Photos : Corey Kelly, Adamson & various