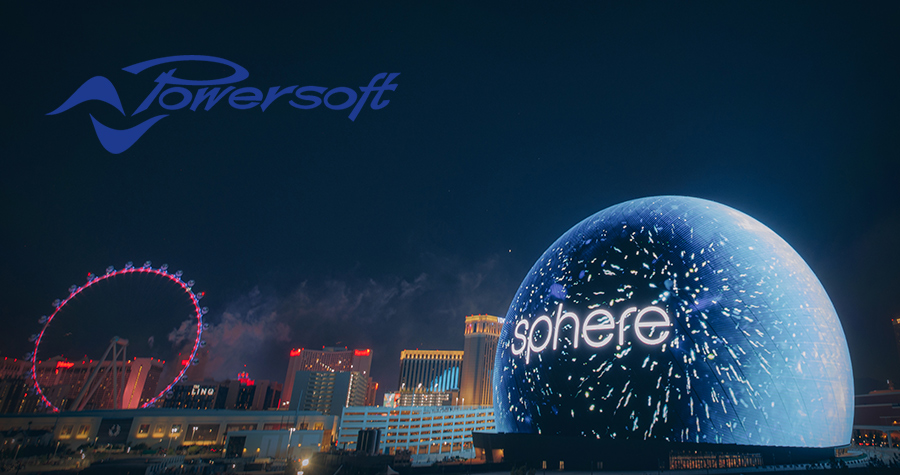 Sphere Entertainment Co. announced that Powersoft, the Italian global leader in energy-efficient amplification technology, contributed immersive haptic technology and cutting-edge amplifier solutions that are being used in Sphere, a next-generation entertainment medium in Las Vegas.
Powersoft's technology is integrated within the venue's 10,000 haptic seats, and as part of Sphere Immersive Sound powered by HOLOPLOT, the world's most advanced concert-grade audio system.
---
"Sphere Immersive Sound has set a new standard in every aspect of live audio, and tens of thousands have already been immersed in its crystal-clear, individualized sound," said David Dibble, CEO, MSG Ventures, a division of Sphere Entertainment.
"And this past weekend, with the premiere of The Sphere Experience featuring Darren Aronofsky's Postcard from Earth, guests, for the first time, experienced a truly multi-sensory haptic experience. Powersoft's cutting edge and energy efficient technology made them the perfect partner to help achieve our sustainability goals without compromising audio or haptic quality."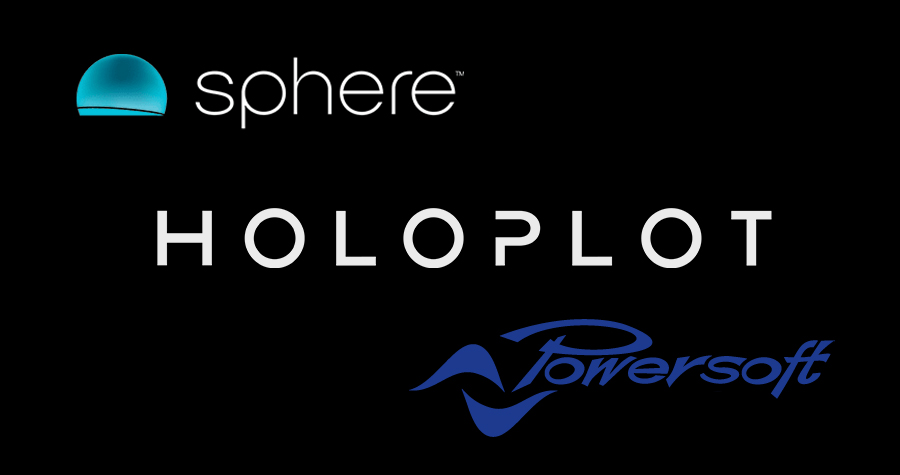 Developed specifically for Sphere's unique curved interior, Sphere Immersive Sound is powered by 167,000 channels of amplification provided by Powersoft's compact, ultra-high-efficiency 16-channel amplifier solutions that are integrated into the venue's HOLOPLOT X1 audio system.
---
MSG Ventures, which develops groundbreaking technologies and content exclusively for Sphere, partnered with Powersoft to leverage their ultra-high-efficiency amplifier solutions that achieve approximately 40 percent energy savings compared to traditional amplifiers, minimizing environmental impact without compromising sound quality.
---
"Sphere is the largest-scale and most innovative application of Powersoft technology yet, and we're thrilled to partner with a company that holds the same values and vision for the future of live entertainment," said Carlo Lastrucci, President of Powersoft.
Sphere's HOLOPLOT X1 audio system leveraged Powersoft's energy-efficient innovations, including its Power Factor Correction (PFC) and Class-D PWM (Pulse Width Modulation), two technologies that have directly reduced the environmental impact of the AV industry.
---
---
The benefits produced by the adoption of PFC technology include energy savings and a lower carbon footprint (equivalent CO2 emissions) of approximately 40 percent compared to amplifiers without power factor correction for the same output.
Simultaneously, Powersoft's PWM technology transforms energy drawn from the power mains at Sphere into usable power that recycles the reactive energy coming back from its loudspeakers.
In addition to the 16-channel amplifiers integrated into Sphere's HOLOPLOT X1 Matrix Array, Powersoft provided patented IPAL (Integrated Powered Adaptive Loudspeaker) technology used in the X1 system's subwoofers.
An IPAL-equipped system offers unprecedented acoustic performance and complete control of sound system reproduction, regardless of acoustic load and conditions.
A key component of The Sphere Experience that makes audiences feel like they've been transported to another world, Sphere's 10,000 haptic seats are integrated with Powersoft's infrasound system.
---
Powersoft Mover is the company's revolutionary compact transducer that uses haptic feedback to provide event-goers with a more convincing, realistic experience, engaging the senses beyond visual and audio stimulation.
Powersoft's patented moving-magnet technology is more durable, accurate and efficient, relying on an audio signal with ultra-low-frequency reproduction to make the chairs vibrate and shake as desired for each performance.
To accompany the infrasound haptic system, Powersoft also supplied 2,500 audio channels for the seats, provided by 718 Powersoft Quattrocanali amplifiers.
---
---
Sphere opened on September 29 with the first of 25 performances of "U2:UV Achtung Baby Live At Sphere." The Sphere Experience, featuring Darren Aronofsky's Postcard from Earth, debuted at the venue on October 6, and was the first event to utilize the venue's revolutionary haptic seats.
U2's The Edge said, "The beauty of Sphere is not only the ground-breaking technology that will make it so unique, with the world's most advanced audio system integrated into a structure which is designed with sound quality as a priority; it's also the possibilities around immersive experiences in real and imaginary landscapes.
In short, it's a canvas of an unparalleled scale and image resolution, and a once-in-a-generation opportunity. We all thought about it and decided we'd be mad not to accept the invitation."
---
---
Sphere Immersive Sound is the world's largest concert-grade audio system and was specifically developed for Sphere's unique curved interior. The system consists of approximately 1,600 permanently installed and 300 mobile HOLOPLOT X1 Matrix Array loudspeaker.
The system utilizes HOLOPLOT's next-generation 3D Audio-Beamforming and Wave Field Synthesis technology to transform how audio is delivered in large-scale venues.
This results in controlled, consistent, and crystal-clear concert-grade audio for audiences of up to 20,000 people, providing each audience member with a truly exceptional and personalized listening experience.
The entire sound system is completely hidden behind Sphere's 15,000 m² interior LED display plane.
Any audio transmission losses are fully compensated for by HOLOPLOT's algorithms in the optimization engine, resulting in clear, full-range sound with virtually no coloration and a completely unobstructed visual LED surface which wraps up, over and around the audience and combines with Sphere Immersive Sound to create a fully immersive environment.
Traditional loudspeaker technology in large-scale venues can result in audio quality that diminishes as distance from the speakers increases, due to the uncontrolled nature of sound wave propagation. HOLOPLOT's patented 3D Audio-Beamforming technology uses intelligent software algorithms to create unique, highly controlled, and more efficient soundwaves than conventional speakers, ensuring that levels and quality remain consistent from point of origin to destination even over large distances.
HOLOPLOT's propriety beamforming technology can also simultaneously send unique audio content to specific locations in the venue, creating the possibility for different sections to hear completely different content – such as languages, music, or sound effects – offering limitless opportunities for truly customized and immersive audio experiences.
---
Sphere Immersive Sound will additionally utilize HOLOPLOT's unique Wave Field Synthesis capabilities, a spatial audio rendering technique that leverages virtual acoustic environments. With conventional audio technology, the perceived origin of a sound has traditionally been the location of the loudspeaker.
Using Wave Field Synthesis, sound designers can create a virtual point of origin, which can then be placed in a precise spatial location. This enables audio to be directed to the listener so that it sounds close, even though the source is far away for example, an audience member could hear a whisper that sounds like someone is talking directly in their ear.
---
---
More on:
– Sphere Entertainment
– Holoplot
– Powersoft
Posted on 17 October 2023
Crédits -
Text: Powersoft & Sphere - Photos: Sphere, Holoplot, Powersoft