What better place to meet together again and learn more about new audio technologies than at InfoComm 2022! Visit us in Las Vegas and join captivating product previews in the RCF demo room.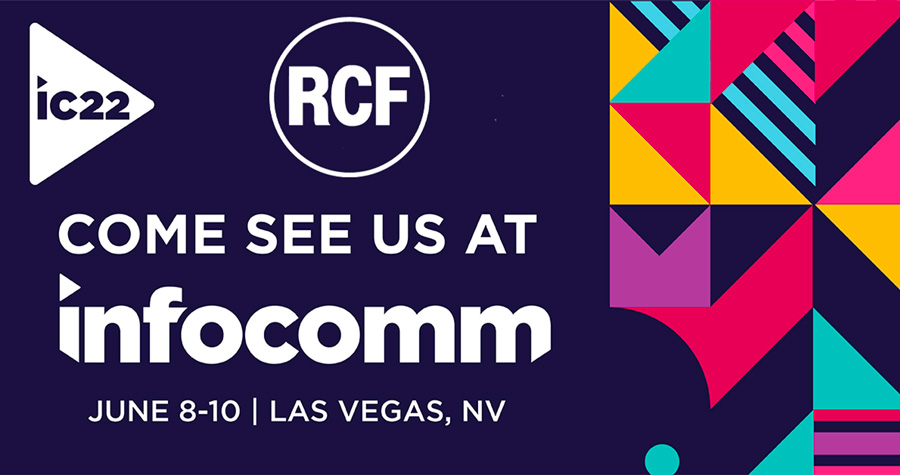 The focus on the show floor (W 3223) will be a new section dedicated to revolutionary RCF power amplifiers loaded with proprietary DSP, new passive speakers (most notably the Compact A and Compact C series) and new additions to the installed speaker catalog, featuring high-power density for intensive audio applications. Many other new products will be showcased for the first time at Infocomm 2022.
Sharing the same cabinet of the groundbreaking ART 9 Series, the COMPACT A Series is a lightweight and high-performance multi-purpose two-way full-range professional speaker for fixed installation projects. Their sound quality and compactness, combined with an elegant design and accurate finishing, makes it the perfect choice for any environment, from night clubs to corporate spaces.
Compact C Series is composed of two-way point source speakers for near and mid-distance applications, combining a compact wood cabinet with high output for accurate speech and music reproduction. Combining solid birch plywood cabinets with neodymium transducers and a 100° x 50° rotatable constant directivity horn, the speaker can be installed either horizontally or vertically, with optional mounting accessories for wall or ceiling.
Our RCF Team is excited to show you the latest and greatest audio innovations, all lined up across our booth and demo rooms. We look forward to seeing you in Las Vegas!
Booth W 3223
Demo Room W 213
Infocomm, June 4-10, 2022
Las Vegas Convention Center
Register for free with RCF personalized VIP Code RCF147
Posted on 7 June 2022
Crédits -
Text and Photos: RCF