A new audio system driven by Powersoft's Quattrocanali and Duecanali install amplifiers is packing a punch at the Ebimpe stadium in the suburb of Abidjan. More than 60 Powersoft Quattrocanali 4804 amplifiers are delivering the power for an all-new PA system serving one of the biggest stadia in West Africa.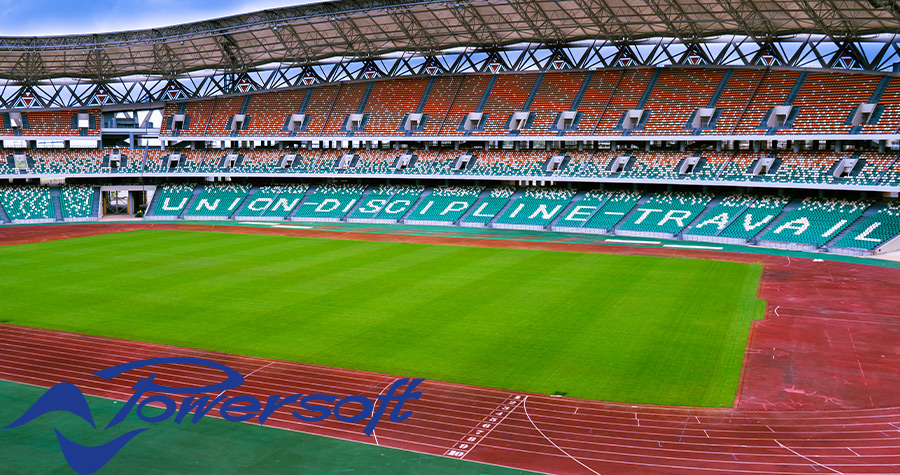 Located in the eponymous suburb of Abidjan, the largest city in the Ivory Coast, the Olympic Stadium of Ebimpé is the country's national stadium, being home to Les Éléphants, the Ivory Coast national football team. The 60,000-seat venue was inaugurated on 3 October 2020, when it was given the additional name Alassane Ouattara Olympic Stadium (Stade Olympique Alassane Ouattara), after the Ivorian president. It is expected to eventually form the heart of a vast, 287-hectare Olympic village, and will next year host the opening ceremony and final match of the postponed 2023 Africa Cup of Nations tournament.
---
The need for a new sound system so soon after the Olympic Stadium's construction came after its original PA system,installed by the original contractor, China's Beijing Construction Engineering Group (BCEG), was damaged by adverse weather conditions. The new system was designed by Ricardo Castro, CEO of Portuguese AV consultancy RCOe, on behalf of local integrator Protech Distribution.
In addition to the 61 Quattrocanali 4804 – of which he opted for the DSP+D model, with Dante audio-over-IP networking, Castro specified 14 Powersoft Duecanali 6404 DSP+D amplifiers to lend additional power for the 104-loudspeaker system, which is divided into 28 clusters to maximise audio coverage across the stadium. A pair of Quattrocanali are bi-amped to each Community R2-66MAX speaker cluster, while the Duecanali are used to power the Community IS8-215 subs.
All amplifiers, patchboxes and network switches are divided into four rack rooms, located at the four corners of the stadium, to minimise the length of the cable connection to the loudspeakers. A Biamp TesiraFORTÉ DAN DSP is used as a Dante converter for the primary audio source to the amplifiers, as well as for a four-zone paging system for security and emergency announcements.
Castro explains that while he is generally manufacturer-agnostic, he knew when first approached by Inza Bamba, Protech's managing director, with whom he has a long working relationship, that Powersoft amplifiers and Community loudspeakers from Biamp would be a perfect fit for the new-look Ebimpé Stadium and that's before he found that BCEG had used some Powersoft racks for the otherwise poorly designed previous installation.
This discovery was important from a budgetary point of view: having already paid out for one sound system, the stadium's managing committee was looking for a cost-effective solution for its replacement.
Additionally, "time was very tight, which I think was the biggest challenge," continues Castro. "I was given six months for everything." The installation was completed on time in May, despite additional difficulties recruiting suppliers and dealing with a shortage of parts and equipment. On that front, "Inza managed things very well," he adds.
To confirm that the stadium operator had made the right decision signing off on his design, Castro initially equipped a quarter of the venue, one of four zones, with the new Powersoft–Community/Biamp system as a proof of concept. "I said, 'Let's see how it works,'" he recalls.
"And on one of the days we were there, stadium staff, consultants and clients all came along and heard the system for themselves, and they couldn't believe the difference – in sound quality, volume and intelligibility – compared to the previous system. It sounds incredible."
Powersoft solutions engineering team leader Davide Quarto, one of four people on site to configure and test the new system, along with Castro, Bamba and John Caton of Biamp, says that all parties were happy with the support offered by Powersoft both during the installation and system set-up.
"They strongly believe in the added value of Powersoft when supporting project activities, from the design phase to the system first run by a skilled technical team," he comments. "To them this is strong confirmation of why choosing Powersoft makes a difference."
Quarto adds that the stadium audio team are particularly appreciative of the operator view interface offered by ArmoníaPlus, Powersoft's system design and monitoring software, as it limits user access to the system configuration options. "The customer wanted to have a system that can only be monitored and safely operated," he explains, "with limited access to the system, so as to avoid dangerous situations like changing the EQ or presets or even unlinking an amplifier."
---
"I have been working with Powersoft for over ten years – it's a very reliable brand and we know their products work," confirms Castro. "They have good expertise, the support is great, and their amplifier platforms are very reliable.
Plus, their software, ArmoníaPlus, is a must for us when it comes to getting everything connected and making sure it's all working properly.
"Of course, there are other brands also do good work, but when it comes to challenging spaces and installations, you know you can count on Powersoft."
For more info on Powersoft, please visit www.powersoft.com
Posted on 25 September 2023
Crédits -
Text and Photos: Powersof