You might have not heard of Maitre Gims, aka GIMS as he recently chose to shorten his artist name, a bit like Chris(tine and the Queens) did. That's the only common point, as Chris does enjoy total international success, as Gims is merely touring France and french speaking countries. This might change a bit, though, as he's just completed a duet with Sting.
He's on his Fuego Tour all over France with an original, very open stage scenery, the first time in France this innovative semi-transparent sliding PRG dual screen is used. The video team is also using innovative and interactive tricks for more visual and content excitement, and the tech team as a whole is a remarkably tight-knit family.
Here's the full all movin' and slidin' story.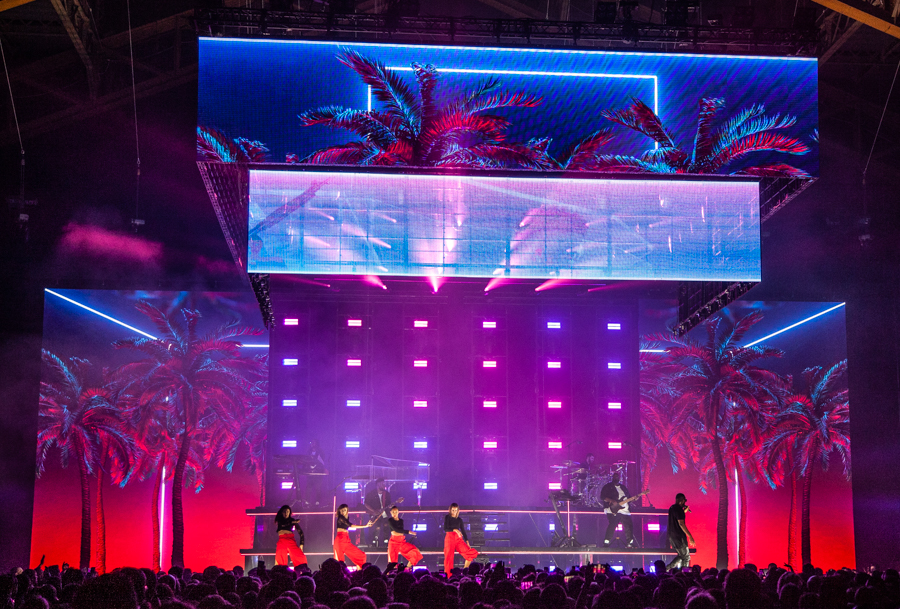 3,906,637,073 views and 7,729,371 subscribers as at today! These numbers are increasing real fast nowadays, as this Wunderkid, on a sold-out tour since end of 2018, is now aiming at the 80,000+ capacity Stade de France final gig on September 28th.
The so-called "Fuego Tour" started November 17 in Epernay after a few days of on-site pre-production and adjustments. We were able to discover some weeks later the whole kit of scenic and artistic bells and whistles of this huge tour for France (nine trailers filled right to the brim), during the Lyon gig at Halle Tony Garnier.
Screens and transparency
I meet in front of the stage Valérie Cuno (Chief Marketing Officer) and Detlev Klockow (Team Leader Marketing, Germany) of PRG, which provides the LED screen models PURE10 and MC7.
SLU : Valerie, this is the first time since the U2 tour that the Pure10 screen is touring. Can you tell us more?
Valérie Cuno : There are two different LED screen types here: first some is model MC7, in 7 mm pitch, positioned here upstage (two big impressive sliding panels) and on the three bottom sides of the stage, and on the upper U-shape external "headband", embracing the inner moving upper part.
The latter, sliding up and down, is the famous and more recent Pure10 model, with a 10 mm pitch, delivering 2,500 nits, and, last but not least, 70% transparency.
As it is built in carbon fibre, it is very lightweight (10 kg/m2), and the frame is Wind Bracing type, very airy, which means we don't need steel frames any more, which were very heavy.
For outdoor use, as it is IP65, we're limited to 7 meters high with these very modules because of wind hazard, but you can use extra stiffeners. Here, as the combination is with the more « classic » MC7, which delivers even more luminous power, so the video team has to consider this feature when mixing both models.
SLU : Are the electronics installed remotely?
Valérie Cuno : No, everything is on-board. We send the data via RJ45 on a Cat6 cable, the mains supply, and there you go. The data protocol we use is Nova Star, the HD interface we supplied for this tour is the MCTRL660, but it's important tok now that the Pure10 model also matches perfectly with the Novastar MCTRL 4K, we stock it as well at PRG.
SLU : As this is purely a LED screen developed in-house at PRG, do you intend to sell it?
Valérie Cuno : Might be! We're working on it.
---
I go for a walk with Thierry Kra behind the stage and have a look at custom trolleys containing rows and rows of spare Pure10 LED screen elements not used on this date. On the more recent U2 "eXPERIENCE + iNNOCENCE" tour, 400 square meters were used. On this Gims tour, only 50 sq. meters are up and running every night, but remember there's this famous Stade De France date coming on end of September…
SLU : So tell me Thierry, to set-up and design this particular LED screen, the basic element is a 2 x 1 m one?
Thierry Kra : Actually no, the smaller « brick » you build it from is a 2 m x 0.25 m element we call Tile. They're easier (and lighter!) to interchange if needed, even on an already up and running global screen, even if it's hung up there. They can be easily be snapped into the Frame near the common PSU, as they're fitted with a rear connector, so this is really fast.
Production and Design
Here's now a nice pair of pals, same first name and perfect human cohesion, but very effective yet flexible distribution of the tasks and responsabilities : Julien Bedane, Production Manager, and Julien Mairesse, Artistic Director.
Let's first enjoy a nice chat with Julien Bedane, Production Manager, focused and smiling discreet guy.
SLU : Are you in charge of both creative aspects and production?
Julien Bedane : Yes, when Production Designer Julien Mairesse asked me abpoard one year ago, we started to work closely together with Nicolas Meyer, the technical Manager of this tour. We know each other since quite long. My background is merely technical, the scenography concept was mainly "let's break the rules!".
Play Two Productions (Gims was a Live Nation artist beforehand) went for it in full, as the artist wanted an impressive, fully fledged show. This is also a symbol of what Play Two Productioncan achieve, because this is a really costly tour.
SLU : How large is the crew on this tour?
Julien Bedane : We're more than sixty on the road, nine trailers, four tour buses, quite an important tour indeed… But we've achieved what we had in mind, and this is what really counts on this one. And now it's up and running in a breeze, after only 20 gigs we're pushing the stage into position before lunch instead of the early afternoon schedule.
SLU : Very true indeed, talking to other members of the team we see you found a lot of smart moves to gain a huge amount of set-up time.
Julien Bedane : In any case we had no choice, you can't do otherwise. In the kind of trick, the scene is an Easy Stage Stacco, we re-designed all the slatted floor to put effects and wedges below; the arrows of the decor, which move forward and backward, made by Artefact, are part of a whole. It's actually a relatively small stage space, but with the audience can attend the show all around on three sides.
SLU : How is the scenic space divided?
Julien Bedane : You have a 10 meters wide x 14 meters stage, and a wider « headband » upstage12 meters wide, and a down border stuck to the stage down below, close to the crash barriers, 12 meters wide as well.
Behind this main stage, the two parts of the back screen, each 6 meters wide, can slide horizontally either way, so either this global back screen is 12 meters wide, or, in open position, the whole scenery appears as a 24 meters wide large image to the audience.
The original concept is a box that unfolds at will, with transparency given by the upper Pure10 screen sliding up and down, with beams coming thru. The same effect goes with the slatted stage, also letting massive amounts of light shine through.
SLU : Did the idea of using this very transparent Pure10 LED screen come up after a U2 concert vision?
Julien Bedane : A few other artists had already started to play around the notion of transparency, but we also fully used its 10 mm pitch capabilities, like a standard screen.
SLU : The Pure10 seems to match very well with the MC7 screens?
Julien Bedane : Yes. Of course, they all come from PRG, but there is a significant difference in luminous flux, that we correct into our main video settings. This allows us to « slide » a media from one screen to the other, from left to right or upwards/downwards.
The preparation work on the medias with the Cutback creative took us a lot of time and energy, but they sure know how to work the scenography look and feel as a whole. Sometimes, when all the moving screens are in open position, you have a impression of floor extension on the sides, or sometimes you feel like having more depth of field.
SLU : And the interactivity is everywhere, it seems?
Julien Bedane : Yeah, we did shootings on purpose with famous french stars and Lil Wayne (all appearing in precisely sync'ed up and graphically innovative sequences, Ed.), a choir from Bulgaria, and more. And what's more here, all the live shooting is re-sized and re-shaped according to each number. The video director drives the whole live camera shooting, but our Smode Media Server integrates these live images directly into the final projected medias.
To complement this interview, here's the point of view of Artistic Director Julien Mairesse, really pleased with the work achievement, flawless and well oiled running of his big machine, and very proud of his specialists' team.
SLU : So, how is it going so far here in Lyon?
Julien Mairesse : Oh man, I do like this old-fashioned Halle Tony Garnier, this internal Eiffel structure steel "knitting" is so peculiar!
SLU : Let's talk about the crew…
Julien Mairesse : Nice bunch of wackos! (laughs) For most of them, we've worked together already, this makes us gain a lot of time on the way to communicate, the instant understanding, and so forth. When you have had already such a team for months on a project…
SLU : What was this previous other project?
Julien Mairesse : This very coherent team got together for the latest Belgian hitmaker Stromae tour. So when I for this Gims tour, it called part of this team I worked with during two years.
SLU : Apart from Lionel at FOH (a Belgian guy, too !), did you have a lot of other guys on this Stromae tour?
Julien Mairesse : Yes, Nicolas Meyer, now Technical Manager, Jean-Luc Antoine, Video Director, Typat in charge of the sound system design and calibration, Raphaël Kessler for rigging, Paul Chappet and Cédric Babin for the light design and video projection, these are the faithful guys (smiles).
On top of these, of course, there's Julien Bedane, whom you've talked just before.
SLU : What about the dynamic video image creation and the back and forth interactions between the final video directing and the live shooting?
Julien Mairesse : We had deep thoughts about this, not only regarding the contents themselves, but also the way we would project them to the audience. For instance, having a sliding effect into an image and not a translation, this is the kind of discreet effect giving a totally new and creative impression.
This is why I have to pay my dues to the Cutback team who did a vital work on all the medias, they're really a bunch of video geniuses, and at the same time humble and really listening people. This is why the whole tour is success, human beings not spolied by egos, digging deep into creative thinking.
Let's move on to the practical side, exploring the various workstations backstage hard workers, we start with the video team.
SLU : How many cameras do you use?
Jean-Luc Antoine (réalisateur vidéo) : We have a heavy 77x at FOH position, one shoulder camera into the crash barriers area, à l'épaule dans les crash-barrières, 2 PTZ robotized models, et 4 tiny miniature cameras on drums, piano, keyboards, and the last one is on the stage edge upfront for central bottom view. We also have a wide angle camera for general monitoring.
We send HD data stream to the LED screens, the main thing is a technology we have implemented since a few years. It is a system of slave masks for the cameramen, according to the numbers, so that they adapt themselves to the screens on which their images will be projected. We are anything but in a standard 16: 9 ratio. I have about fifteen different masks for a cameraman, and these can move all the time, according to the song.
The constraint is to have a ROSS Carbonite switcher. As we work in divergent mode, I needed at least two separate mixing bars, a multiview anyway.
Another important point is that, whatever the source, one must be able to control manually the exposure and the calibration. The medias are sent by Cutback and go through the Smode media server with FOH visual control. To summarize, we generate flows and mix them with their medias. Everything is time-coded.
Right on spot, let's talk about the Smode with Romain Labat.
Romain Labat : Every video data goes thru the Smode. We prepared all the presets with Jean-Luc. Either he sends me single camera streams, or a stream already composed and that takes into account the height of the banner on which I will redirect it for final projection to the audience.
SLU : Can you explain your choice of this Smode Media Server? It is a French product by the way.
Romain Labat : In creation, we gain in speed of implementation and modification. In the traditional method, in case of adjustment needed, graphic designers have to redo the videos, re-export them, transfer them and update them into the media server.
Here, because we have access to all the video layers, we make the changes instantly directly on stage, and we validate them immediately. Thanks to the real-time edition, we open the possibilities of creation thanks to feedbacks from servo motors, Midi notes, Art-Net control, TimeCode, live inputs …
On this tour, we use the opening position information of the screen, thanks to the Kinesys protocol, in order to move the content of the LED screens according to their opening. It is a rather complex method so that at the end the image seems fixed and the screens reveal a panorama, like windows that we'd move.
The video streams sent by the cameras'control room are mostly processed with precision in live color by the Smode. Then we integrate the camera streams inside the graphic compositions. We superimpose the moving live images in the middle of multiple layers of videos with compositions that pass below, and above. The live becomes a new graphic material with which we play and that we animate according to the music thanks to timelines timed in TimeCode.
SLU : In terms of delay, with all these back and forth Smode vs. all video sources interactivity, what is the result?
Romain Labat : We do latency hunting (latency here is the time with which the real image, once filmed, is displayed on the screen, Ed.). Here we have measured 7 frames of delay (280 ms), a latency of 2 frames for the camera controller, 2 images for the Smode, 1 image for the grid that switches between Main and Spare, and 2 images for the electronic screens and the screens themselves.
2 images of latency, this is really small for a media server that makes a computer acquisition of a video, its processing and its restitution. This is possible thanks to the technology of open GL and direct to GMA. As Smode works exclusively in the graphics card, we use the "Direct to GMA" which creates a direct gateway between the acquisition board (SDI Deltacast) Live streams to the output graphics card (AMD W9100) via the PCI ports of the motherboard, without the processor nor the Ram taking place into the path.
For safety reasons, we have 2 identical Smodes running in parallel, they have the same images inside, receive the same camera streams, the same Art-Net controls, the TimeCode and the same engine feedbacks. Their signals go through a DVI gate, which can be switched instantly if a machine has a problem. These Smodes are in backstage, close to the control room of the cameras and LED screens.
We have the control screen returns, keyboard and mouse via KVM fiber optic cable. At control room position, there is also a computer with a Madmapper that receives a video stream of the Smode and transforms it into Art-Net to animate videos, the pixels of the GLP JDC1, GLP X4 Bar 20 and LED Stripleds into the decor.
SLU : Who does what between you and Cédric Babin on these two GrandMa3 consoles?
Romain Labat : Cedric takes care of the lights, and me of the video, but I'm a lampie at heart, too, so we have the same data in both consoles. We sent a lot of cues manually, and I send the video from the Smode. As Cédric has his hands on his GrandMa3 all the time, I manage the intercom, I reset the machines if necessary and I give all the cues to the machinery guys. Octopus kinda work (laughs).
SLU : Are there complete gigabit platforms or "bridges" dedicated to the multiplexing, transport and monitoring of true Ethernet broadcast signals, like the Ghost model, for instance? To make all the data signals useful for the show inter-operate and communicate with each other? I'm talking video, moving hoists, audio, and so forth?
Romain Labat : We have several of these interconnecting bridges. As we're in Art-Net, I have a link via some V-Lans to control the Smode in Art-Net, a Kinesys link for the machinery informations, and I also have the Time Code coming from the audio guys thru a balanced XLR. Actually the two MA consoles include the same show, they're in parallel in Art-Net, so the back-up is ready anytime.
SLU : You run these GrandMa3s with the GrandMa2 software (as at ITW time, i.e. mid-december, Ed.). Will you change when the definitive sorware will be available?
Romain Labat : We won't make the move during this tour, we don't take risks (laughs). We'll see when we get to the festivals'dates…
Beams and pixels
Let's move on and have a chat with Cedric Babin, Video and Light Operator. Discreet and almost qshy kind of guy, but very efficient with his GrandMA3 desk.
SLU : What are you controlling with this second GrandMa3?
Cédric Babin : I have Claypaky Mythos2 on the vertical axis several meters on each side of the stage, it is an interesting bias of scenography, especially when the two screens are in open position. It creates lateral light layers. I also have Robe MegaPointes, Mac Auras, GLP JDC1 GLPs and GLP X4 Bar 20s.
SLU : And do you control the matrix inside the GLP X4BAR20 and the 12 color squares inside the GLP JDC1 individually?
Cédric Babin : Yes, it's all under control in the Smode.
SLU : On the opposite, it doesn't seems you use the 12 segments of the central strobe line of the JC1? Looks everytime like a global strobe effect, am I right?
Cédric Babin : You're right, we just use it as a standard (yet powerful!) strobe. And I don't do much with the tilt rotation, or maybe sometimes in slow movements. We hung them with head pointing down, so we don't use the full tilt excursion.
SLU : What's backstage, pre-assembled ladders?
Cédric Babin : They're 8 meters high, but for transport we split them into 3 parts, everything is pre-cabled indeed.
Hoists well under control
I stay at FOH, this time to talk to Raphaël Kessler, who in charge of the electronically-operated hoists.
SLU : How many hoists do you control from here?
Raphaël Kessler : I've got 18 of them, all hung up under the Mother Gril. We started with 24, but this kit got slightly reduced. We have 5 trusses from downstage to upstage, and 2 lateral ones, with 2 motors per truss.
We also control the inner «U-shape LED screen, which can really reack the stage floor with high precision, so if you hear a sound a crushed bones, we got it all wrong (laughs).
SLU : What about the upstage screen, in two laterally sliding halves?
Raphaël Kessler : JC (Jean Christophe Caron, Ed.) controls it, he's the Rigger Tracking Rigger. Romain Labat (the light operator, ED.) gives us the cues, and we both follow through.
SLU : I can watch on your monitor here a lot of informations : loads, weights, heights, motor internal temperatures, relative speeds, tensions, all this in real time, who's manufacturing this system?
Raphaël Kessler : It's from CyberHoist, as well as the hoists. They are 1-Ton models, but we have a large safety margin here as we use them in 250 kg mode.
SLU :What's their speed when going up?
Raphaël Kessler : 4 meters/minute for the main motors, and 20 meters/minute for the ancilliary ones.
I stroll backstage now, to find, down a few meters away from the backstage access stairs, the crammed working space of Jean-Christophe Caron, Tracking Rigger of the upstage LED screen, divided in two motorized halves. From there, he can react anytime and stop the whole process in case of any problem.
SLU : Hi JC, what are you actually controlling from here?
Jean-Christophe Caron : This is 26 m wide Litec truss Tracking, with 600 kg Litec motors, all controlled by a variable speed Kynesis system. Each of the LED screen halves is 6 m wide and weighs 2 tons. They can be opened on each side, and comes closed in the middle with high precision. You can see up there a parameter box I can read from here below, and on my console I have the same data displayed.
There are several motors per each half screen, one master plus 4 slaves, every 1.50 meter to distribute the forces.
SLU : What kind of power supply do you actually need?
Jean-Christophe Caron : Not more than 32 Amps in 3-phase, The control software is a Vector, also from Kynesis.
SLU : Speaking about the way you work, you're really behind the scenes (laughs).
Jean-Christophe Caron : Yes, but I have a monitor with a general view of the stage to look after the perfect closing from a frontal POV. I'm stuck here mostly for safety reasons, as there a lot of dancers and artists going around backstage.
We have a permanent careful look around, in conjunction with the Stage Manager. Even if someone would get stuck by a moving screen, an error would be detected in the system, and it would stop immediately.
SLU : What kind of LED screen tile is this on made of?
Jean-Christophe Caron : Same as the outer fixed U-shaped « headband » PRG M7 tiles, quite stiff, which is good for the moves and the servicing, but this means more weight also. I'm hung directly from the venue's structure, so I can work independently from the stage and lighting gril crews.
With my transport dollies, I do the mounting in roughly 40 minutes. As everything is pre-assembled in 3-meters elements, it's quickly back into the lorries at the end of the show.
Outro
The Gims show delivers a very reasonable SPL, as FOH engineer Lionel Capouillez knows there are many complete families in the audience, Gims is a true cross-generation artist.
The leader's voice sits well and clear in Lionel's mix, into a comfortable cocoon of the rest of the musicians + sequences layers. The nicely tuned combination of Adamson E15, S10, E219 and S7 palys a major role in the precise and tight sound at all time.
---
The light design and operating, all expertly run by Romain, is at the same time very much under control and yet of a varied mix of fixed and colorful looks and moving trusses' scenarios.
The lateral vertical trusses play their « widening » role very efficiently, giving the whole vision of the show a global panoramic sensation. The excursion of the MegaPointes'movements adapt well to all these cues, sometimes tight Beams sticking down, sometimes very wide Flower effects.
The very lateral Claypaky Mythos shoot slightly back from the stage, and widely separated, giving open perspectives.
The GLP X4 Bar 20 moving battens and the Stripleds merge real well into color lines changing all over the show.
Individual pixel mapping of each of the 20 LED sources in the X4 Bar 20 is part of the global SMode control.
Movin' and sliding'
Finally, I had a big crush for the LED screens. Most striking is the coordinated alliance between the horizontal translation of the two rear screens, and the vertical motorization of the internal mobile "headband", transparent moreover.
This point is really highlighted, with medias specially designed on purpose.
---
Lighting diagrams
What's next
The Gims'Fuego Tour will end this year with a big date at Stade de France (total capacity 80,000) on September 28th, and I guess on this very occasion the total amount of PRG LED screens tiles will be much, much more… stay tuned for more info, or even a special SoundLightUp report!
More information on PRG Projects' Pure10 LED screen and Gims' Fuego Tour.
---
The team.
Scenography – Artistic Director
Julien MAIRESSE: Arts Live Music Company
On stage
Gandhi DJUNA: Maitre Gims, aka Gims, Lead Vocals
Franck-Cliff JEAN alias BOOM: Musical Director / Bass
Aurélien LEFEBVRE: Drums
Haïlé JNO-BAPTISTE: Guitar
Kelyan HORTH: Keyboards
Bedjik DJUNA: Backing Vocal & Guest
H MAGNUM: Support & Guest
Creative team
CUTBACK Company: Video Design and Media Creation
Paul CHAPPET & Cédric BABIN: Création Lumière
ARTEFACT: Decor & Set-up Design and Building
Fuego Tour Team
Julien BEDANE: Production Director
Julien GODIN: Production Manager
Nicolas MEYER: Technical Director
Daniel MUNOZ: Stage Manager
Jean Marie BARBE: Stage Manager
Franck BARULL: Backliner (Keyboards / Guitars)
Jean Michel SALOU: Backliner (Drums, Bass)
Lionel CAPOUILLEZ: FOH Sound Engineer
Julien MARTIN: Monitor Sound Engineer
Patrick « Ty Pat' »PASSEREL: Audio system Engineer
David VERDE: Sound Assistant FOH
Anna CONROUX: Wireless systems & Monitor assistant
Morgan ROUX: Sound Assistant
Romain LABAT: Video & Light Operator
Dan SLUSARSKI: Lighting System Manager
Jacquemine GEFFRAULT: Lighting Assistant / Follow-Spot
Léo PETITJEAN: Lighting Assistant / Follow-Spot
Antoine BLANCHARD: Lighting Assistant
Jean Luc ANTOINE: Video Director
Florian DIDIER: Cameraman / LED Technician
Anthony POULAIN: Cameraman / LED Technician
Bertrand DESAINTPERN: LED Technician – Video Manager
Matthieu KAPP: Video Operator / LED Technician
Romain DELAPLACE: LED Technician
Kevin THEBAUD POLLET: LED Technician
Vincent SAGET: Truss Systems Manager
Pierre HERTWIG:Rigger
Philippe OFFNER: Decor Technician
Laurent FESTA: Rigger in Chief
Romain VIEILLARD: Rigger
Patrice DIEU: In charge of Hung Truss
Raphael KESSLER: Light Operator
Jean Christophe CARON: Tracking Rigger
Benoît CHABRIAIS: FX Technician
Joffrey TARANGET: Catering Manager
Martine BARTHES: Cook
Fuego Tour service suppliers
STACCO: Stage construction
SEVEN: Rigging / Tracking / Truss
MPM: Audio & Lighting gear
DIGITAL VISION: Video Shooting gear
PRG: LED Screens
ARTABASE STUDIO: SMode Media servers
C17 SFX: Special FX
VARIPHONE: Ears Monitors
Posted on 5 August 2019
Crédits -
Text & photos: Bruno P. Souchaud.