To deliver premium sound across every seat while minimizing sound leakage to neighboring residential and commercial areas while delivering powerful, arena-filling sound as efficiently as possible, TechData Co., Ltd. recently installed an end-to-end JBL Professional networked audio system at the Changwon NC Park baseball stadium.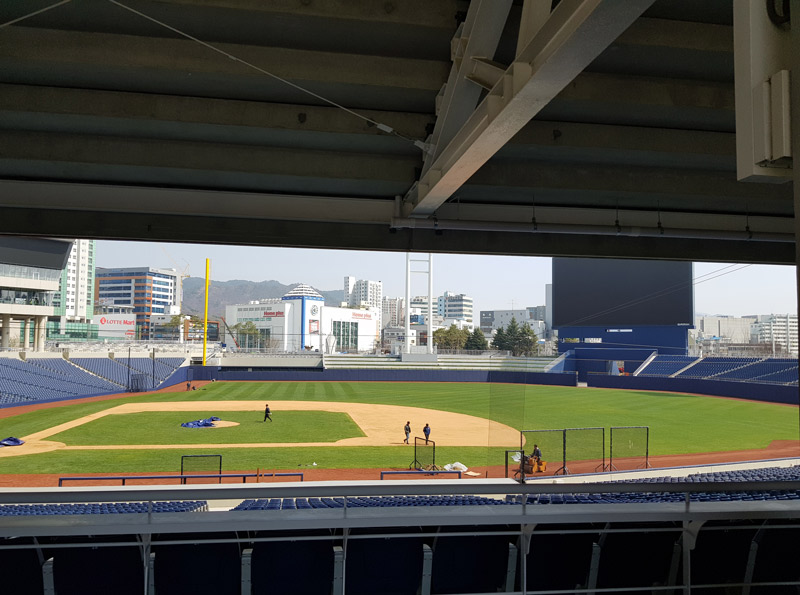 Changwon NC Park is a 22,000-seat baseball stadium which opened in 2019, replacing Masan Stadium as the home of the NC Dinos professional baseball team. The stadium features four tiers of seating that curve around home plate, leaving the outfield side open to the air. To deliver premium sound across every seat while minimizing sound leakage to neighboring residential and commercial areas, Changwon NC Park required an ultra-focused, efficient and highly scalable sound system.
To achieve the client's goals, TechData designed and installed an extensive HARMAN networked audio system featuring JBL loudspeakers, Crown amplifiers, Soundcraft mixing consoles and BSS signal processors.
"Since the stadium hosts highly competitive baseball matches, the client needed a sound system that could not only ensure even distribution of sound throughout the stadium, but also contain the sound within the stadium—a critical requirement due to the proximity of residential areas," said Seung Duk Seo, Technical Manager at TechData Co., Ltd.
"The stadium also needed something slim and inconspicuous to install, so JBL Intellivox series speakers fit the bill. As a result, perfectly horizontal coverage control provides sound to where it is needed, but also reduces leakage of noise outside of the stadium."
To ensure even sound coverage throughout the seating areas with minimal spill and wasted energy, TechData selected JBL Intellivox HP-DS370 active beam shaping column loudspeakers.
The HP-DS370 uses 14 6.5-inch coaxial drivers to project consistently over a targeted area, delivering powerful yet extremely focused sound. A slim, unobtrusive profile and IP55-rated enclosure make the Intellivox arrays an ideal fit for the outdoor environment.
TechData also deployed JBL AWC82 compact two-way loudspeakers with 8-inch coaxial drivers to supplement the main speaker arrays, as well as ASB6125-WRX dual 15-inch subwoofers to provide full low-end energy.
Crown DriveCore Install and I-Tech Series amplifiers provide ample power for the extensive loudspeaker system, with network connectivity via BlueLink and HiQNet. Crown DCi 2|1250N, 2|600N and 4|1250N models form the bulk of the system, featuring proprietary DriveCore technology for extreme efficiency.
TechData also deployed Crown I-Tech 4x3500HD amplifiers, which feature advanced OMNIDRIVEHD processing and flexible I/O options including analog, AES3 and CobraNet.
Soundcraft Si Impact and Vi2000 mixing consoles provide enough inputs and powerful DSP for the complex mixes required for games and events. Intuitive features like Faderglow technology and the Vi2000's hands-on Vistonics interface streamline complex mixing tasks, increasing efficiency.
The entire audio system is seamlessly connected via a state-of-the-art digital network of BSS signal processors. TechData selected the BSS BLU-806 for its highly configurable I/O and high-bandwidth, fault-tolerant digital audio bus. BSS BLU-326DA I/O Expanders and BLU-BIB Break-In Boxes add additional branches to the network, creating a highly scalable and expandable system.
"The dual requirements of sound coverage and containment within the stadium required a prudent solution, which is exactly what we found in the cutting-edge HARMAN audio systems," said an audio engineer spokesperson at Changwon NC Park. "The issue of noise complaints was a major concern when the project was in the design stage, but since the completion of the project, the NC DINOS and city officials have been very satisfied with the overall result."
"Elevating Experiences for our audiences has been the hallmark of HARMAN Professional Solutions iconic brands. Combining Innovation with advanced technological solutions, our partner TechData worked closely with the customer to facilitate a successful installation and presented the best possible solutions to suit the customer requirements," said Ramesh Jayaraman, VP & GM HARMAN Professional Solutions, APAC.
"It is always a pleasure to partner with TechData, and we thank them for their strong customer focus, innovation and technical ability in providing world class solutions and enhancing customer satisfaction"
More information on the Harman Website.
Posted on 8 September 2019
Crédits -
Text & photos: Harman.