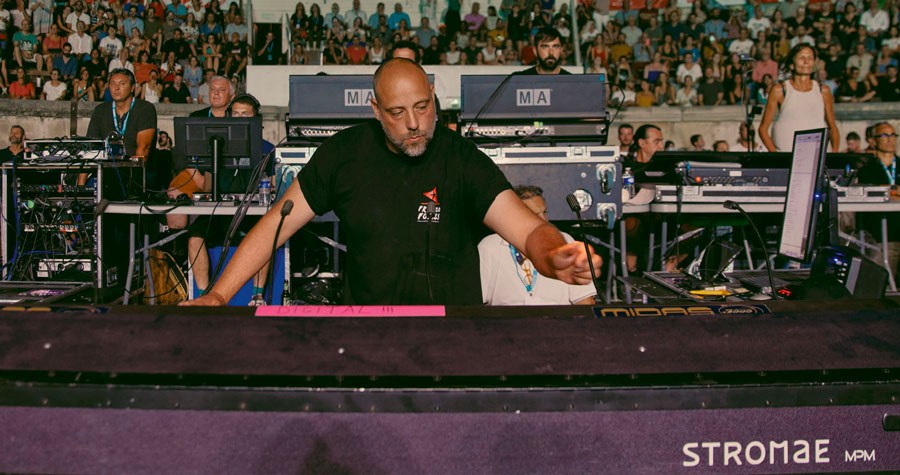 Lionel Capouillez has mixed all of Stromae's productions from the very beginning. In our previous article "From the Studio to the Stage", Lionel shared with us many of his production secrets.
In this second instalment, we'll take a look at what it takes when the creators decide to faithfully reproduce studio albums on stage.
SLU : How did you get started with live sound?
Lionel Capouillez : I started out as a studio engineer. It was the artists I worked with in the studio who pushed me to go and do live work. In the case of Stromae, he told me: "You're the only one who knows the album as well as I do, I trust you, you have to come".
When Stromae works on the stage design… for example, on our current tour, we have robots on stage, complex media to play – there is real interaction with the sound.
It's a complete show with carefully planned staging. And with me in control, he knows he doesn't have to worry. I'm removing a thorn from his side. All he has to do is concentrate on the set design.
SLU : Can you give us a technical rundown for Stromae and the musicians?
Lionel Capouillez : Stromae is surrounded on stage by three musicians who play on MIDI controllers and some instruments, as well as a drummer. The controllers are Roland SPD-30s and there are two keyboards, with 61 and 49 keys, for each musician. The drummer also uses additional pads to trigger certain automations.
All the monitors are in-ear and are mixed on a DiGiCo SD7 by Johan Milet. There are no stage monitors or side-fills. All the mics are wireless.
The musicians are using Shure systems with a special setup. Their mics are wired to a talk pedal that sends the signal to two packs built into their risers.
By pressing this pedal, they can talk directly to Johan at the monitor console, without going into the PA. Stromae is using a DPA d:facto capsule. We also have DPA mics on the charangos and on the acoustic percussion.
For the mix I use a MIDAS H3000 analogue console, two reverbs – a Bricasti M7 and a TC Electronic M3000 – plus a D2 delay processor…
SLU : Do I see a Behringer digital mixer at the bottom of the rack?!
Lionel Capouillez : Yes, it's for mixing my effects returns, to send them to two separate buses, called Reverb and Delay, in the H3000. This saves me some channels.
SLU : And quite a few compressors?
Lionel Capouillez : Lots of dbx 160 SLs. I use them on all the vocals and the rototoms. I also use a dbx 162 SL for my sidechain compression group on the kick drum. It's on bypass all the time and when I need more punch on a track, I take the bypass off and the instrument starts compressing some of the synths.
This allows me to obtain a more powerful feel without turning it up. I've noticed that when the compression starts "pumping", it makes the audience dance more. They have the impression that it's playing much louder, without me having to worry about pushing the SPL in the room.
SLU : What about the FoH masters?
Lionel Capouillez : On the master I have a Klark Teknik 31-band graphic equalizer which is then run through an Avalon 737. The graphic EQ allows me to immediately scoop out a problematic frequency band in the front, while the Avalon, which I only use as a corrector, allows me to modify the general colour.
SLU : Don't you delegate that to the system engineer?
Lionel Capouillez : The system engineer can do what he wants, whatever he needs to do. I'll come in with my CDs and I'll fine-tune certain things, which I prefer to do independently with my Avalon. Because, for example, if at the sound check it's aggressive, you don't know how it will be in the evening, with the humidity and the audience, you don't know. So I prefer to keep my hands on it and make these corrections myself, in a more instinctive way.
SLU : I like your practical approach!
Lionel Capouillez : (Laughing). Yeah, I find that's a problem on live shows. A lot of people make it difficult for themselves to use DSP cards, they also want to manage the musicians' computers on stage, over the network… I just concentrate on doing the sound. The rest is prepared, there is nothing to modify. Everything is set up beforehand and handled by our backliner.
SLU : What is your approach to live shows? What tools do you use?
Lionel Capouillez : We try to reproduce the sound of the record live. For this, Nicolas Fradet, our backliner, provides six Mac Minis (three mains plus three backups).
One Mac Mini handles two of the musicians. They each have 16 MADI outputs via an RME FireFace UFX+ interface that connects them to the DiGiCo SD7 monitor console.
All of the signals are fed back to the FoH via MADI on fibre through an Optocore DD4MR, which feeds the fibre back into a DirectOut Prodigy, which, in turn, converts the 64 MADI channels into analogue for the Midas H3000 console.
SLU : What are the advantages of using an analogue console?
Lionel Capouillez : Actually, since a lot of the sounds are made in computers, the mixing console is just a big summing amplifier. Analogue is great for bringing a nice colour and warmth to the sound, and it's also very instinctive to operate. If something is bothering me I just turn a knob. A problem here at 5 kHz is fixed immediately.
Plus I find the corrections to be finer on analogue mixers. The control is fast. No pages to navigate through. I have a 44-channel patch, and to switch from channel 1 to 44, I just have to reach over with my arm. The only things I automate are the presets in my outboard gear, like reverbs and delays on each track.
---
SLU : How does the programming work on stage?
Lionel Capouillez : On the Macs, everything is handled by Ableton Live. We have two Macs, each handling two musicians, and a third Mac that plays the sequences, such as percussion or voice over. The Macs are all click-synchronised with time code for the lights.
One of the musicians controls the whole thing from an iPad. When he presses play, it launches the sequence computer which triggers the click and selects the virtual instruments that the other musicians actually play live from the other computers. On the previous Racine Carrée Tour, we only used Reason.
In that previous setup, each musician had to open his session before each song and the drummer would start the sequences. It worked, but it was more difficult for the musicians to manage. On the current tour, we are using the new Reason VST Rack plug-in which allows us to call up all the synths in the Reason sessions from Live. It's even more convenient because the musicians don't have to do anything. With each new song everything is set up and ready to play.
SLU : That's a lot of programming work!
Lionel Capouillez : Yes, indeed. A lot of the stems on the album are re-sampled to play them live. And for the instruments we really wanted to play, I reproduced in Live all the processing chains used in Pro Tools to get an identical sound.
SLU : And how is it going?
Lionel Capouillez : We played in Brussels, Paris and Amsterdam. A sort of dress rehearsal before the two Coachella concerts in the US and the festivals in France this summer. We'll be playing in the US and Canada in December 2022 and we'll be back in France from March to June 2023.
Now that everything is set, we can perform anywhere in any configuration. I can be given any console, I just have to reset the gains, which I know are the same. I know the show by heart; at such and such a point I cut the treble on the snare drum because it's bothersome, I lower the synth of this or that passage by 5 dB, etc… I can go anywhere, everything is in my head. It'll be fine.
SLU : Doesn't the fact that everything is programmed in advance pose a problem due to the changing acoustics of the rooms? For example, for the reverbs on the instruments?
Lionel Capouillez : Well, it always works. As long as the effect works in the studio, I don't see why it wouldn't work live. When you listen to a CD that's been mixed and mastered in the studio, the CD sounds great live.
For me it doesn't bother me with the instruments. On the other hand, for all the important effects of breaks or delays on the voices, I manage them directly in the studio. For example in "Alors On Danse" the delays generated on "danse" are, of course, sent at the right moments.
SLU : What about Stromae's voice?
Lionel Capouillez : Stromae's voice is perfect for live shows. It goes into the H3000, a Distressor, a de-esser and an EQ on the channel. That's all. On the last tour, we used a DPA d:facto microphone, which worked very well.
SLU : Is the choice of PA system important?
Lionel Capouillez : It mostly depends on the sound company. We work a lot with MPM and David Nulli, their technical manager, using Adamson E15 and E12, which sound very good. Our system engineer is Patrick "Typat" Passerel who follows us on all our tours.
I also really like the Meyer Leo, but it is heavier to install because it is amplified. If we rent abroad, we ask for Leo and, of course, in festivals or in venues that already have a system, we adapt without any problem.
SLU : Do you have a particular requirement for subs?
Lionel Capouillez : Not really in terms of the number of boxes, they know very well what they are doing. I often ask them to turn it up by 3 dB, and I'll cut off certain frequencies like 40 or 50 Hz that produce a dirty resonance, which gives me extra pressure without necessarily pushing it, and a fuller, warmer impact that suits Stromae's music.
SLU : What about festivals?
Lionel Capouillez : At festivals, my assistant Nicolas Ménard and I decided not to take measurements. We do everything by ear. We arrive, we play our CDs, we listen… it generally works. The systems are often very well tuned.
If necessary, I just use my master EQ to correct. I don't find it useful to measure systematically. We have our ears, which are much better than our eyes.
SLU : Do you have a specific approach for each type of venue?
Lionel Capouillez : Everywhere we play the same set and I only adjust the system EQ. I hardly ever change the balance of the instruments again, everything is already well mixed beforehand and it usually works anywhere. Maybe there will be a guitar that is slightly aggressive in a certain room, and then just a simple EQ will take care of the problem. Once we get the overall balance back across the spectrum, the rest works.
SLU : Does the audience influence certain technical choices ?
Lionel Capouillez : Stromae's fans really like the groove. I often use sidechain techniques to manage it. For example, on the lead synth in the chorus of Papaoutai, if I don't use this sidechain, it's pretty flat. The sidechain makes the synth pump and it's that feeling that makes you want to dance more. And that's also very important…
When we're in venues like the Zenith, I'll listen to the opening act in the hall before I go to mix, so that I'm in the same state of auditory fatigue as the audience at the time of the concert. If I don't do this, I'll push certain songs and I'll see people who feel assaulted. That way I can have the same limits as them and I'm sure I'm not blowing out their ears.
SLU : By the way, I loved the encore of the previous tour where all the musicians sing a cappella…
Lionel Capouillez : Oh you did? We're still doing it.
SLU : I was surprised by the quality of the sound. All I see is a simple microphone on a stand? Is there some kind of a trick to it?
Lionel Capouillez : Oh, no! That's it. One microphone, I swear to you. For example, we did a festival in Munich with 50,000 people. Stromae asked the crowd to be quiet. He took the microphone down and put it between him and the musicians.
I push the fader, and as soon as it starts to play, I adjust the 31-band EQ to the right levels and turn it up to the max. The audience is silent and you can hear all the voices in perfect balance; it's a magical moment that Stromae knows how to create. Yes, one microphone is enough.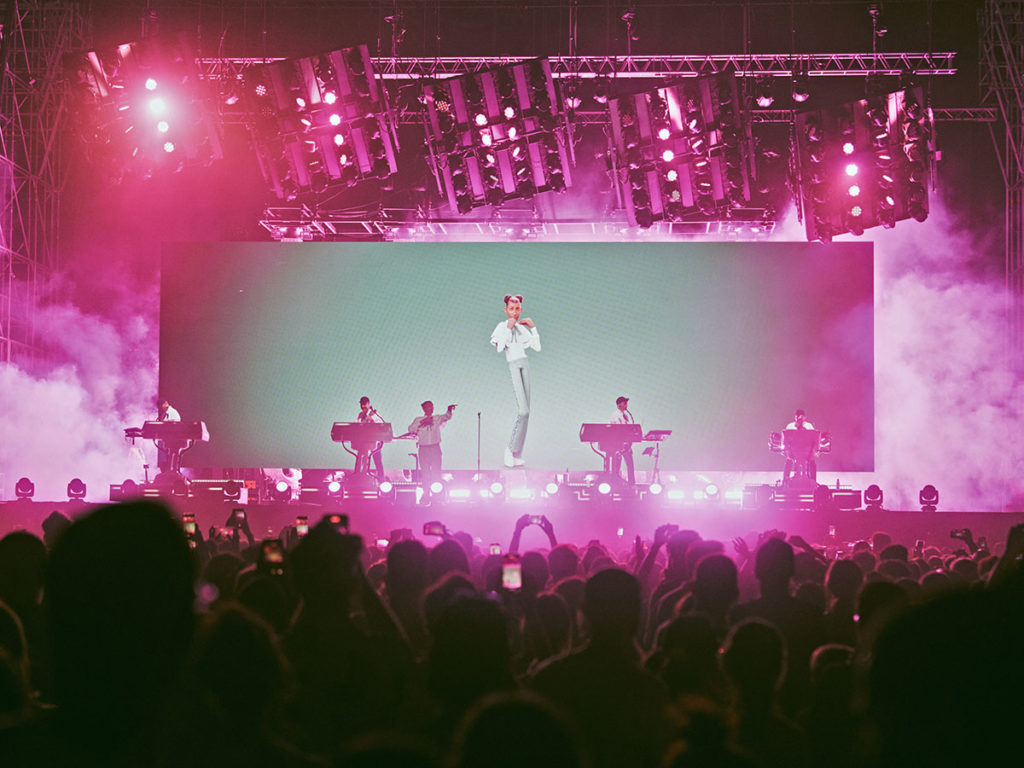 One year, at the NRJ Music Awards, he wanted to do it and the technical team had planned five additional ambient microphones, in case it didn't work, in case there was too much noise in the audience… I told them not to add them, that it would be useless.
"Stromae can silence 50,000 people, everything will be fine. We're used to one microphone, please do it that way".
They grumbled about it. Before the show I said to Stromae, for the encore it would be ok with one mic. He said "you did the right thing, it's fine with me," and it was perfect, still with one microphone.
SLU : En réalité, tu reproduis le studio en Live ?
Lionel Capouillez : C'est exactement ça. La configuration studio du disque est recréée dans les séquenceurs Live des Mac Mini; avec les instruments de Reason, les VST, les effets et les équilibres. Le mixage live est juste une sommation de tout ça. Stromae a envie de retrouver l'identique. On ne veut pas repenser tous les morceaux et on veut rester fidèle à l'image du disque.
SLU : The musicians are multi-instrumentalists. I thought that managing all this on stage was complicated. But in reality, as you explained, it's really not?
Lionel Capouillez : No. It's quite simple when you prepare everything, in fact it will surprise you… Even the real instruments on stage like the guitars, to make their sound, go into the Macs.
Their processing is done with plug-ins and I get a processed signal, I just have to dose the reverb and delays in the FoH mix. The big advantage of all this is that the musicians hear the same thing on stage as I do. And the musicians have no problem with latency.
SLU : What about the monitors?
Lionel Capouillez : Everything is in-ear and each musician has his own mix. We don't use any traditional stage monitors and no side-fills. We also have Marius who only handles the RF.
SLU : What can you tell us about controlling the overall dynamics?
Lionel Capouillez : I never compress the master live. When the mix is well balanced, I don't need it to be held back. While in rock music this can be useful, for Stromae's style I need free, vibrant and airy music. If I compress it, I lose something and it makes the sound smaller.
SLU : What about managing processing and effects?
Lionel Capouillez : All the processing of the instruments is done in the computers. Only the voice is processed in the FoH console. And it works very well, for example for "Ta fête" on stage, when Stromae sings "Il est l'heure" I handle in real time the delays and reverbs on the word. There is no room for error, although in live performance, if you mess up it's not so bad, the audience forgets quickly. In fact, you can even allow yourself to test things, equipment. If it works, I'll do it again in the studio. I bring a lot of ideas from the live show into my studio mixes. It's a real source of inspiration.
SLU : From live to the Studio, the circle is complete, then?
Lionel Capouillez : Yes, as you can see, whether we are in the studio or live, I am in the same universe. I strive to faithfully reproduce the richness of the artist's sound. The technical solutions we have developed allow us to free ourselves from any limits, and to offer the musical richness of the artist in any situation.
Whether live or in the studio, Lionel Capouillez shows us that the boundary between these two domains is wafer thin. While the equipment used often changes for practical reasons, the sound of Stromae's music is totally preserved to provide the ultimate experience to an audience delighted to find the sonic characteristics of their artist, with power and great scenography to boot, regardless of where the show takes place.
Further information can be found on the MPM Group website and on the MPM Audio FaceBook page