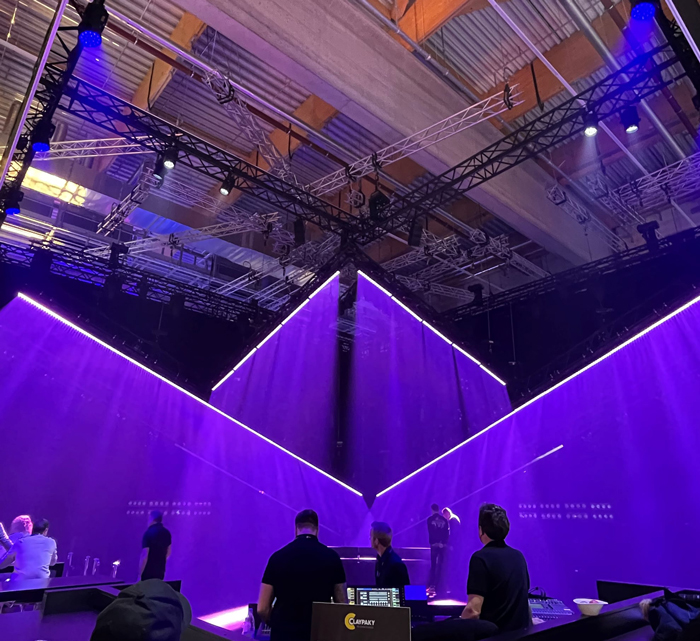 Like actors without a stage to perform on, during Covid many lighting companies were forced to stay in their "dressing room" or their"shop". After many exceptional years, with the move to full-led, they innovated with new fixtures nonstop, and sales were skyrocketing, the Emperors of lighting were sent back home without much help from the government nor possible permanent installations.
However, they weren't all going to surrender, some (many, in fact) got back up, dared to innovate, put up a good fight, and had transformed. As rightful heirs of Julius Caesar, Claypaky did just that. Despite the conquering of Osram by the Austrians AMS, and not knowing if their empire will be hit like ADB was, their f.lag of arms is still waving. Innovative on all counts, the company from Lombardie has shown an impressive amount of new fixtures at each of the recent events.
Surrounded by his new team, the CEO, Marcus Graser, speaks of a new era. Calling the last two years a Magical Moment, it layed the foundations of a new Claypaky, concentrating investment in their production means and the renewal of their Portfolio (inspired by the Kanban method in real-time organization) invested in an eco-friendly strategy with the CP Green.
Innovation is the new Italian weapon. Their range of luminaires has gained strength, are waterproof, and linked… They evolved and grew in the utmost silence before unleashing their lasers. This season is the lift-off for Claypaky, heading into the post-Covid years that are unpredictable but promising.
---
The Autumn winds
Panify
Panify, Claypaky renews a lost tradition, the motorized mounting bracket. A solid 13 kg base, this big rotor blade gives the possibility of having an infinite pan rotation with a conventional lighting fixture, part of a stage element, a screen, and many accessories, be it floor standing or rigged.
It has 9 Omega compatible inserts, a wide rigging platform, and a DMX and electrical supply integrated into the rotary section. Claypaky can Panify almost anything under 30kg and at a top rotation speed of 50 rpm
Although it can supply up to 2300 VA, its own power and control needs are minimal, with 150 W and 5 DMX channels. With its sleek look, the Panify is waterproof up to IP66, has an ethernet port and an optional Wireless DMX module.
---
CloudiO
A linked Plate-form, linked to the clouds and Claypaky fixtures, the CloudiO is a unique maintenance workstation that is the only one of its kind. Easily portable, it can connect to the DMW chain and control the fixtures in the network.
Once connected and identified the fixtures are analyzed, the user history and problems (or fixes) are listed.
Once their data is recorded on the Claypaky Cloud, in the same way the automobile industry connects your car for diagnosis, the online support enables you to do routine maintenance. Providing problem-solving and the necessary updates.
Its menu is user-friendly and has a 7″ touch screen, to measure and calibrate the color temperatures and light flux of the fixtures, synchronizing perfectly the entire lighting kit. In the past it was dedicated to a wide variety of Claypaky luminaires, it is now possible to use it with other brands thanks to the magic of the RDM protocol. The CloudiO is slowly becoming the indispensable all-terrain system-monitoring station.
---
The winter at sea
Volero Batten Aqua
New for this trade show, the Volero Batten Aqua is based on the Tambora Batten, a one-meter long16 led bar, with either round or square lenses and 40W RGBW sources, divided in two with independent zooms. The Volero has more punch with 80mm lenses, embedded in rectangular fittings. The 10 Osram leds output 60W RGBW, with a virtual CTO range of 2500-8000K.
The Volero are built with identical lens spacing width and depth (or pitch) with the assembly in a matrix in mind, the DMX management has been revisited.
There are three different ways to control the leds or a mix of them all, control of the standard color of each led, using the internal effect engine via multiple macros, and topped off with a video pixel mapping. Not to forget it supports DMX, RDM, ArtNet, sACN, Web Serveur et Kling-Net protocols.
---
The Volero Batten Aqua is built tough, with an IP66 it can be splashed with water or used in a very dusty area. Weighing in at a mere 29 kg, electrical consumption of 800 VA, 2 zooms of 4° to 55°, and adapts to a Panify for that extra fun and games.
---
Tambora Flash
Just as new the Tambora Flash is also a led IP 66, a rough and ready waterproof Strobe, Blinder, or wide wash. It can be stacked vertically or assembled horizontally thanks to quick connectors, walls of lightning effect can be assembled in no time.
4 big reflectors thrust the 100W COB with a 32° beam. The mix between Warm White leds, to give the distinctive look of the earlier Molefays, and the RGB leds provide a complete array of boreal colors
Two strips of 96 x 3,7 W white pixels line the top and bottom, and will blast with 120° strobes, and then divided into 16 segments of 12 pixels for those of you who like powerful dotted line effects.
Using "Layer Management", there are 3 layers of control: Background Color – Internal Shape – Pixel Mapping; and DMX, RDM, Art-Net, sACN, WebServer et Kling-net protocols are supported. Power and weight: 1200 VA, 10,5 kg.
---
Xtylos Aqua
This is the waterproof version of the Xtylos, the first spot luminaire with the famous laser source, the Xtylos Aqua is IP66 and C5-M. It can be splashed with water, run in a dusty environment, or with a high humidity factor, or one with a seaside salty atmosphere. In short, Aquaman and Cyclopes mixed together.
At the heart of the fixture there is an extremely tight 15,5 million Candelas laser source and has full-spectrum RGB. The beam shoots out like an archers arrow, strong and sleek, nicely saturated thanks to its Turbo Color mode.
The Xtylos is very quick, a pure Beam, and has a crazy beam width of 1° even though it can be pushed up to 7° losing its sharpness slightly. Adding to these great features it has a frost, 7 rotating gobos, another wheel with 12 static gobos, and the last one with 3 prisms (Convex, linear and circular), a rotating 16 facet rotating prism, and an iris.
Its tight beam, pure RBG, and virtual CTO from 2500 to 6500K enable the creation of geometrical effects with full colors from a significant distance.
Only one simple 31-channel mode to take quick and efficient control of it and in any protocol DMX, RDM, Art-Net, sACN, integrated Wireless DMX, and Web Server.
The waterproof
---
The serenity of spring
Sinfonya Profile 600
Claypaky has written a hymn, to its mother country, its name is the Sinfonya Profile 600, their first moving head dedicated entirely to theater. Being known as the Symbole of Opera, the Latin boot-shaped country must be true to its reputation. This isn't Showbiz, rethink every little detail, start from scratch, the requirement specifications are Diabolico.
The three main constraints: noise, color, and beam. They all must be exemplary.
Back to the drawing board, the whole cooling system had to be redesigned. "Tchao" (bye) having fans in the base. "Arrivederci" (Farewell) to the bouncing of the sound waves through the air vents. The Tonedown concept is all about dampening high frequencies by making acoustically designed parts.
The motors were also studied, the same for heat dissipation. Resulting in an incredible score on the sound level meter, only 27 dB fully running. Like a little whisper. Still too loud? There is even a mode that cuts all the ventilation, almost a complete silence, and it still keeps 70% of its punch.

Osram created the 600W source, a clever blend of red, green, blue, amber, and lime with its own specific proprietary algorithm. The red led is reduced to 620mm, giving it a very warm spectrum, as dense as the sun. Its 12000 lumens is more than sufficient for theater, especially with an IRC greater than 95 and a very good TLCi.
Being able to independently control the CRI, CTC, and hue is almost a must nowadays, the way of dealing with color transition chosen by Claypaky shows their experience in this field. Two channels allow you to choose between a wide variety of different tints, and a smooth 24-bit transition between the first one and the second, and back to the first. Incredibly simple.
Synchronization of the color temperature between the fixtures, using the CloudiO interface, is their strong point. If our dreams come true, we should soon see the creation of a new job in lighting called system-engineer, matching the IRC, flux, color temperature, and monitoring of fixtures.
The Accuframe is a framing shutter system on 2 focal planes of rare precision, it is said to be 40 times more precise than the old 4 focal plane system.
The tilt angle of each shutter has been reduced, to keep the shutters facing each other, however they can be tilted +/- 45°, triangular shapes are possible, and each one can close off the light entirely. Halleluja, the parallel shutter lines of profiles are focused at the same time.
`The new optical system ranges from 5° to 60° using this beam precision to its advantage. The Frost uses two sets of blades, for more even distribution, without it having the phenomena of reflecting in the beam. It is patent as LineGuard, the Sinfonya uses it for its soft frost and heavy frost at 5° and can be swapped.
Behind the 160mm lens, 6 HD gobos, an animation wheel, a 4 facet prism, an iris, and a 24-bit dimmer uses 39 control channels via DMX, Art-Net, sACN, and RDM. There is also a Wireless Lumen Radio module available.
---
---
If the lighting plot requires for some to be placed in difficult positions, under a balcony or in a small alcove in the theater, the problem could be when they reset, with the head doing a pan of 360° and hitting the walls or other equipment. The Pan/Tilt sensors in the Sinfonya use absolute values and do not need mechanical stops. The fixture can be restarted without having to move, and still keeps the same precision. This allows for a very precise installation within the decor of a classified theater.
The Sinfonya Profile 600 weighs 34 kg and has a power consumption of 770 VA.
---
Mini Xtylos HPE
The younger brother of the Xtylos, even quicker, the Mini Xtylos finally profits from a European presentation. This pocket-sized fixture, a slight 9 kg, and 80 VA power needs, uses the same laser RGB diode technology. In this case, it is limited to 20 Watts, with 2,4 Mcd in the center, it can be used without any restriction in most countries. In the USA, with its drastic regulations concerning lighting fixtures, it exists in an FDA (CDRH) version, authorized by the laser federal security regulations.
The enthusiasts of colored brush strokes of light in mid-air will be happy to see the same advantages as the first Xtylos. A homogenous and constant source, a trichromic RGB Color Turbo, a virtual CTO 2500 to 6500K.
Using the HPE denomination, reminiscent of the famous range of Claypaky in the early 2000s, the mini-Xtylos has a mini focal length of 1-4°, an interchangeable frost, two interchangeable prisms (pyramid x 16 and linear x 6), and especially an infinite Pan, ideal for this type of spot.
Only one 27-channel mode, using DMX, RDM, Art-Net, sACN, Wireless DMX, and Web Server.
---
Summer Festival
The complete video of the Claypaky Stand at Prolight+Sound. The kit is made up of 48 x Mini Xtylos HPE, 34 x Tambora Batten Square, 24 x Sharpy X Frame, 16 x Tambora Flash, 14 x Tambora Linear, 10 x Panify (equipped with Tambora Batten Squares), 8 x Arolla MP Profile, 8 x Arolla MP Spot and 4 x ReflectXion.
---
---
Tambora Linear
Another new fixture hot-off-the-press, the Tambora Linear is a mix between a led bar and a strobe. This thin 400-pixel RGB led bar of 120°, is split into 25 groups of 16 leds, will enhance the lighting scenography, and is matrixable thanks to its many different mechanical coupling possibilities.
Assembled in a line or as a cluster the Tambora Linear will blast the eyes thanks to the central line of 200 white leds, divided into 26 groups and devoted to the strobe. To counter the potentially impressing amount of DMX channels, with 3 instances possible, Claypaky has included more than 100 internal effects.
Admittedly with the main unit using between 9 and 31 channels, a 25-channel strobe, and a Pixel Engine of 75 channels, the math starts to get complex. No worries, 3 layers of control allow for great flexibility: Background Color, Internal Shape, and Pixel Mapping, using DMX, RDM, WebServer, Art-Net, sACN, or Kling-net.
---
Available in either 60cm or 1m in length, its array of visible leds has many accessories to fulfill a range of requests. A frost filter of 20° or 30°, with a slit along where the strobe is, to diffuse the colors or a complete ND cover for use in television, to not overload the sensors dropping the flux by 30%.
The Tambora Linear of 1m in length has a power consumption of 700 VA and weighs 8 kg.
---
Sharpy XFrame
Its Festival season, the last survivor of discharge lamps is the Sharpy, in its final version. Short arc 550W lamp, the Sharpy XFrame puts out 18 800 lumens, through its 160mm lens, with an IRC above 80.
But what the LDs are looking for in this segment of lighting, is a hybrid fixture, able to do everything and tough. That is exactly what it is capable of. Multi-functional, its zoom adapts to the different modes: Beam from 2° to 29°, Spot from3° to 52°, Wash when the linear frost is added.
A nice collection of effects, 8 rotating gobos, a wheel with 18 static gobos including 6 beam reducing ones, two prisms with 4 and 8 facets, and a 16-blade iris.
---
The Sharpy Xframe has a traditional subtractive CMY mix, a progressive CTO, and a 14-color Color Wheel with saturated colors or color correction. It wouldn't be complete without 4 shutter framing system with a rotation of +/- 60°.
It is controlled by a single mode of 43 channels, in DMX, RDM, ArtNet, or sACN.
This is all packed into a relatively compact package, 28 kg on the scales and a consumption of 750 VA.
Toute la gamme Claypaky est disponible auprès de Dimatec, fidèle distributeur français de la marque italienne.
Posted on 7 July 2022
Crédits -
Text Tristan Szylobryt - Translation Ted Hall