Like the Elation brand, to which it is sometimes in terms of strategy and expansion compared, Chauvet is slowly but surely a major player in the scramble.
Evidence of this consistency, the Maverick range is becoming more and more recognized reference.
With the switch to MK3 for the Spot and the Profile, Chauvet introduces two quality moving heads, full of features, ready to shake the world rankings.
MK3 Spot and Profile
Chauvet's flagship stage and touring series hosts a Spot and a Profile with almost similar functions. The most important development is the transition to a white LED source of 820 W, whose 51,000 native lumens can expect more than 30,000 lumens output. Coupled with a 7500K very cold white, it has sufficient power to integrate well with the big concert stages.
Another peculiarity, rather unusual, is the presence of a progressive gradient filter, which improves the CRI from 73 to 93 for a flux loss of less than 15%. Depending on the circumstances, priority may therefore be given to the respect of the colors or the luminous intensity.
The other features show a fairly exhaustive list of possibilities, especially for the Profile. These two moving heads have in common a CMY color mixing with the additional help of a progressive CTO and a wheel of 6 saturated colors.
A 9: 1 zoom from 6 ° to 54 °, an iris and two different variable Frosts filters (superlight and medium) are also comprised. Two 5-facet prisms, one linear and one circular, are close to the animation wheel and the gobo wheels.
The difference between Spot and Profile is made at this level, with two wheels of 7 rotating gobos and one of 8 fixed for the Spot and a wheel of rotating gobos and one of fixed for the Profile, which hosts in addition a module of 4 motorized blades at 120 ° angle plus complete insertion. It is necessary to note surprising geometrical forms and very graphic patterns on the gobos, rather pleasant.
The Maverick Mk3 Spot and Profile MK3 prices are targeted for Europe at 10,699 € HT and 11,899 € HT (list price), and these machines will be available end of June. Future evolutions with Wash-Beam and IP65 seem to be already in mind, to meet the requests for these particular models.
Well Pad Full Color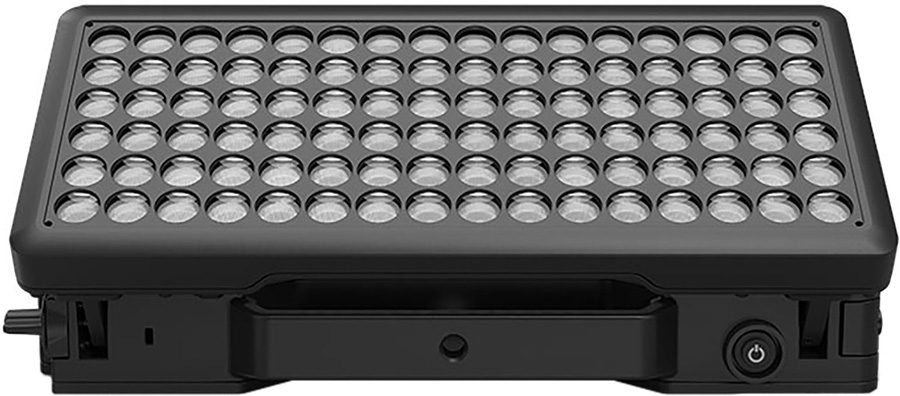 The Well Pad is a fixed decorative projector, a rectangular LED wall washer designed for local architectural lighting punctual. Its 96 LEDs are arranged on an tiltable panel, fixed at its base to a manually orientated axis from 0 to 90 °. This base contains the power supply, a battery and two receivers: infrared and wireless DMX.
This standalone projector is announced for 9 hours of minimum operation, local controls or by infrared remote control or wireless DMX. The Well Pad Full Color is certified with IP65 protection to work in the rain or snow without problems.
If the simple model released last year was composed of low-power red, green, blue and amber monochromatic LEDs, a full color version of 96 multichip RGBW 3W LEDs will arrive in September.
Its 350 W of power is converted in a powerful beam with an angle of 22 ° as standard, and 38 ° with the filter diffuser on. A flight-case charger for five units is also available.
Épix Flex 20, drive and boost
The range of Epix video led bars and tubes is gaining flexibility with Epix Flex 20 strips. With an initial length of 5 meters, Flex 20 tapes can be lengthened or cut without compromising their IP67 sealing.
With a pitch of 20mm, each element includes 240 RGB pixel LEDs specially designed for dynamic graphics or decorations. Several modes are provided to control them, from 17 channels to 720, in DMX, Art-Net, sACN via their control box.
The PSU, named Epix Flex Drive, is sufficient to drive 2 outputs of 10 meters of tape, and 1920 LEDs maximum.
With such a large number of pixels, the new management designed in Kling-Net protocol is almost essential to work directly with video streams.
For even more "power greedy" montages, an Epix Flex Boost module allows you to extend already wired tapes by doubling their length. Thus, with an Epix Flex Drive power supply, 2 Epix Flex Boost and 8 Epix Flex 20, it becomes possible to use 2 times 20 meters of total led strips. IP Flex specific cables are available in different lengths to install the led strips far from the drivers.
More informations on the Chauvet Website.
Posted on 12 June 2019
Crédits -
Text & Photos: Tristan Zylobryt. Translation: Bruno P. Souchaud.