Very much into the re-creation of vintage projectors fitted with LED sources, Starway declines its Vega in two versions. The biggie's name is Maxi-Vega, the tiny is called Mini-Vega.
Mini-Vega and Maxi-Vega
This small ancillary "lighting firefly" comprises a large warm white LED in the center, a RGB module behind the reflector to illuminate its golden dome, and two stripes of RGB Ledstrip inside and outside its peripheral ring to multiply multicolor effects.
Practical, it is not only designed to be hung with a single hook or stand on its floor plate, but can also be assembled into a circular frame to group seven Mini-Vega altogether.
The Maxi-Vega, bigger and more powerful, is a replica of the standard Vega, XL size. Like the Vega, it has the ability to divide its rings into 8 individually-controlled sectors.
On these brand new Vega models, the mains connectors are now PowerCON True1 in&out, the DMX512 is connected to two 5-pin XLRs (in/thru), and a silkscreened label on the unit body unveils a clever QR-code to display directly the DMX chart and the user manual on the user's smartphone.
– The Maxi-Mega is launched with a list price of 1,990 € excluding V.A.T.
– the Mini-Vega is announced with a list price of 2,890 € excl. V.A.T. for a kit of 4 units coming into a flight-case.
FloodLite
Two newbies are launched around the Floodlite 650, a small "pocket" IP65 LED Blinder, IP65 rated, as well as its connectors.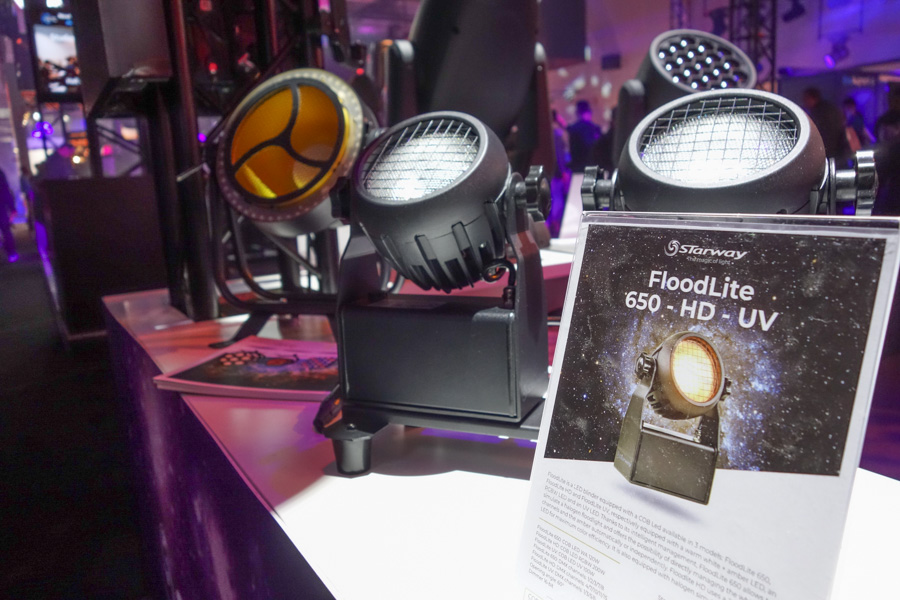 The first is a Floodlite UV version, tiny as well, with a very nice glow. Designed from the request of a famous French Light Designer, Jérémie Bargues, for latest Mathieu Chedid (successful French hitmaker) tour, it comprises a 100 W COB UV LED with 60° angle. It can be controlled between 1 and 6 channels, weighing less than 3 kg, with a a list price of 390 € excl. V.A.T.
The Floodlite HD, same format, includes a 200 W COB RGBW LED. The color mixing system has undergone a specific researches to deliver at the same time saturated colors and a halogen mode, with "filament inertia" and color correction while keeping a high level of light output.
As for the rest of the range, it has specific and separate dimmer and strobe channels, and can be controlled 4 to 15 DMX channels.
All the COB LED sources in this range have an adjustable PWM between 1 kHz and 50 kHz to prevent any flickering. Its list price is slightly higher at 450 € excl. V.A.T.
Particularity of this range, a collection of hanging accessories allows to group them in pairs or in quartet, in line or in square. As for the Mini-Vega, a circle support allows to group seven Floodlites, including a central one.
Kepler 350
In the lineage of the Newton, a fixed profile spot equipped with a RGBAL LED was unveiled last year. This Kepler 350 demonstrates the architectural interest of Starway.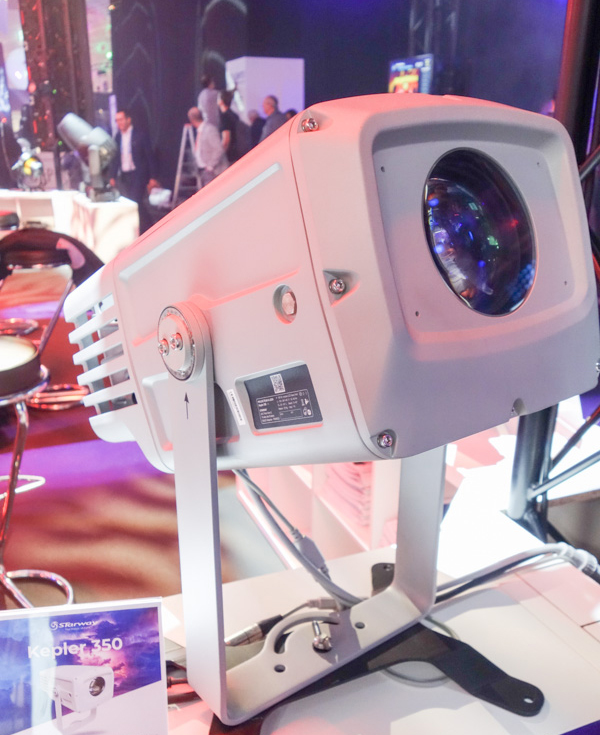 Waterproof and dustproof, these IP66 products lower a lot the need for maintenance, thanks to their LED source. The one inside the Kepler 350 is a cold white 350 W and 7000K LED module.
As an effects projector, it comprises a mechanical CMY color mixing system, a motorized 8-40° zoom, and can deliver 16,000 lux at 5 metres distance in tight zoom, and 642 lux at widest open angle.
It also includes a 3-facet prism, a 7-color wheel, an animation wheel, a Frost filter and a 7 rotating customizable gobos wheel. A waterproof hatch makes it easy to interchange them when needed.
With grey finish (quite common in architectural lighting) it can communicate back and forth to any controller using DMX/RDM in/out or via an optional Wireless Solution receiver, with two different modes the user can choose, 17 or 20 DMX channels. This 23 kg nice chubby newbie is launched with a list price of 4,200 € excl. V.A.T.
More information on the Starway Website.
Posted on 28 August 2019
Crédits -
Text & photos: Tristan Szylobryt.