This paper is available in Français too
New Global Distributor Arrangements Announced For Work Pro Lighting Control Surface. Following a series of recent meetings with distribution companies at international exhibitions including Pro Light & Sound in Frankfurt, WORK PRO has concluded new distribution arrangements for its innovative LightShark lighting console.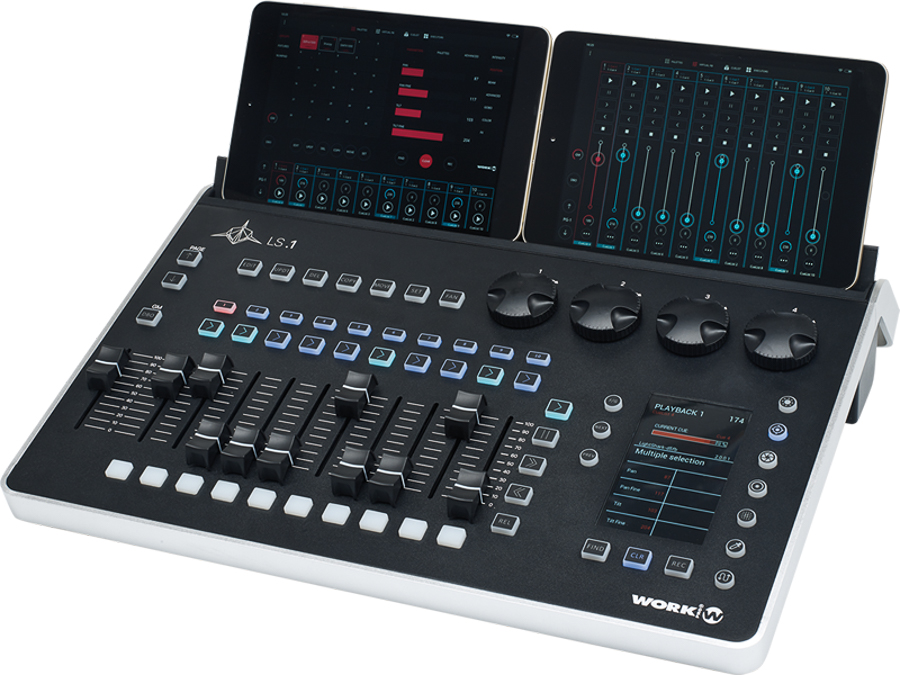 ---
Effective immediately, the following companies are exclusively responsible for LightShark sales, support, training and marketing in their respective territories:
---
"LightShark was something of a bold departure for WORK PRO, going way beyond the capabilities of any lighting control products we've released in the past," explains Juan Jose Vila, WORK PRO's Chief Sales Officer. "Awareness of the console and its advantages and impressive price point has spread fast and orders are very healthy.
Very rapidly following its launch, we were aware that we would need in some cases to create completely new international distribution channels for the product, distinct in certain territories from our existing routes to market. We have made great progress in the past few months putting those channels in place, and are delighted to announce these new partnerships in LightShark's key markets. Of course, we are continuing to negotiate arrangements for LightShark distribution in other territories; we will be making more announcements about these in the near future."
As a reminder of what this « LightShark » range actually does, let's summarise : it is an attractive combination of dedicated app for mobile phones or iPads, WiFi DMX processor, and lightweight control surface. As a final result, you get a LS-Core central, LS-1 and LS-Wing programming wings and 4 different nodes called LS-Node1,2,4 et 8.
LS-1
The LS-1 control surface provides 10 play-back faders, 4 rotating encoders, an integrated color touchscreen and a dozen RGB backlit buttons. On the back panel, 2 DMX512 outputs on 3-pin and 5-pin XLR and a WiFi transmitter complete this innovative new concept. This WiFi feature allows complete access to the software, no matter the Operative System (iOS, Android, Linux, Windows, macOS), on any mobile phone, tablet, or PC or MAC.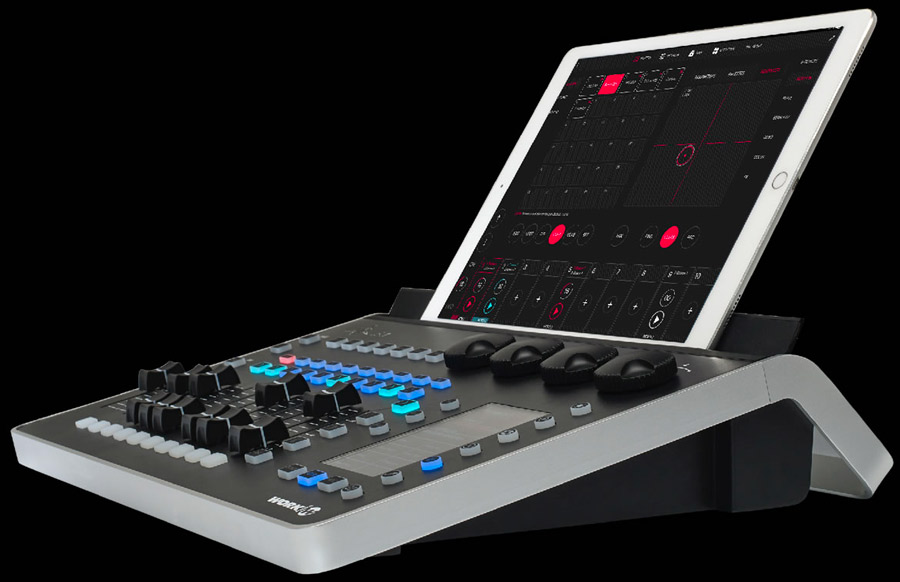 LightShark is a cross-platform lighting control system, with up to 8 DMX universes, which has an ultrafast web-based User Interface, being able to connect up to 3 devices at the same time to create your own multiscreen control system. Thanks to this concept, LightShark features a plug&play solution, avoiding the inconvenience of having to install any software or driver on a computer. A web browser (Chrome, Safari, Opera) is all you need to have complete access to the software, no matter the Operative System (iOS, Android, Linux, Windows, macOS). LightShark is a new concept in lighting control and it is a perfect solution for applications like nightclubs, DJ´s, medium sized and corporate events, schools, churches, etc…
An integrated slot holds the tablets in landscape mode as a natural extension of the console. The multi-touch capabilities are recognized as native and compatible by the LightShark software. Only the GUI interface is shared by several devices, the DMX software processing is handled by the hardware part on its own for maximum reliability.
The LightShark software
The software is of an easy kind. Work claims any lighting designer in just 15 minutes being able to use 100% of LighShark functionality. Always split in 5 tabs in every different screen, the LightShark is supplied in version 1.0.2.N. as we write this.
LightShark can control up to 8 DMX512 universes, i.e. 4,096 channels, and can support for diverse protocols including DMX-512, Art-Net, ACN, MIDI, UDP, OSC & HTTP, and MIDI as well. The number of fixtures is "limited" to 4,096, with an extensive built-in library and an internal editor.
Ten 10 main playback faders, plus 20 virtual playbacks, give you the ability to manage 30 playbacks in total. Extended cue memory of up to 1200 cues, Built-in FX engine with more than 20 customizable effects, with quick access to fanning function, submaster FX size & speed controls, customizable palettes, internal complete color picker and internal event scheduler (useful for architectural applications), all these features are crammed into what seems at first look only a "small" toyish console – but is not, indeed.
LS-Core
The LS-Core is based on a Raspberry type mini-PC, with software and features equivalent to LS-1. Despite an overall size that could fit any (big) pocket, it really respond like a true 8 DMX universes console, and acts like a plug&play solution, avoiding the inconvenience of having to install any software or driver on a computer. With its built-in web server app, all tabs are pre-loaded instantly in the web client. Its 1/4 19-inch rack format is perfectly convenient for installations, with its RJ45 port and integrated antenna for networking, its USB connector for optional MIDI control, and its deux DMX512 outputs in 5-pin XLR. It can be linked to one of the 4 LS-Node models to get more "real" DMX outputs.
LS-Node
The LS-Node range include 4 DMX ArtNet et sACN compatibles converters, d'une à huit sorties, configurable by web page, with 2 Ethernet ports. The 3 smallest models (LS-Node1, LS-Node2 and LS-Node4) are also in 1/4 rack format, POE (Power Over Ethernet) compatibles and powered thru USB-C port.
---
The biggest model, LS-Node8, is a 19-inch/1 U rack format, and in addition includes a LCD screen with comprehensive menu and multi-touch UI interface. The major part of the models also include a DMX merge feature in order to combine two different DMX incoming data flows.
Here are the different configurations :
LS-Node1 : 1 input + 1 DMX output
LS-Node2 : 2 inputs + 2 DMX outputs
LS-Node4 : 4 DMX inputs
LS-Node8 : 8 DMX inputs
---
LS-Wing
The LS-Wing is an additional block of 10 play-back fader and 20 play-back boutons. its size is similar to the LS-1 size, with 2 DMX 5-pin outputs, 1 Ethernet switch (3 ports), 2 USB charging sockets for recharge and data transmission uses. Each fader goes with 3 configurable buttons, and an horizontal slot on the rear part allows the insertion of a tablet (13 inch model maximum size).
---
More information on the Work Pro website
Posted on 3 December 2018
Crédits -
Text and Photos : Work Pro and Tristan Szylobryt.