To say that we had no idea that a Yamaha console would sooner or later fill out the DM series beyond the little DM3 would be a lie, but the fact remains that this DM7 is a *very* nice surprise, and we mean that. An excellent reminder that this brand built its first digital console 35 years – almost two generations – ago.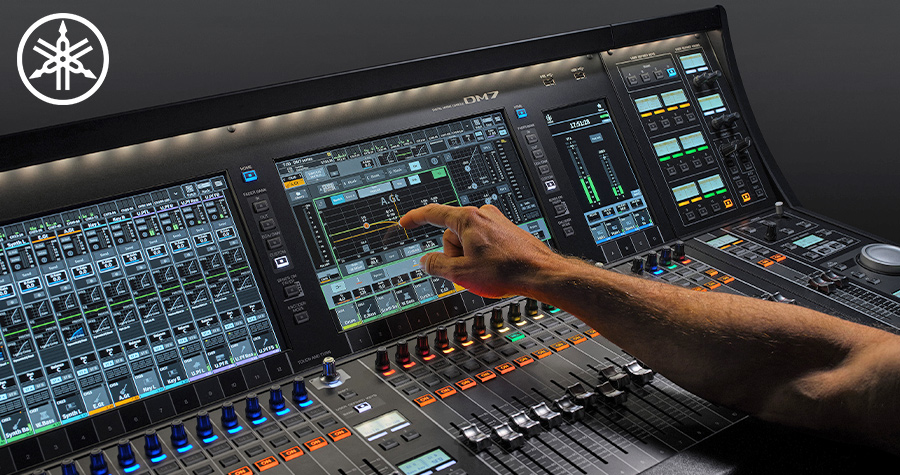 ---
Unveiled at an event in the heart of London that was simultaneously very British and very Japanese, this console – actually two and a half, as you'll see – is packed with hardware and software resources, and seems to be taking the CL Series by the shoulder and accompanying it towards a well-deserved retirement.
That being said, our hosts were quick to tell us that this is not the case, adding that the second piece of good news is that the QL, CL and PM Rivage are back on the assembly lines, and that Yamaha can again take orders and fill them, as the supply of components has found its way back to the Japanese assembly lines.
As always, it was Andy Cooper, PA Application Engineering Manager who had the privilege of unveiling a DM7 flanked by its DM7 Control sidecar and a DM7 Compact, with a delicious aroma of hot components filling the room. The three tuning forks are resonating again!
---
We were also pleased to see for the first time the AI algorithms applied to Audio Pro, demonstrated fire years earlier by their creator Kazunobu Kondo at the System Designer Conference at Disneyland Paris.
What seemed a distant promise, and Artificial Intelligence a rather far-fetched concept, now equips the DM7 and takes on the sweet name of Assist mode, with help to relieve the technician of repetitive tasks such as typing in the name of each instrument, or even more with HA Level (gain) and Fader Level (mixing).
---
In addition to the consoles, three add-on cards also make their appearance in a new, more powerful format, called PY. These offer a welcome supplement to what could have been a missing element in DM7's immediate success.
PY8-AE offers 8 AES/EBU inputs and outputs with SRC.
PY64-MD connects 64 MADI streams with a Wordclock input for SRC.
Finally, the PY-Midi-GPI offers an input and output port for Midi and a GPI port.
Ideally, a second PY slot on the large DM7 would have been a welcome addition, but it's safe to assume that a hardware extension will appear in the future to enable MIDI and AES, or MADI and MIDI at the same time…
---
But enough cherry-picking, let's move on to a brief summary of what this new console has to offer, for an already defined and sensible price, which we'll provide at the end of this article. First of all, let's emphasize once again the power and versatility of the DM7.
This series is designed to deliver excellent audio performance with ergonomics optimized for live sound, events, broadcasting, streaming and hybrid mixing, where one console is used to mix more than one stream completely independently.
Overview
The all-in-one DM7 features high input and output capacities, both locally and via native Dante. Two models are available: the DM7 with 32 local inputs and 16 outputs, capable of handling 120 mono channels in a footprint of 793 mm x 564 mm, and the DM7 Compact with 16 local inputs and 16 outputs, capable of handling 72 mono channels in a footprint of 468 mm x 564 mm.
---
Both models offer up to 144 networked Dante inputs/outputs at 96 kHz, plus 48 mix buses, 12 matrix buses and two stereo buses. They can be used with Yamaha R Series I/O racks and a variety of Dante peripherals for flexible, customizable audio systems.
Both consoles can be supplemented with the DM7 Control, a hardware extension to create a DM7-EX (or DM7-EX Compact) system. This unit adds more physical controls and is supplied with the additional Broadcast and Theater software packages.
Sound quality
The foundation of audio engineering must be transparent, uncolored sound: Yamaha mixing consoles are designed to capture sound with impeccable precision before letting users express their creativity.
---
To achieve this, the DM7 series boasts a series of key features. For example, each Channel Strip includes the same four EQ types as the flagship RIVAGE PM series, as well as the all-new FET limiter and diode-bridge compressor. The signal order of the EQ and Dynamics 2 can also be modified.
Dan Dugan automatic mixing is included as standard. Pre-assigned to the Channel Strip, it automates up to 64 mixing channels without consuming EQ Rack resources.
The system also includes a range of virtual circuit modeling (VCM) plug-ins, such as the Portico 5033 equalizer and Portico 5043 compressor/limiter created in collaboration with Rupert Neve Designs, as well as the DaNSe dynamic noise suppressor and Dynamic EQ.
In addition, an effects rack provides access to a range of high-quality effects.
Operation
The DM7 series features a new, simpler and more efficient user interface, with more intuitive ergonomics, while retaining the familiar concepts associated with the brand's consoles. Two large 12.1" touchscreens (only one on the DM7 Compact) combine intuitive and precise operation, using the screen's physical encoders and Yamaha's familiar "Touch and Turn" controls.
---
A new Selected Channel View screen displays a list of information on individual channels, allowing quick access to the parameters the operator intends to use, as well as the overview screen for operation reminiscent of an analog console.
A histogram has also been added to the input meters to facilitate handling of the preamp levels. Another innovation for the DM7 series is the 7" utility screen, which provides easy access at all times to essential information and functions such as scene lists, user keys and meters.
Features
One of the major new features of the DM7 series is Split mode, which allows input channels, scenes and mix buses to be split so that a DM7 or DM7 Compact functions as two separate mixing consoles. With just one desk, users can mix FoH and monitors, FoH and broadcast or streaming without any compromise.
The integrated Dante network supports up to 144 input and output channels, and can be connected to devices from a wide range of manufacturers for flexible, highly scalable audio systems.
Preamplifier remote control and device control are also supported, making it easy to patch and control Dante devices from the console.
In addition, the DM7 series features a rear-panel USB-C port with audio interface functionality, offering 18 inputs/outputs for recording, distribution, playback as well as connection to conferencing systems, and control via MIDI devices and digital audio sequencers.
---
Naturally, Yamaha's renowned reliability is at the heart of the DM7 series, and to take things a step further, it features a redundant power supply.
A wide range of software and applications are supported, including DM7 Editor, DM7 StageMix, MonitorMix, Console File Converter, ProVisionaire Control and ProVisionaire Touch, enabling offline setup, wireless mixing, monitor mixing and control (including peripheral devices)*.
* DM7 Editor and DM7 StageMix allow users to enter channel names in the language of their choice.
The DM7 series includes an Open Sound Control (OSC) server function, which allows consoles to be controlled from OSC-compatible devices, and the DM7 Compact can be mounted in a standard 19" rack for convenience.
Expansion possibilities
The DM7 series can be expanded with the optional DM7 Control. By creating the DM7-EX (or DM7-EX Compact) system, this device adds two additional faders, user controls, an encoder wheel for digital audio sequencer control, scene memory controls, panning and monitors.
It provides a user-friendly working environment for productions such as musicals, which require precise triggering and scene changes, and shows where monitoring and controlling digital audio sequencing is essential**. (** DM7 Control requires DM7 V1.5 or higher firmware.)
The DM7 Control comes with dedicated Broadcast and Theater software packages.
– The Broadcast package includes functions designed to facilitate broadcast mixing, including support for 5.1 surround sound, Mix Minus, Audio Follow Video and Loudness Meter.
– The Theater pack brings a number of features dedicated to live performance, such as Actors Library and DCA Scene Grid, as well as AFC Image control. These packs can be purchased separately for DM7 series users who don't need the DM7 Control.
---
The PY card slot on the rear panel of DM7 and DM7 Compact offers extensive connectivity with various audio formats.
The DM7 and DM7 Compact also come with VST Rack Elements, a plug-in hosting software that lets sound engineers create their own effects racks, as well as Steinberg's Nuendo Live software optimized for live recording.
"Complementing our top-of-the-line RIVAGE PM and renowned CL and QL consoles, the DM7 series offers users a powerful option for starting their journey with Yamaha or expanding their Yamaha fleet," says Thomas Hemery, General Manager Global Marketing and Sales, Yamaha Professional Solutions. "With future firmware updates, such as the significant new RIVAGE PM feature launching soon, the DM7 series will continue to evolve for many years to come."
---
Feedback on DM7 from a number of key clients and the very first customers surveyed was unanimously positive, and it's worth repeating that both consoles will be available starting in December, while the DM7 Control extension and the Theater and Broadcast software packages will be available in December 2023.
---
Public prices, excluding racks, are as follows:
DM7 Compact: 13 950 €
DM7: 26 450 €
DM7 Control: 4 500 €
Software packages: 2 000 €
---
Andy Cooper has produced a ten-minute video in English, in which he details as much as possible about what the two DM7 consoles and their extensions have to offer. Watch it here:
---
---
In conclusion, I'd like to thank Yamaha and Nicolas Vermot for their helpfulness, competence and patience during this brief London jaunt, and to all the European staff for their availability and warm welcome.
Posted on 5 July 2023
Crédits -
Text and Photos: Ludovic Monchat and Yamaha