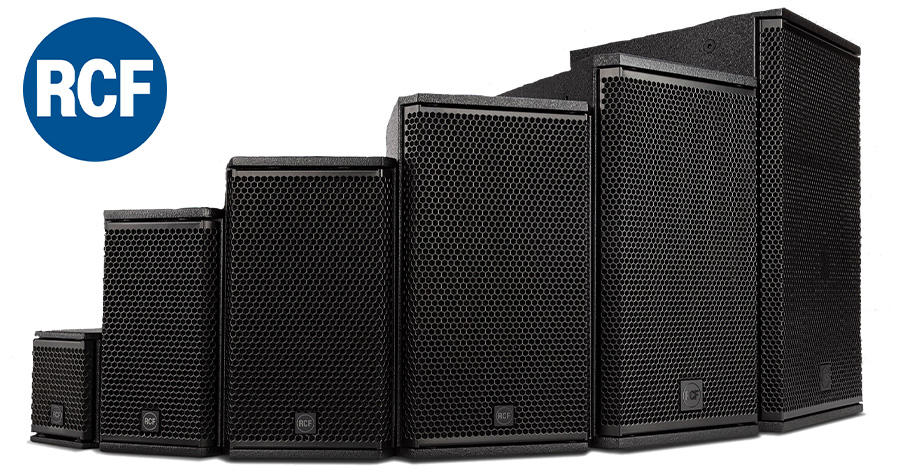 For those who might not be familiar with the brand, RCF is a pro audio manufacturer with a comprehensive catalog of active and passive loudspeakers. From ultra-flat ceiling speakers, to line arrays, studio monitors and stadium loudspeakers, their various product lines cover all applications involving audio diffusion and reinforcement.
We caught up with Daniele Romani, RCF Audio Systems Designer, for an overview of the latest products from the Italian company.
Although RCF is specialized in active loudspeakers, the company also offers a wide range of passive products, now boasting three ranges of amplifiers:
the sturdy and spartan two-channel IPS series, the powerful multi-channel QPS series and, last but not least, the two four-channel amplified controllers with DSP and RDNet control, XPS 16KD and XPS 16K.
The latter two – which differ only in the presence, or not, of a Dante port – deliver the performance needed to power the Italian company's largest and most demanding passive products.
With 4,000 W per channel at 2.7 ohms and a switching power supply driven by a next-generation PFC, control via RDNet or the on-board 4.3″ touchscreen, 40-bit floating-point processing, 96 kHz operation and more, this amplified controller is a serious beast.
The big advantage for users of RCF's active models is that monitoring and control of their externally-amplified systems has become just as simple and comparable in every way to that of their active models. Once you've assigned a speaker preset to an amp channel, you'll find all its available settings and, with the XPS 16X and 16XD, there are plenty of them.
SLU : These two amplifiers pave the way for the arrival of a new generation of passive loudspeakers in the RCF catalog…
Davide Romani : We already have a number of passive installation loudspeakers that will benefit from this amplifier, which also incorporates FirPhase crossovers and Bass Motion Control, a specific algorithm for bass transducers that keeps the cones within a defined envelope and protects them from fatigue, distortion or even failure. It's also true that these amplified controllers will be used on a new forthcoming generation of touring loudspeakers that will take full advantage of their potential.
SLU : Speaking of potential, the output modules used in your new amp have been developed by a renowned Danish manufacturer.
Davide Romani : Yes, like other pro brands, we entrusted the manufacture of these modules to Pascal Audio, a company with whom we like to collaborate because of the strong synergy we enjoy with them. In particular, we worked hard on the efficiency of the XPS amps, its ability to respond to any demand without ever going into stand-by.
We shared work and data with them, for example, when we were developing the DSP, so that the amp's full potential could be exploited at all times.
SLU : Your DSP appears to be very comprehensive.
Davide Romani : It's really loaded with features, including our own algorithms and a host of new possibilities such as 16 fully parametric EQs, advanced dynamic processing including dynamic equalizers, delays, bass shaping, air absorption compensation, mid-bass correction and all kinds of crossovers. The package is extremely comprehensive, in addition to the presets for each speaker model.
---
SLU : It must have taken quite a while to develop these new amplifiers
Davide Romani : Yes, but time, when you have it, can help to get things done, and with Covid we've had plenty of it, even though it was complicated by other logistical and component-sourcing issues. For the record, we started working on these two models in 2018, and the quality we've obtained is so high that they will be companions to the GTX series, a new high-power system that will be launched shortly.
SLU : The QPS amps already existed…
Davide Romani : Yes, absolutely, but the power supply of the new models is completely different, hence the term "Class HD". Class H involves varying voltage levels that are activated in increments according to the amp's requirements, in order to maximize its efficiency. With Class HD, instead of switching voltage in steps, the power supply follows the audio envelope, providing a little more than required, without the issue of incremental steps.
This type of operation improves efficiency and reduces temperature increase in the stages, not to mention offering the possibility to operate at rated power on loads down to 2 ohms, with both DC and VHF protection to prevent very high-frequency peaks from damaging the transducers.
Last but not least, the QPS models support bridged operation. This series, which requires the use of an external processor like the DX1616 or DX4008, will be a big hit with integrators thanks to its power, reliability and size.
SLU : So, out with the IPS, in with the new IPS K
Davide Romani : That's right. This is our new entry-level 2-channel amplifier series; reliable, robust and with a wide range of models. As with the other series, the number with the "K" gives the total maximum power available at 4 ohms for the two channels.
The power has been doubled from the last series to the new one, which was necessary since the old series started with a 2 x 300 W which, with an 8 ohm load, as it was frequently used, only delivered 170 W!
For such power levels, we have some very interesting retail amplifiers. Now with the IPS, we start with a 2 x 750 W at the bottom end and go up to the IPS 5K, which delivers 2 x 2,600.
The outputs are via Speakon and terminal blocks and, instead of a fuse, we've installed a resettable breaker. As you can see, we use large toroidal transformers which, in permanent installations, pose no problem and allow us to obtain the various voltages required for Class H. This fairly conservative configuration guarantees reliability and a very attractive price.
After power, let's talk about wood
SLU : After power, now let's talk about wood and, sometimes, composites: the Compact A series looks a lot like the ART series…
Davide Romani : That's right, the cabinetry is derived from that series, the ART9 to be precise, and that's why Compact A has handles, which aren't essential in the installation market, but there are all the mechanical accessories that allow them to be installed.
---
This series, which included only the 10" enclosure, is now expanded to include a 12" and a 15" model. The use of the same composite cabinet reduces its cost compared with wood, and gives it a modern look suitable for a number of applications, such as stage monitors for a theater.
The entire series uses our latest True Resistive Waveguide with constant directivity and the same 1.75" driver, with the bass reproduced by a 10", 12" or 15" driver. The maximum SPL ranges from 128 to 130 dB.
---
SLU : Then there's the all-wood Compact M
Davide Romani : These are excellent loudspeakers equipped with top-of-the-line Precision-series transducers. The grille is now visible and the foam is placed behind it, as requested by our customers. The smallest newcomer, the Compact M04, completes the small end of this range of two-way passive enclosures that also includes the M05, M06, M08, M10 and M12. Here too, the number indicates the diameter of the bass transducer.
The M04 is the smallest all-wood speaker that RCF has ever built. It's a sealed-box enclosure with a 1" dome tweeter with a neodymium magnet, in a coaxial configuration with a 4" bass transducer. It sounds great, with a conical coverage pattern and a maximum SPL of 113 dB.
Of course, it needs a subwoofer to fill out the lower end of the spectrum, and its 16-ohm impedance means that you can run several speakers in parallel, making better use of the power available from your amplifiers. As with all Compact M models, the input is via a rear-mounted terminal blocks.
The M05 and M06 use the same 1" tweeter coupled with a specific waveguide, while the LF transducer uses bass reflex loading. At 115 and 116 dB, the SPL is reasonable, but the sound is particularly high-quality. Both models feature 120° x 80° coverage.
From the M08 up to the M12, the high end of the spectrum is handled by a 1.4" driver, which boosts the maximum SPL to 124 dB for the M08, and to a 129 dB for the M12.
This series will soon be ready for outdoor use, as its paint will be upgraded to polyurethane, and an internal water-repellent fabric and waterproof Amphenol connector will be available.
SLU : Are there any presets for Compact M?
Davide Romani : They are in development now, but this range of loudspeakers works very well even without presets. We have many customers who already have their amps and won't be adding DSP platforms to implement them. Finally, the M models are solid and the drivers are protected by a bulb. On larger models, we opt for MOSFET.
SLU : There are also two new Compact C series models, the C 32 and C 45
Davide Romani : These replace the C 5112 and C 5215, each of which came in five different versions, according to the coverage angle of the waveguide. Now, the coverage can be adapted with optional guides.
---
These two new C 32 and C 45 enclosures represent the top-of-the-range compact, two-way passive installation speakers in the RCF catalog, and both feature titanium-dome drivers with neodymium magnets – with a 3" voice coil in the case of the 32 and a 4" in the case of the 45 – loaded by a waveguide with a native diffusion of 100° x 50°, which can be oriented as required. With adapters, you can obtain 100° x 25° and 60° x 25°.
The two transducers that handle the lower end of the spectrum are also equipped with rare-earth magnets and have massive voice coils, measuring 3.5" for the 12" and 4" for the 15". Their sensitivity of 97 and 98 dB, respectively, combined with their power handling capabilities, allow them to achieve SPLs of 137 and 138 dB.
With the C models, we're clearly talking about a system designed for live performance, top-level clubs and any application requiring very high levels of performance. All the components come from our Reggio Emilia factory.
SLU : To conclude, what about the subs?
Davide Romani : We only missed by a few days the opportunity to present the S 15, the top-of-the-range companion to the S 10 and S 12. These are models designed for installation and are the companions of the Compact M.
The maximum SPL for the 10" and 12" are 124 and 125 dB respectively, with a bass response down to 50 and 40 Hz. We still don't have the figures for the S 15.
There are two other 15" models dedicated to the C series, the S 8015 LP, for Low Profile, designed to slide under a piece of furniture or a bench seat to be discreet, it features bandpass loading. Then there's the S 8015 with bass reflex loading.
The respective SPLs are 135 and 133 dB, and the LF limit is 43 Hz for the bandpass and 35 Hz for the bass reflex. In any case, all these subs require the use of one of our DSPs to ensure proper coupling with the heads, and likewise effective protection.
Further information on:
– Electronics
– Two-way passive installation loudspeakers
– Passive installation subs
More info on the RCF website
Posted on 7 July 2023
Crédits -
Text: Ludovic Monchat – Photos: Ludovic Monchat and RCF