Mother's Day in Australia means spending time with Mum, but the strict government restrictions in place as a result of COVID-19 meant the closest families could get this year was a FaceTime call.
The team at the Royal Women's Hospital in Melbourne wanted to make this year's Mother's Day special and called on Australia's rental company Resolution X for help.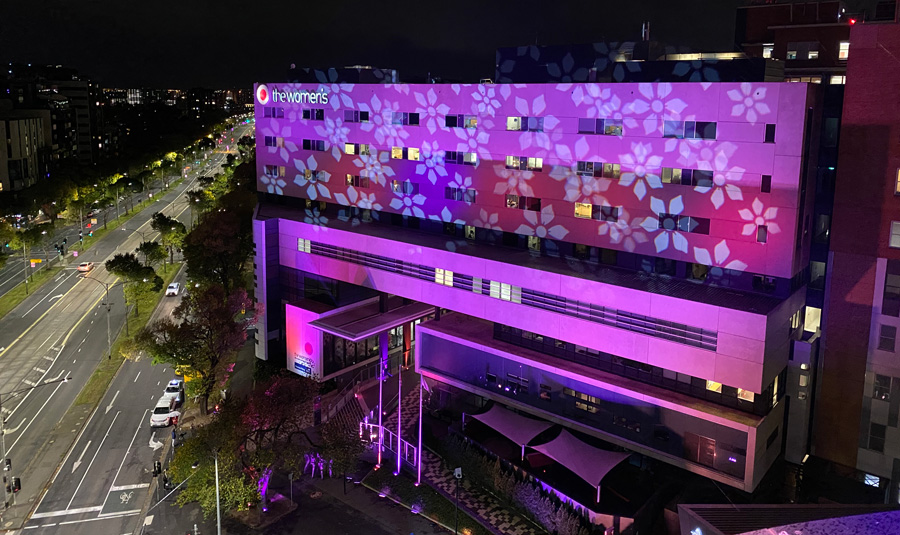 The brief was to illuminate the façade of the hospital with colour and messages of love and support for all mothers. As part of the display, images of new and expecting mothers were projected onto the building in a rotating 10-minute light show.
However, projecting the images onto the building turned out to be no small feat. The best vantage point for the setup was on the rooftop of a building diagonally opposite the Royal Women's façade; a horizontal throw from the projection location approached 90m with an angle of more than 50 degrees. Further challenging the team, wireless DMX was being beamed across the road and seven stories down to control all of the LED wash fixtures that were up-lighting the façade.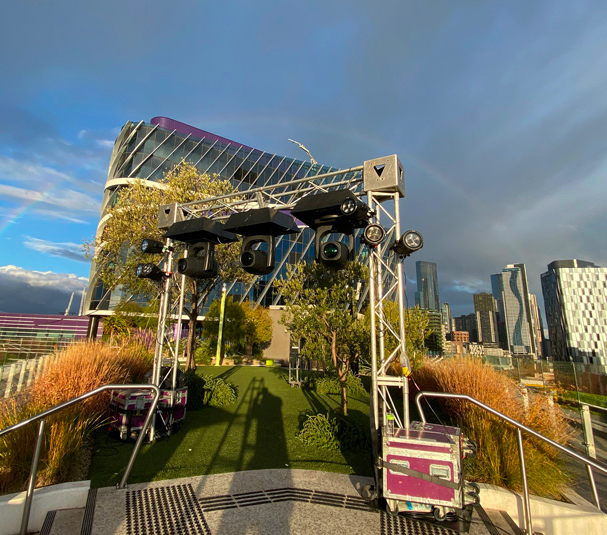 With such an extreme throw distance, and with a desired image width of only 10 metres, the Claypaky Scenius Unico was the ideal fixture for the job.
Resolution X's Senior Manager of Production, Jamie Russell, remarks, "We had to balance the need for reliability, power consumption, significant output and very narrow beam angle. The Claypaky Scenius Unico ticked all the boxes and was the clear choice in the end."
Resolution X used three Scenius Unicos, each loaded with multiple custom gobos, to project images onto the building. Gobotech, Resolution X's preferred gobo manufacturer, supplied the glass gobos for the fixtures with full keystone correction to each gobo based on where the image would finally sit on the building.
"When projecting images of people, there really isn't much room for error with keystoning, especially at the angles we were approaching the building from," comments Jamie Russell. "Putting the new mums out of proportion would not have been an ideal start to their Mother's Day, but the gobos were perfect. We couldn't be happier with the service from our partners at Gobotech."
---
---
The Scenius Unicos continued to out-perform all expectations once the sun went down. Jamie Russell observes, "We were under significant pressure as the local media outlets were to be there to take pictures for the nightly news right at dusk.
Because we didn't have an opportunity to focus with the sun down before the deadline, we were amazed to see that even at 90 meters the sheer output of the fixtures made the projections still legible on the building in full sunlight. The performance of the Unicos was really remarkable."
For a Mother's Day like no other, Resolution X were proud to help make the day something special despite the restrictions in place. "In these times, all businesses need to consider alternative ways to communicate their message, and gobo projection is a cost effective and high-profile way to do just that. Our client was blown away with the result, as well as the subsequent response they got through traditional and social media."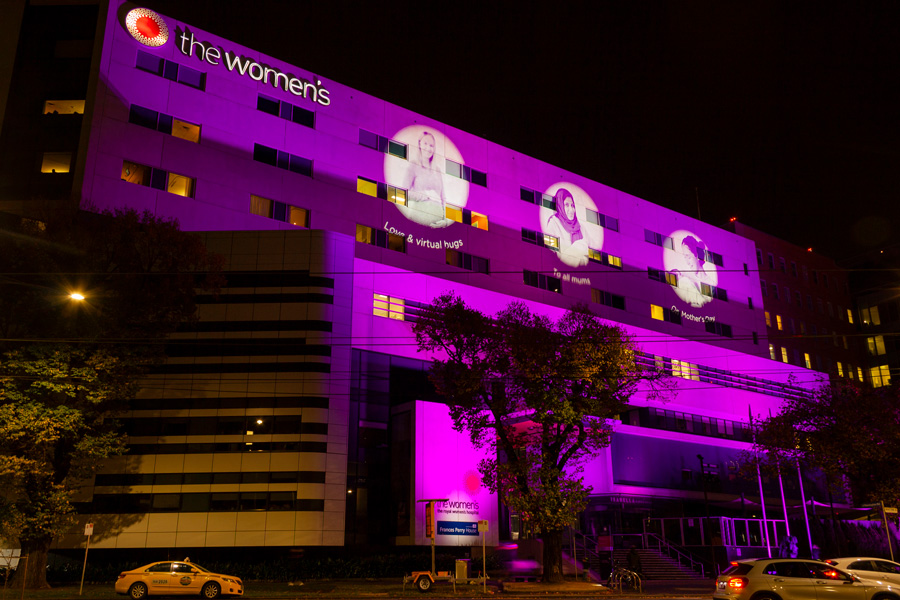 More on the Claypaky website
Posted on 30 May 2020
Crédits -
Text from Claypaky