Bosch's Building Technologies division is pleased to announce a close collaboration between one of its prestigious brands, Dynacord, and loudspeaker manufacturer TWAUDiO, based in Ludwigsburg, Germany.
TWAUDiO has adopted Dynacord's TGX Series for live sound and IPX Series power amplifiers for fixed installation as their new preferred system drive. This choice followed meticulous internal and field testing by TWAUDiO, wherein both Dynacord amplifier series showcased superior performance.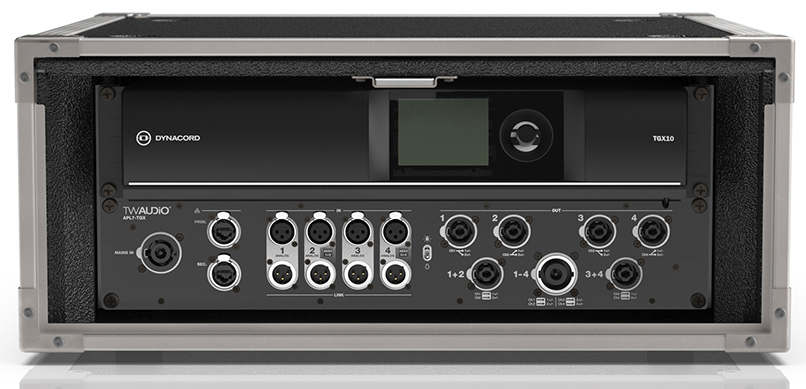 Dynacord TGX and IPX Series stand out as two of the most powerful on the market boasting a power density of up to 20,000 watts from a single amplifier with all channels driven and advanced DSP capabilities, including FIR-Drive.
These high-performance multi-channel amplifiers embody several proprietary Dynacord amplifier technologies such as ecoRAIL for optimum power efficiency or digitally controlled Power Factor Correction (PFC) to achieve maximum output independent of mains power fluctuations.
Engineered and manufactured in Germany, both series also feature the integrated OMNEO IP networking architecture, enabling full Dante audio compatibility and OCA/AES70 control.
Both companies' collaborative spirit highlights their shared commitment to offering customers maximum flexibility, service, and performance in the professional audio sector.
"Our partnership with TWAUDiO reaffirms Dynacord's reputation as an ideal complement to other loudspeaker brands," says Fredi Palm, Business Development Manager for Dynacord. "Their decision to take on our products further confirms Dynacord's leadership in advanced amplifier technology."
---
Marco Deinl, General Manager at TWAUDiO comments, "Teaming up with Dynacord aligns well with our mission to strive for superior audio performance. Following weeks of in-depth optimization, Tobias Goldmann, our support manager and a member of our R&D team, refined the loudspeaker presets to maximize the synergy between TGX/IPX amplifiers and our speakers.
The next step for us was the creation of a new, preconfigured 4U system rack for our loudspeakers which includes a TWAUDiO APL7 connection panel and a TGX10 amplifier. Moreover, a new touring rack, integrating a DANTE switch and three TGX10 amplifiers, is in development. This marks just the beginning of an exciting journey we've embarked upon together."
---
Christian Glück, Global Product Manager for Dynacord, highlights the seamless software integration. "Our TGX and IPX Series deliver not only premium quality and rock-solid performance, they are also complemented by our SONICUE Sound System software for intuitive setup, monitoring and control.
SONICUE comes with a database that includes settings for multiple loudspeaker brands. The latest V1.3 software update, which is available as a free download, now features speaker settings for all TWAUDiO systems to facilitate easy and optimal sound system tuning."
More Info on the Dynacord website and on the TWAUDIO website
Posted on 24 October 2023
Crédits -
Text and Photos: Dynacord