Emily Resort is a premium multifunctional complex offering a wide choice of recreational facilities, including a 166-room hotel, a wellness and spa area, and a medical centre and all-season pistes for skiing. Close to the historic centre of Lviv with picturesque views of the Vynnykivs'ke Lake, the flagship of the venue's extensive list of offerings is the Emily Event Hall.
It's the largest concert hall in Western Ukraine, featuring the country's most complex permanent 3D mapping projection weaved into the venue's undulating indoor mesh wall, as well as the country's first L-Acoustics K3 audio system, installed by L-Acoustics official distributor for Ukraine and Moldova, RealMusic.
The 1,500m² event space has everything necessary to host world-class events, including a large stage with high-quality sound and lighting equipment, a well-organised backstage, a bar, catering facilities, and a vast interactive video wall.
When K3, L-Acoustics' smallest full-range line source system became available, Emily Event Hall was the first venue in Ukraine to purchase the new system, which perfectly aligned with the requirement to deliver powerful sound for mid-size events.
---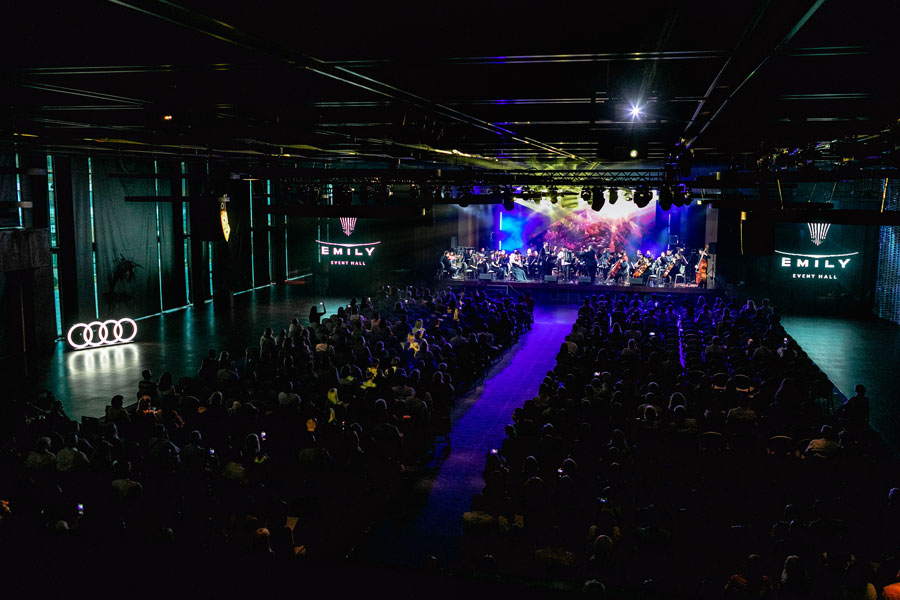 Explaining their decision-making process, Denys Rynskyi, curator of the Emily Event Hall project, says their approach was thoughtful and responsible right from the start. "We took many technical riders into account, consulted with artists' sound engineers, and studied the experiences of some of the best concert venues in the world. After this extensive research, we had no doubt about the best system for our venue – it had to be L-Acoustics!"
"This is truly a landmark project for Ukraine, one which will be very difficult to match in terms of its level of technical equipment," says Volodymyr Golovan, head of the pro-audio and system integrations department at RealMusic.
"The key requirement from the client was very straightforward yet challenging: 'Emily Event Hall needs to be equipped with the highest quality and most rider-friendly sound system available on the market," Volodymyr continues.
After looking at different solutions from L-Acoustics, his team recommended K3 because of its compact size and versatility. "The new K3 perfectly aligned with the client's requirements."
---
The final design comprises left and right hangs of six K3 per side. Using L-Acoustics Soundvision software, RealMusic's integration team set the horizontal angle of the three upper K3 cabinets to 70° with Panflex, helping to reduce unnecessary reflections from the side walls and increasing the long-throw ability of the arrays.
The three lower K3 cabinets are set at 110°, ensuring wider coverage of the venue centre. Two A15 Wide, also set at 110°, are deployed as a centre hang, with six KS28 subs ensuring solid coverage in the low-frequency range. Two left / right hangs of two A10 Focus and one A10 Wide provide delay coverage.
The entire system is powered by four LA12X and one LA4X amplified controller, a P1 Processor is responsible for speaker management, and an LS10 is used as an AVB switch.
Pavlo Mineiev, an L-Acoustics certified system designer at RealMusic, echoes Golovan's thoughts on the suitability of K3 for the venue: "L-Acoustics K3 line array is the best solution for Emily Event Hall. The system is incredibly versatile and can accommodate anything from art exhibitions to conferences, presentations, and live music events."
---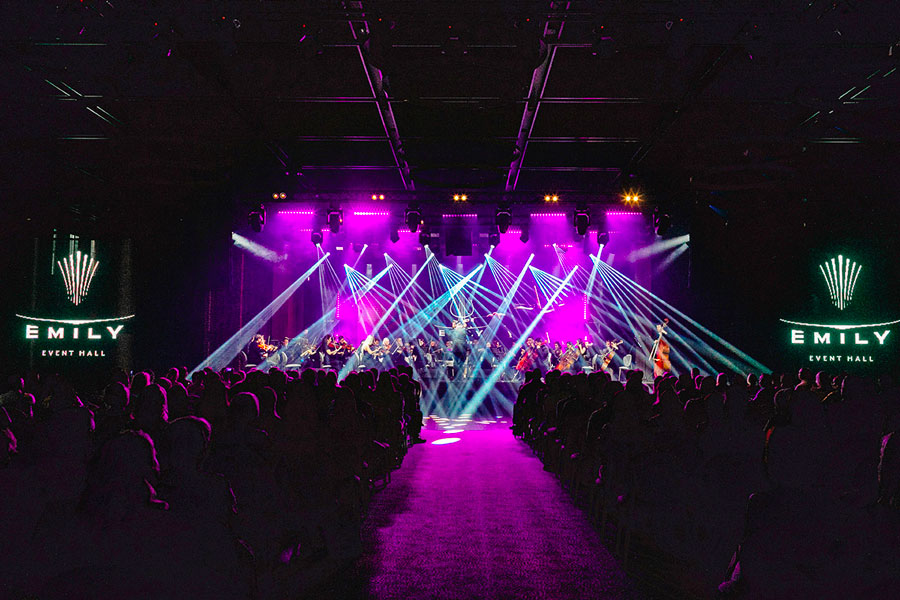 Mineiev adds that, unlike competitor solutions, K3 is built on 12-inch loudspeakers and a powerful four-inch driver, so it is a genuinely full-range array with the world-renowned sound signature of the flagship K1 and K2.
"For a five-star venue like Emily Resort, it was very important to have a highly flexible and reliable system that offers redundancy," he concludes. "The matrix processor and M1 measurement platform allow for up to three guest mixing consoles simultaneously, and connections via AVB with full analogue redundancy ensure smooth and uninterrupted operation.
Following the installation, earlier this year, both the RealMusic team and the technical team at Emily Event Hall are delighted with the system and can't wait to fully unveil the power L-Acoustics sound to visitors!"

Since February, Emily Resort has remained open, from the very beginning of the Russian invasion hosting refugees and providing support to those in need. Emily Event Hall is hosting charity concerts and helping to collect funds to support the Ukrainian effort.
More on RealMusic and L-Acoustics K3, visit the Real Music website and the L-Acoustics website
Posted on 15 December 2022
Crédits -
Text: L-Acoustics - Photos: Andryl Chornobay