Wycombe High School (WHS) is an Academy Grammar school for girls, located in the Buckinghamshire town of High Wycombe. The school is a centre for excellence in sciences and the arts, and takes a progressive view on the use of technology, both in terms of educating its students and engaging with the wider community.
One of WHS's recent eye-catching initiatives has been to create its own YouTube TV channel under the guidance of its Marketing and Communications Manager, Bob Massie.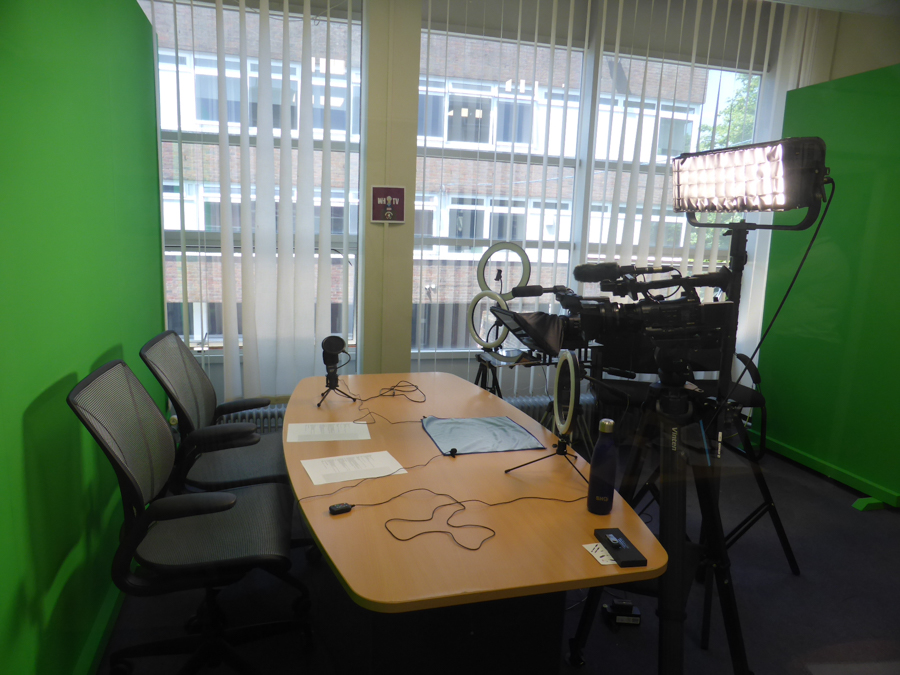 Before joining the school in his current role, Bob enjoyed an illustrious career as a media executive, occupying key roles at ITV, IMG and XIX Entertainment amongst others. The knowledge and insight he brings to WHS has proved invaluable. With a brief to develop creative methods of marketing the school to prospective students and their parents, as well as to teachers and other potential staff members, Bob, as might reasonably be expected, turned to the power of television…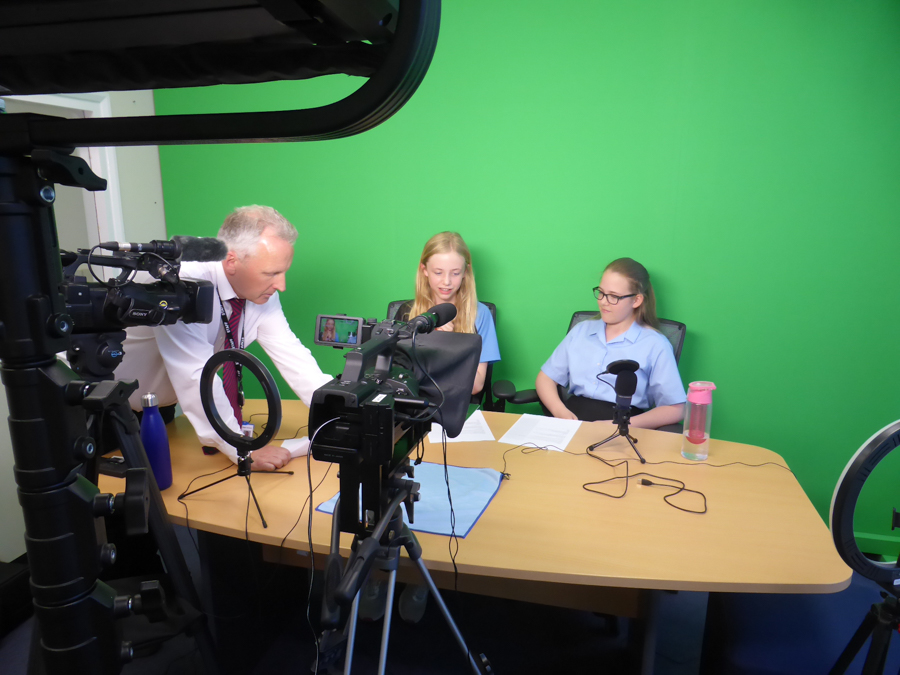 Harnessing every resource available to him, not least the latent talents of the school's student population, Bob took over some empty office space and made a start. His aim was to create as professional a studio set-up as was possible, where the channel could create engaging content while simultaneously educating the students in the art of its delivery.
Headteacher Sharon Cromie was supportive of the project from the beginning, realising that the dynamics of TV content (particularly under the direction of an experienced media professional) could go far beyond the constraints of traditional marketing materials.
Essentially, Wycombe High TV (WHTV) would be both marketing tool and educational experience rolled into one – a channel for the school, by the school.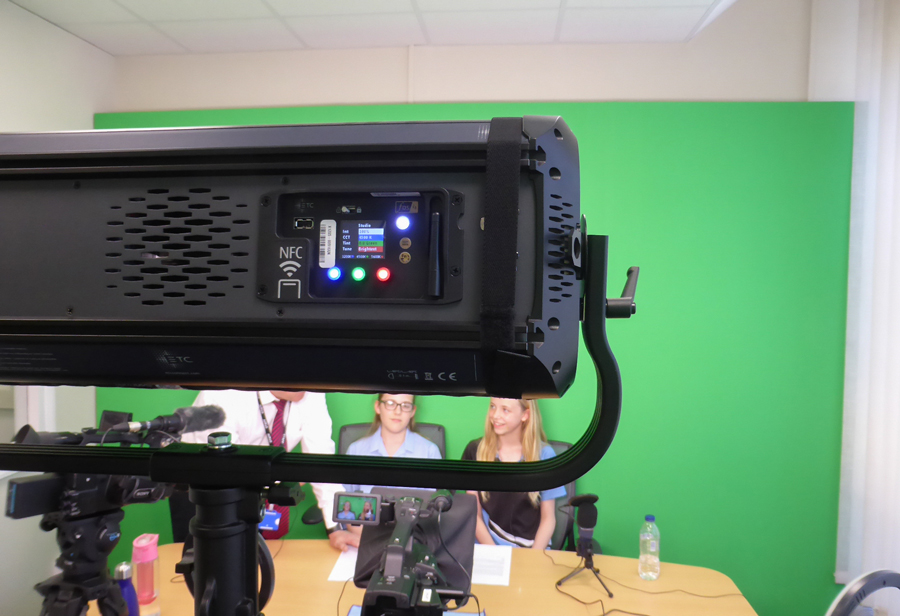 A key element in the very early stage of the project was to create an effective green screen for the embryonic studio space. WHS's site management team stepped in to create portable panels that could be moved to different locations if required.
Provided that the accompanying lighting was of a high standard, this would ensure consistency of quality across broadcasts. A chance conversation which took place whilst Bob was buying chroma key paint from specialists Scenic Supplies, led to a meeting with Barry Grubb of lighting rep company 3LR. Following a consultation with Barry, WHTV trialled one of American lighting manufacturer ETC's fos4/PD8 LED Panels.
Bob immediately knew that the fos/4 panel was exactly what he needed. Easy to operate and adjust, and delivering exceptional light quality, the unit impressed from day one. With the channel now up and running and gaining momentum, the school, with the support of its Parents and Friends Association, invested in two of the ETC fos4/PD8 panels, which were supplied by Barbizon Lighting Company.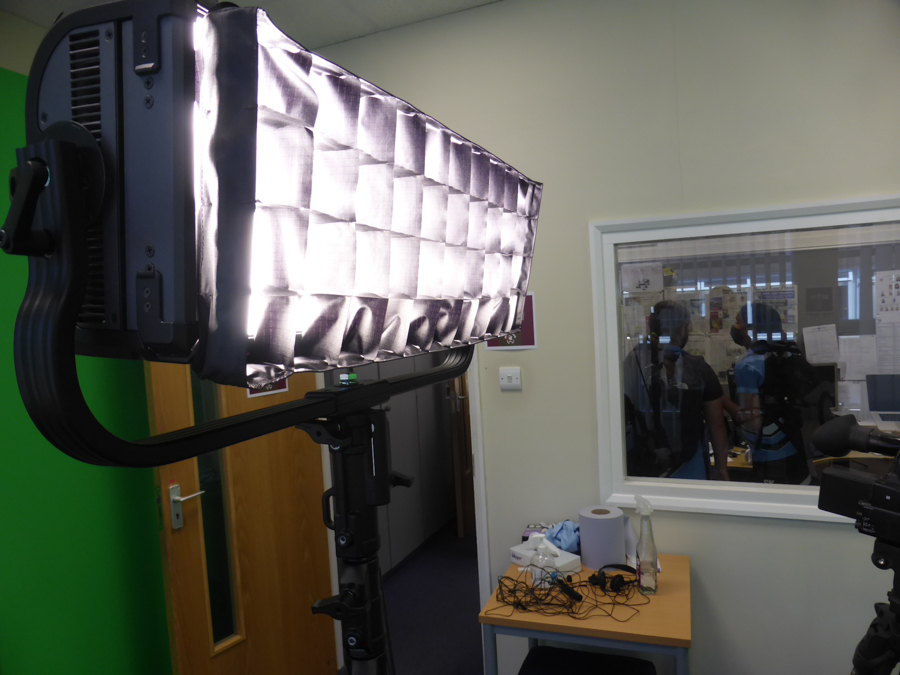 In Bob's words they are: "Perfect, perfect, perfect! If we were going to do things properly and show the students how to do things properly, we needed lighting that was safe, versatile and robust, which would provide us with a completely professional look without any compromise on quality.
Barry took the time to talk me through the operation and settings, and I've subsequently done that with the students, all of whom embrace the technology as a matter of course. It was important that the units were easily portable to enable their widest possible use, and, as with everything in the education sector, were available at a competitive price. They've more than proven their worth."
WHTV continues to move from strength to strength. Whilst undoubtedly providing the school with an important channel of communication and connection during the difficulties presented by COVID19, Bob is keen to stress that in his view, that only constitutes a small part of a much further-reaching story:
"There's no doubt that WHTV served the school very well during lockdown periods – we were able to film the end-of-term concert and put it out on YouTube, for example – but the channel is much more than a stopgap response to the pandemic.
With a combination of good judgement, some luck and the dedication and drive of the students, it has become a firm fixture of school life. The viewing figures are excellent and continue to grow, the students are brimming with ideas for new content, and as a way of presenting the school to the wider community, it would be hard to beat."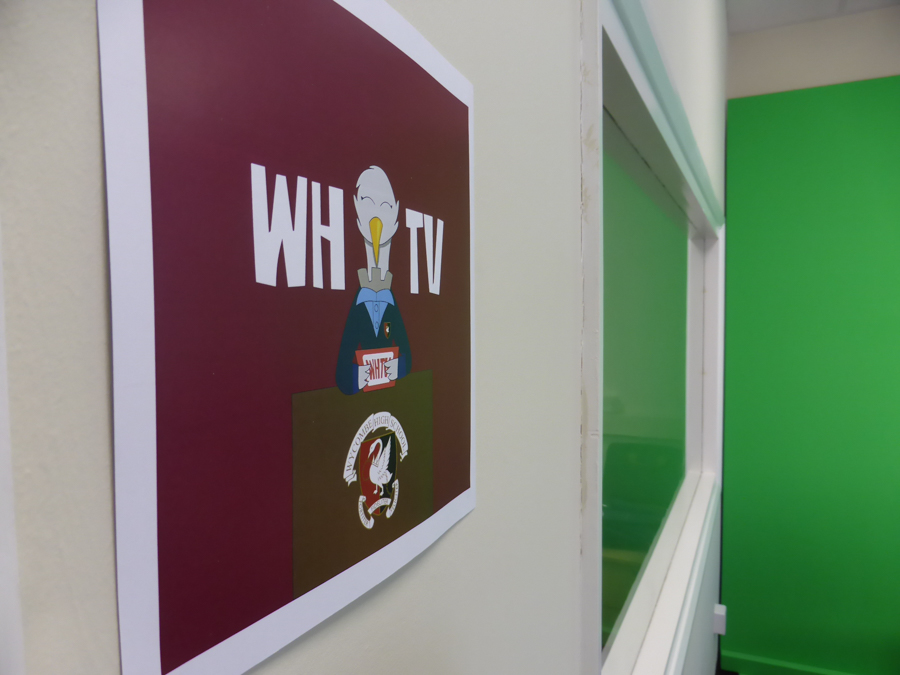 Bob Massie's confidence in the concept of a school TV channel appears to be well-founded. WHS has received a number of enquiries from schools in the UK (and even as far afield as Madrid), seeking guidance on how to achieve something similar.
The quality of the broadcasts has also attracted the attention of several local agencies who have asked about the possibility of hiring the studio, pointing to just how impressively WHTV has developed. He continues:
"When people come to look at the facility, they are 'wowed' by the fact that it is a proper studio producing proper programmes, which inspires them to want to emulate it. I think we've shown just what is possible without spending mega money. Our introduction to Barry from 3LR was timely, and we've taken full advantage of the ETC fos/4 panels, which help to elevate our broadcasts to truly professional standards in a practical and affordable way."
3LR's Business Development Manager for Broadcast, TV and Film, Barry Grubb comments: "What Bob Massie and the students and staff at Wycombe High School have achieved with WHTV is remarkable. They have pioneered something that must surely become a template for other education settings, demonstrating that judicious use of technology need not break the bank.
Screens are part of the social ecosystem of this generation of students, so creating content and understanding the technology required to do so, is entirely natural. WHTV is a brilliant way of marketing the school, offering a real insight into its ethos through dynamic and interesting content. At 3LR Lighting, we're really pleased to have played a small part in helping them achieve their ambitions."
For more information about ETC and their products line, you can visit: www.etcconnect.com