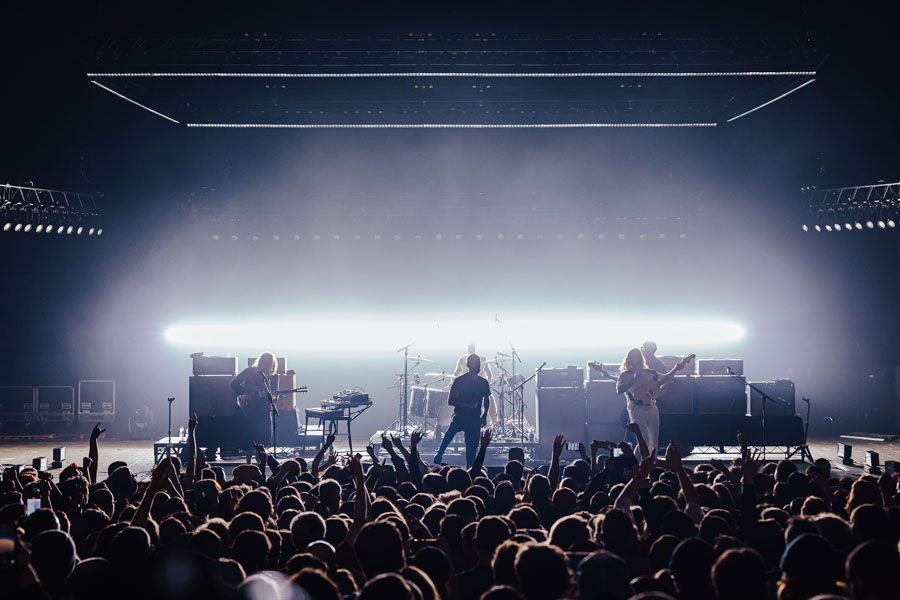 Multiple award-winning lighting designer Ed Warren called on a range of GLP's products when it came to lighting Idles' tour – despite the fact that this Bristol-based noise-rock band have historically kept their stage lighting to a minimum.
---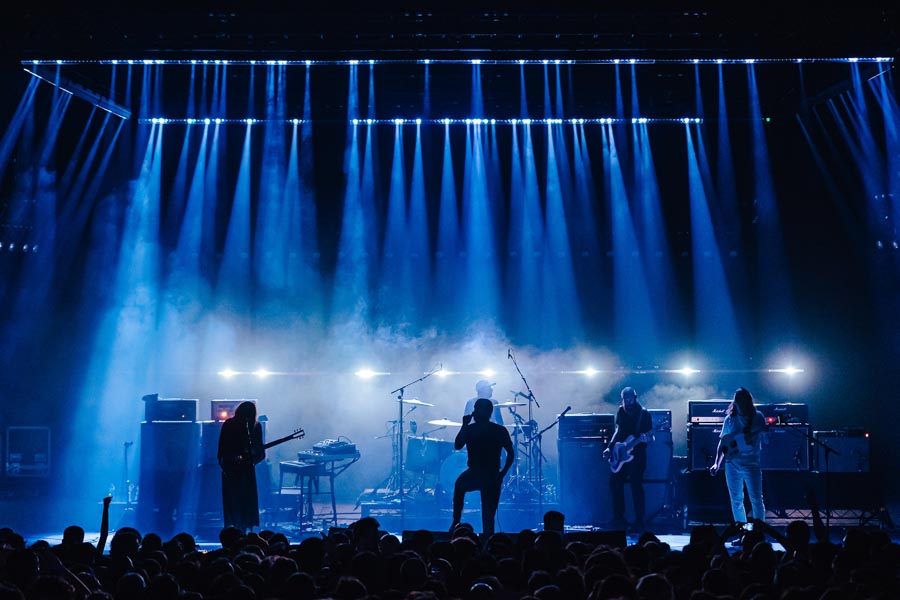 Warren has worked with the band since their first album, Brutalism, back in 2017, through to a landmark gig at Ally Pally and the Glastonbury live stream last summer. "Previously they only brought me in for the bigger shows as they wanted to stay true to their DIY roots," he explains. "But now they recognise that lighting makes a big difference and are stepping up their game with every album."
This time around they again played a number of O2 Academy-sized venues, moving to multiple nights at the larger capacity Brixton Academy, Victoria Warehouse Manchester and Cardiff Motorpoint Arena, where the basic house rig/floor package combination made way for a full production show, involving 20 GLP JDC Line 500, 28 X4 Bar 20s and 18 JDC1 hybrid strobes on the floor.
---
"I have used GLP since the initial Impressions as they make great lights; this time I wanted to give the JDC Lines a whizz," continues Warren. He contacted rental company LCR, and it supplied full inventory and support.
---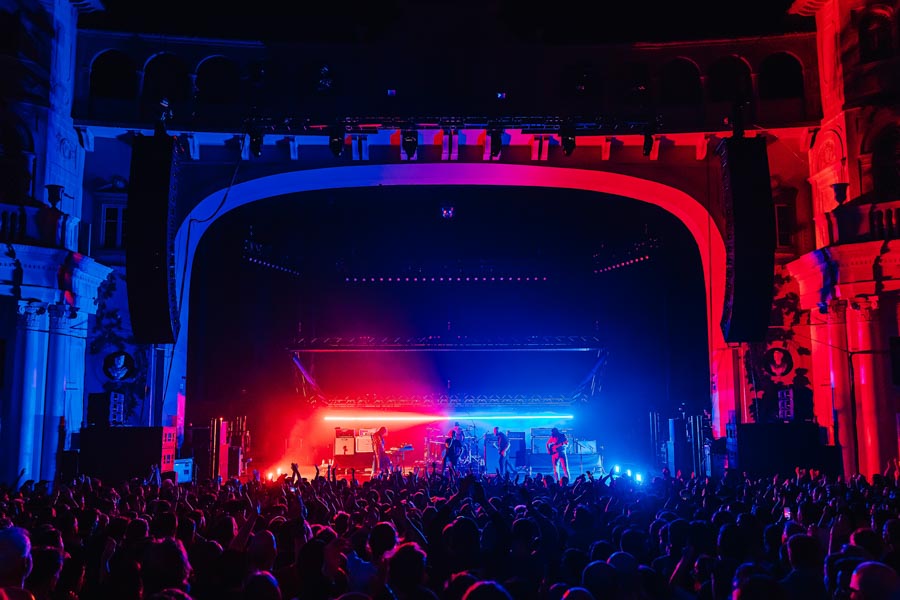 Explaining his design rationale, Warren says: "When a band is playing various-sized rooms, I look at the venues we are going into and produce a rig that will work everywhere. By working from the ground up it gives the tour manager and production manager less of a headache."
The last tour was largely tungsten-based, but the latest album, Crawler, with its sparser sound, required an augmented approach: "I wanted to complement that with something low-key but powerful such as a big strip of lights behind the band to provide colour and replace the video wall from the last tour. That just wouldn't have worked practically this time."
Enter the JDC Lines, set on a crossbar at the rear of the band, while the remainder of the trusses are on Kinesys-automated motion control.
The GLP X4 Bar 20 battens are fixed to a trapezium-shaped truss, while the 16 JDC1 strobes carry out a basic function on the floor.
Additionally eight X4 Bars were placed horizontally and used as side light.
"I didn't want to over complicate things, so I programmed the floor JDCs in normal mode," Warren explains, "whereas the X4 Bar 20s and JDC lines were set in full pixel mode. They were pixel mapped as there's some jazzier stuff going on such as a full rainbow chase."
---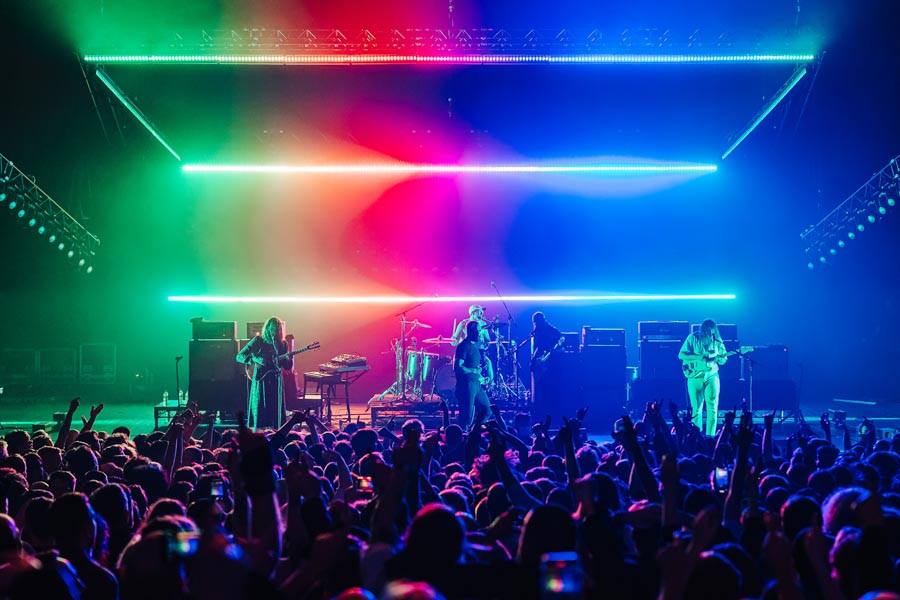 However, the tour was not without a hitch, as Ed Warren explained. "I was meant to be at Brixton for production rehearsals and the first four shows, but I tested positive for Covid-19 a few days before. As a result I programmed the whole show at home and sent the file to [board operator] David McIntyre.
It was a squeeze to programme 32 songs in three days, but everything turned out okay. As I'm a ChamSys user, Dave agreed to use an MQ500 on tour, otherwise he would have needed to re-programme on site. Everything was fantastic: the GLP fixtures, were bright, colourful, uncomplicated, perform well and are rock solid. The band and management were delighted."
In closing, he gives full credit to LCR. "Ryan and Steve Bliss have been brilliant, with lots of suggestions on the best way to rig, and were very hands on. It's the first time I've used LCR and I'm extremely happy."
More on the GLP website
Posted on 29 April 2022
Crédits -
Text by GLP – Photo by @lukedyson