Today, ETC launched a new family of multi-venue fixtures. Building on the popular ColorSource line that is lighting schools, houses of worship, hotels, and theme parks around the world, ETC announced ColorSource V. This trio of fixtures includes ColorSource Spot V, ColorSource Fresnel V, and ColorSource Spot VXT.
The V in ColorSource V hints at the five-color array of red, green, blue, indigo, and lime. This combination of emitters makes it possible to produce the softest pastels and bold, punchy colors from the same fixture. In addition to the array, all ColorSource V fixtures include Multiverse® wireless DMX/RDM, NFC for remote fixture configuration when used in collaboration with ETC's free Set Light app, and increased brightness from the past ColorSource line.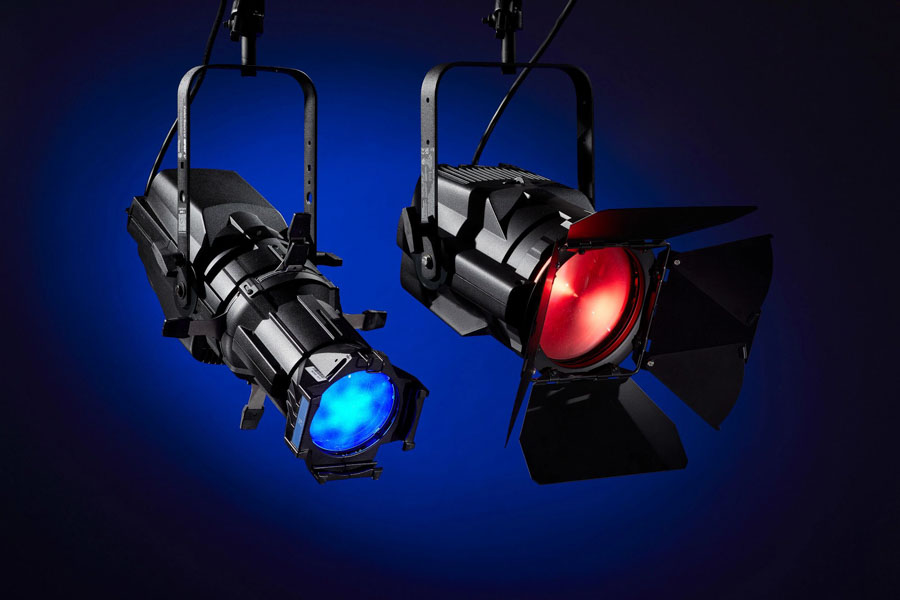 ColorSource Spot V is shipping now and takes the place of the previous ColorSource Spot luminaire. Just like with Spot, ColorSource Spot V uses the same lens tubes, barrels, and accessories as ETC's other spot fixtures, including the iconic Source Four incandescent fixture. If you have ETC's CYC or Fresnel adapters in your inventory, Spot V works with those as well.
ColorSource Fresnel V delivers the technology of ETC's premier Desire Fresnel fixture at an accessible price point. Incorporating a true microFresnel lens and motorized 14-46 degree zoom control from both the back of the fixture, or a control channel on your console, Fresnel V is truly a workhorse fixture for every theatre. ColorSource Fresnel V is expected to begin shipping in January of 2023.
ColorSource Spot VXT is the outdoor fixture you've been waiting for. With impressive brightness, and the same color mixing technology as the other ColorSource fixtures, this IP65 rated fixture brings the drama to your outdoor spaces. The same wireless feature set streamlines set up and configuration, but the best part is, VXT also utilizes the same lens tubes, barrels, and accessories as your other ETC spot fixtures. We will be begin taking orders for ColorSource Spot VXT in early 2023 and it is scheduled to begin shipping in late spring 2023.
For more information on ColorSource V fixtures at the links below:
etcconnect.com/Products/Entertainment-Fixtures/
etcconnect.com/Products/Entertainment-Fixtures/ColorSource-Spot-V/Features.aspx
etcconnect.com/Products/Entertainment-Fixtures/ColorSource-Fresnel-V/Features.aspx
etcconnect.com/Products/Entertainment-Fixtures/ColorSource-Spot-VXT/Features.aspx
Posted on 13 December 2022