Belgian pro audio manufacturer, AUDAC, is delighted to announce Sebastian Chong as sales representative for the APAC region. By working with AUDAC's partners at all levels, Sebastian will be responsible for expanding AUDAC's market share and increasing the company's sales network in the Asia Pacific region.
With the appointment of a dedicated sales representative, AUDAC will be in the position to better serve their users locally and thus also guarantee their growth for the coming years. Sebastian will also be an answer for the growing requests for the brand in this region so AUDAC can continue to deliver the right solutions for projects where top notch sound quality is needed.
Mark Asselberghs, international sales director at AUDAC, states: "We are excited to welcome Sebastian to the AUDAC team. Sebastian will be a valuable addition to the team because of his extensive amount of technical and commercial experience in the professional AV industry.
The appointment of Sebastian shows the commitment and increased focus in the APAC region. At AUDAC we see the APAC region as an important growth field in the coming years for the further global expansion of the AUDAC brand".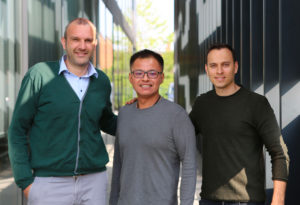 Sebastian Chong ads: "This is an exciting time to be part of AUDAC, it is exactly what I was looking for in a team: smart, innovative and creative.
AUDAC has a rich history of audio solutions of the highest quality, and an excellent team for support.
I am delighted to be part of the AUDAC family and look forward to utilising all aspects of my skills to assist in the continues APAC growth."
More information on Audac.
Posted on 23 June 2019
Crédits -
Text & photos: Audac.